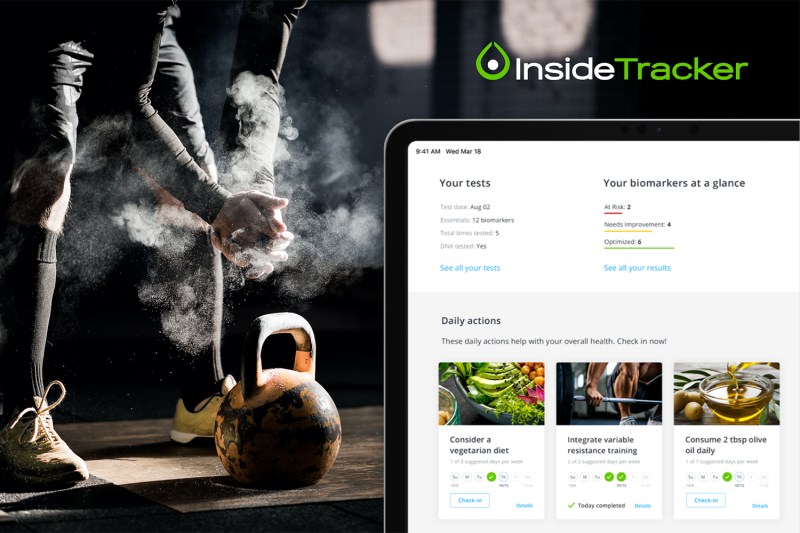 Health advice is often intended for general audiences but never does a one-size-fits-all approach work when it comes to optimizing individual health and fitness. Meanwhile, personalized performance system InsideTracker understands that everyone's body is unique — and therefore, so are its needs.
Founded in 2009 by Harvard, Tufts, and MIT scientists with backgrounds in aging, genetics, and biometric data, InsideTracker creates ultra-personalized nutrition and wellness recommendations based on an individual's data from biomarkers, genetics, physiomarkers, and habits.
Tens of thousands of people thus far, from career athletes to busy parents, have used InsideTracker's customized advice to optimize their health. Read on to learn how InsideTracker leverages blood, DNA, and other data to level up your fitness and well-being. And right now InsideTracker is offering 25% off sitewide with the promo code: THEMANUAL!
Shop at InsideTracker
How InsideTracker Works
InsideTracker offers a number of plans that vary by needs and budget. After you choose a plan and provide blood and/or DNA samples, you'll answer questions about your general habits. InsideTracker will use all of that information to craft a goal-oriented science-backed action plan that's best suited for your body's unique needs.
Check-in, track your progress, and set reminders with InsideTracker's personalized desktop platform. iPhone users can download the new InsideTracker mobile app so they can access their data on-the-go. (An Android version is expected to hit later this year.)
Which InsideTracker Plan Is Right For You?
The most comprehensive (and popular) InsideTracker plan available is the Ultimate Plan for $589. This all-encompassing wellness solution includes a blood test and analyzes 43 biomarkers to help you build muscle, raise metabolism, boost energy, and much more.
Other InsideTracker plans available include:
DIY Kit from $49: Upload a past blood test and analyze over 25 biomarkers
InnerAge 2.0 for $179: Measure your true age from the inside (blood test included)
Essentials for $189: Optimize your body and mind (blood test included)
DNA Kit for $249: At-home DNA test that analyzes over 260 genetic markers
Home Kit for $299: At-home blood test that measures inflammation and metabolism biomarkers
Use InsideTracker to Guide Your Fitness Routine
A powerlifter won't have the same dietary needs as someone who engages in light exercise three times a week. InsideTracker takes that a step further by accounting for your blood biomarkers and genetic predispositions to cultivate a nutrition plan designed especially for your needs.
InsideTracker eliminates the burden of making food-based decisions by recommending meals that are in alignment with your individual needs and fitness goals. But that's not all — with over 8,000 scientifically studied foods in its algorithm, InsideTracker also explains in a straightforward way why you should choose those meals.
You'll also have the option to choose which goals you want to focus on most. Whether you want to boost your energy, reduce stress, or just be healthier overall, InsideTracker will recommend diets, supplements, workouts, and lifestyle changes that will help you achieve your goals.
If you're embarking on a new fitness journey or seeking to improve an existing one, InsideTracker can complement your routine with personalized nutrition and lifestyle advice that will guide you to the best version of yourself. Sign up below!
Editors' Recommendations