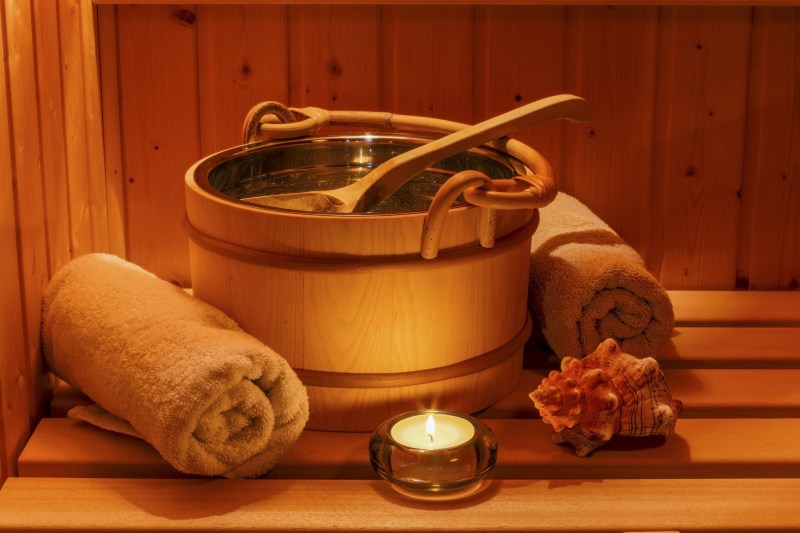 In recent years, the demand for at-home infrared saunas has soared, and manufacturers have definitely stepped up their game. The year 2023 has brought us some of the best infrared sauna options on the market today. That said, it can be tricky to figure out the right personal sauna option for you.
Our recommendation is that you keep an eye out for units made of hemlock and red cedar, which prove to stand the test of time when it comes to infrared therapy. We also recommend you choose an infrared sauna with a medium amount of glass — enough window that you don't feel claustrophobic, but not too much so your sauna can retain its heat efficiently.
Infrared saunas feel different from wood or electric saunas, but they all offer a ton of benefits. Whether you seek relaxation, detoxification, or pain relief, here are our picks for is year's best infrared saunas that will elevate your wellness journey from the comfort of your own home.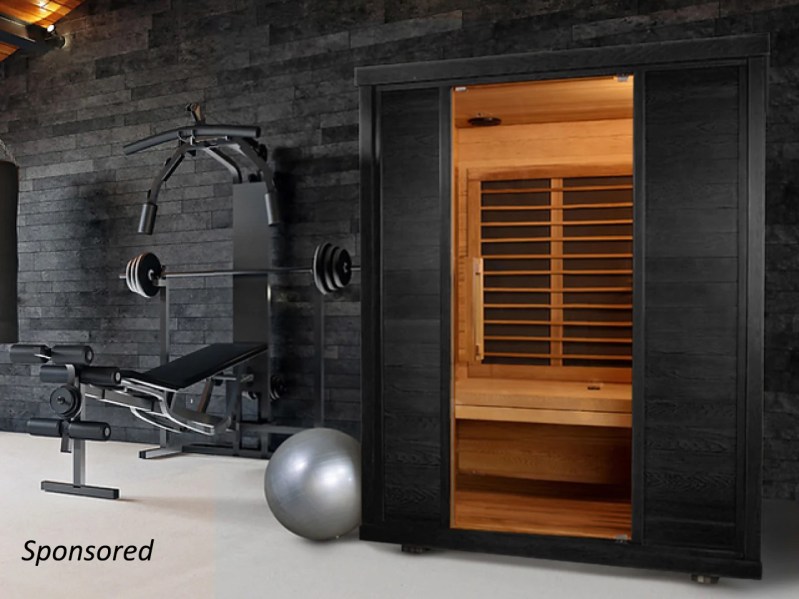 Best overall: Sun Home Equinox 2
Weight loss promotion, increased longevity, stress relief, relaxation, and much more are all benefits of using an infrared sauna, or more specifically, the Sun Home Equinox 2, which is large enough for two people. Superior craftsmanship and unparalleled innovation collide, offering not just a beautiful design on the outside but tons of unique features on the inside, too. Using safe, ultra-low EMF infrared heaters and supplemental halogen heaters to increase to a max temperature of 165 degrees Fahrenheit, this sauna will give you the steam of a lifetime, all in the comfort of your home. Its powerful full spectrum – near, mid, and far – infrared heaters provide all of the beneficial wavelengths for maximum health benefits. It features Bluetooth wireless with premium surround sound, so you can listen to your favorite tunes while you kick back. Plus, it's easy to assemble and comes with a limited lifetime warranty. If you're looking for both form and function with no compromises, this sauna is the way to go.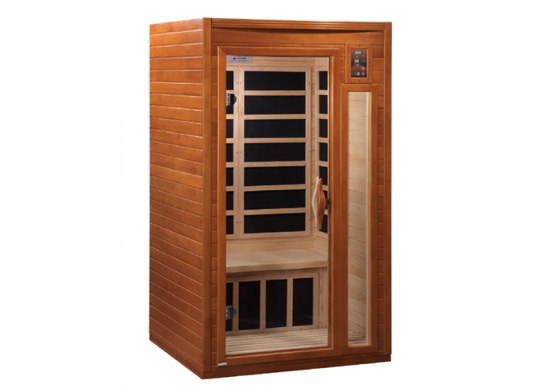 Barcelona Low EMF FAR Infrared Sauna by Dynamic Saunas
The Barcelona Low EMF FAR Infrared Sauna can hold one to two people. It has a music system with Bluetooth capabilities. One of the great things about this unit is that it has clasp-together assembly, which means setup is a breeze. It's got a roof vent, a chromotherapy lighting system, and six carbon heating elements.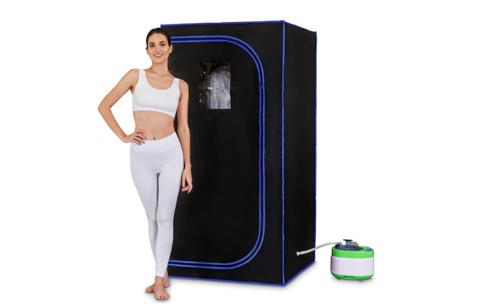 Portable Sauna SLISAU30BK by Serene Life
For those who call the road their home, a wooden sauna will definitely not be your best option. Meet the full-sized Portable Sauna by Serene Life. This sauna can be heated up to 140 degrees Fahrenheit and is very easy to set up and tear down because all the pieces are numbered. While this portable sauna retails for $390, a foldable sauna chair is also included with your purchase, so you don't have to worry about seating.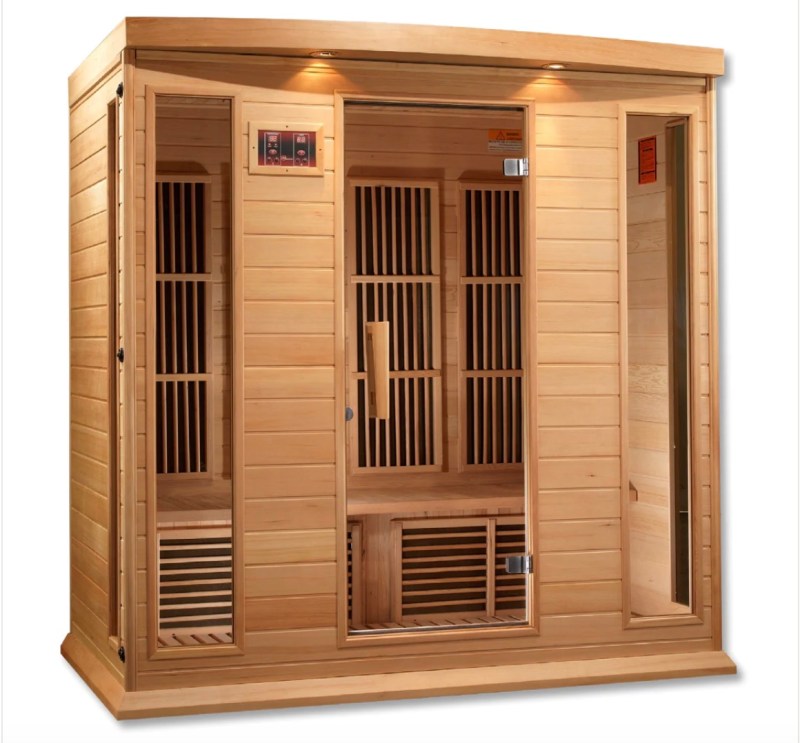 Montilemar Low EMF FAR Infrared Sauna by Modern Reform
The Montilemar Infrared Sauna by Modern Reform is a fantastic four-person home infrared sauna option, primarily because of its roomy interior. With this sauna, you can gather the family together for some bonding time, or simply stretch out on the bench. There's enough space to lie down if you are so inclined, and the windows offer lots of light and scope for the imagination. The infrared therapy options are fantastic, with nine carbon heating panels.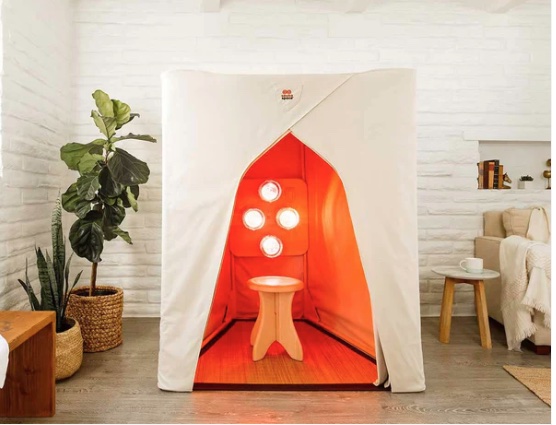 Luminati Infrared Sauna by SaunaSpace
If you're sensitive to EMFs (electromagnetic fields), then the Luminati might be the best choice on this list for you; it uses the company's special ThermaLight technology instead. This portable tent has a machine-washable cover and is wheelchair accessible, and comes with accessories like an ergonomic sauna stool and an exfoliating brush.
Each sauna on this list brings unique qualities to the table, catering to different needs and preferences. Whether you prioritize versatility, ease of setup, spaciousness, or EMF sensitivity, these top contenders provide an excellent range of choices.
If you're looking for the perfect at-home infrared sauna to elevate your wellness journey, consider these options carefully. Invest in the one that resonates with you, and embrace the blissful warmth and transformative health benefits it has to offer. If full-sized saunas are not for you, consider checking out some infrared sauna blankets instead. They are not only more portable, but provide many of the same health benefits for a budget.
Editors' Recommendations