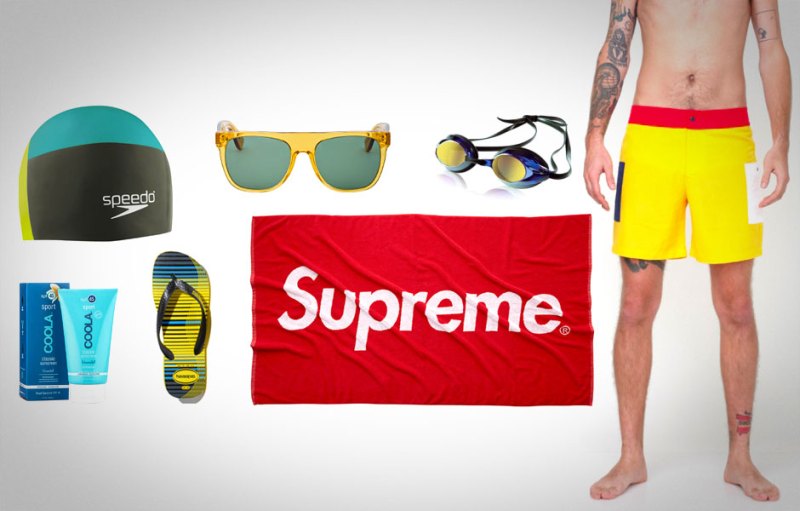 We can't believe that summer is almost over. That means we have approximately a month or so of outdoor pool time left to go. So what to wear to the pool? Pack up your swim trunks, grab your flip-flops and slather on a lot of sunscreen. Lay out on your beach towel in between laps — but don't forget to put your sunglasses on! If you're a serious swimmer throw on a cap and goggles, and who knows, maybe, just maybe you can swim like Michael Phelps. Okay, maybe not. But you can try to pretend to be like him.
Now you just have to find a pool to swim in. Public pools are one option — but they can get pretty gross, and you don't know if people have been doing dirty things in there — like peeing. Yuck! Depending on where you live, you might even have one in your backyard. If you do, we are completely jealous. Will you throw a barbecue and invite us? Or, if you're lucky enough to live in near a place like Los Angeles, Las Vegas, or Miami, where there are actually cool hotel pools you can hang out at — there's another option.
We're definitely planning on hitting up a pool this weekend; we just have to figure out where. Have any ideas? Let us know!
Clockwise, L-R: Speedo Color Block Silicone Cap, $13.95 at paragonsports.com; Super Sunglasses, $145 at ssense.com; Speedo Vanquisher Mirrored Goggle, $19.99 at speedousa.com; Band of Outsiders Swim Trunks, $89.99 at needsupply.com; Supreme Beach Towel, for more information, visit supremenewyork.com; Havaianas 'Trend' Flip Flop, $26 at nordstrom.com; Coola Sport Organic Moisturizing Suncare SPF 45, $32 at O&N Collective.
Editors' Recommendations