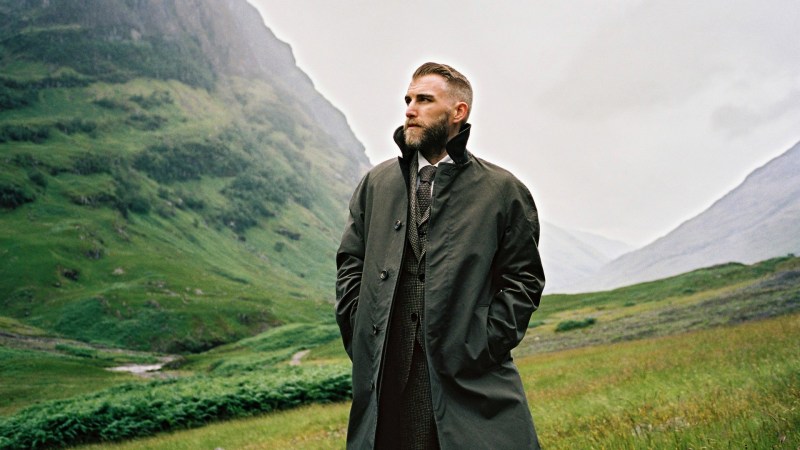 Editor's Note: Last November we had the pleasure of spending 10 captivating days in Scotland. Below is but one adventure of many from our stay. We hope the joy we experienced comes through in all our posts and missives from our adventure, which no doubt read better with a wee dram in hand.
One of Scotland's most venerable fashion companies, Stewart Christie & Co traces its origins back to 1720. The company today, which now operates a magnificent flagship store on Queen Street in Edinburgh, was formed in 1939 and was operated by the same family for four generations until it was purchased by Victoria Rae and Daniel Fearn 18 months ago. They now serve as creative director and managing director, respectively.
We are best known for extremely well-finished, handmade, Scottish tailoring.
The pair recently gave The Manual a look inside this historic and traditional institution, which offers some of the finest tailored-clothing options in Scotland.
Your store is quite historic!
There are archives dating back to 1790s, which are a mixture of military detailing and have socially historical importance; they are listed in the National Archive of Scotland and can be viewed by appointment. The firm had always been situated in and around the New Town of Edinburgh and we believe was initially located in the first purpose built tailor's shop in the city on George Street. Later the shop moved to 86 George Street where it covered the entire property, over five floors. At this time SC & Co were the official Tailors to King George V.
With the advent of ready-to-wear tailoring, the 1960s saw a sharp decline in handmade tailoring and, in the early 1970s, the company moved to its current location on Queen Street and is still serving generations of the same families with fine handmade Scottish tailoring. Today the company makes many specialist pieces for The Holyrood High Constables, the Church of Scotland, and retains close links with the Royal Company of Archers, the Queen's own bodyguard in Scotland.
Why did you purchase it?
We purchased the company from the previous owner who had been running the company since his early twenties. The previous owner had been pressured by his father to join the firm and take the helm. His first love was farming and his whole working life he worked two jobs, one in the city and one in the country.
He was an only child and had no children to hand the company onto. He had been wanting to sell for a few years, but hadn't found anyone who he thought would be responsible for taking the company forward and respect the history and the heritage.
It was decided that we had the necessary qualities to drive the sleeping leviathan into the modern age.
What is the store best known for?
We are best known for extremely well-finished, handmade, Scottish tailoring. With the combined skill of our tailors and our unique design input, we can technically create anything you could imagine, in tailoring, for both gentlemen and ladies.
The company is known throughout Scotland for its timeless elegance or refined correctness when it comes to fit and styling. The one garment which never fails to impress is the Velvet House Doublet, which has a dramatic line and a very traditional Highland wear cut. But heavyweight worsteds and tweeds still are a wardrobe staple for a large proportion of our clientele, this combined with a gentle shoulder line and softly tailored cut define the elements which have continued to make Stewart Christie an established authority in tailoring for generations.
What are your current bestselling items?
There are a number of items which spring to mind. Firstly we seem to have developed a rather impressive following for our tie choices. In a time when the world seems to be getting more casual, we sell ties day in and day out, from textured woven silks to soft double-sided knitted wool ties.
Our rainbow wall of trousers never fails to impress and entice those looking to complete their look and tone in something with their outfit. From Mulberry Moleskins to baby blue corduroy there is something for every taste.
The completely British-made tweed three piece suit has become something of a staple favorite, made in limited numbers in a selection of specially chosen local cloths we try to have a constant flow of interesting combinations for every occasion.
What are your favorite pieces in the shop at the moment?
For the men's department, it would have to be the fitted Nehru collared Tweed Gillet. We cut the pattern in-house and achieved a cut which is as flattering as it is practical. With either a fleece or satin lining, it really covers function and style for those wanting to wear something different for their country pursuits.
Who is the Stewart Christie customer?
We stay true to who we are and try to slowly evolve with the times, creating timeless pieces which look as good today as they will in ten years.
We have customers from each and every generation, but in truth, it comes down to an understanding and appreciation of quality and craftsmanship. Some people might think of the shop as old-fashioned, but some qualities never age – manners, and style are two things you can't buy but are as important today as they have ever been. We are aware of current trends but we are not enslaved by them; there are subtle elements of style in all we create. We stay true to who we are and try to slowly evolve with the times, creating timeless pieces which look as good today as they will in ten years.
What has been the best thing about having the shop thus far?
From the beginning, we knew what was needed to bring the shop into the modern age and there were the humble beginnings of a brand, and now we have the challenge of bringing all the elements together into a coherent story. The business has a strong identity and we realized early on that there were just certain ideas which would not hold true to the ethos.
We have tried to be sympathetic and make the shop look like what it is, the oldest bespoke tailors in Scotland. This meant stripping away the 1970s and bringing back elements of the 1870s.

How does being Scottish affect your merchandise and approach to retailing?
Nothing is ever wasted! The Scotts are known for their canny ability to find a use for everything. I think one of our strengths as a team is being able to see the potential in cloth. Even the smallest amounts of cloth are given over to skilled makers who transform it into jointed bears or lined accessories. People think zero waste is a new thing, Stewart Christie has been practicing this for generations!
We take pride in the fact the suit is made on the premises using skills handed down from one master tailor to the next.
There is also the proud heritage of Tartan and Tweed, two solid and quintessentially Scottish cloths. We are currently backing plans to create a label of "Scottish Authenticity" for cloth and merchandise to help promote craft and trade in Scotland. To raise an awareness and ensure local skills and crafts are promoted and properly accredited; educating people about the balance between workmanship and quality of locally produced products.
Please discuss your bespoke program.
The term "bespoke" has been through many different interpretations over the past few decades in the world of tailoring. To us, it still means a garment made for an individual by an individual and is still the pinnacle of all custom tailoring. We take pride in the fact the suit is made on the premises using skills handed down from one master tailor to the next.
The process always starts with the fabric, which has to fit its purpose first and foremost. After this, the lining and buttons are discussed along with the cut and style detailing. Following this, the cutter will be invited to take the necessary measures and record the client's figuration.
Several more stages follow and minor adjustments are carried out at each one until both the client and the master tailor are satisfied. After all, it is our reputation worn on the client's back! So, it has to be right!
The whole process currently takes around 12-14 weeks with the recent high demand from start to finish.
It is a right of passage and an aspiration garment for a gentleman of every age. The only problem is when you have had something properly made for you everything else just seems second best.
Photos by Laura Meek