Arguably one of the best specialty menswear retailers in America, Atlanta-based Sid Mashburn recently expanded his growing mini empire of boutiques, which he founded in 2007 after design stints at labels such as J. Crew and Ralph Lauren, by adding one in the Brentwood section of Los Angeles, which now joins its sibling sites in Atlanta, Houston, Washington D.C. and Dallas.
His shops are known for their outstanding selection of in-house merchandise and tailored clothing, which hang alongside "classic, iconic and hard-to-find" labels such as Penfield and Barbour. In addition to the covetable collections, the stores offer welcoming customer service that is bar none – and exceedingly rare in this day and age.
The always affable and super knowledgeable Mashburn recently filled me in on his new West Coast addition, what else he has "in store" for the near future, and what every well-dressed guy needs to have in his wardrobe.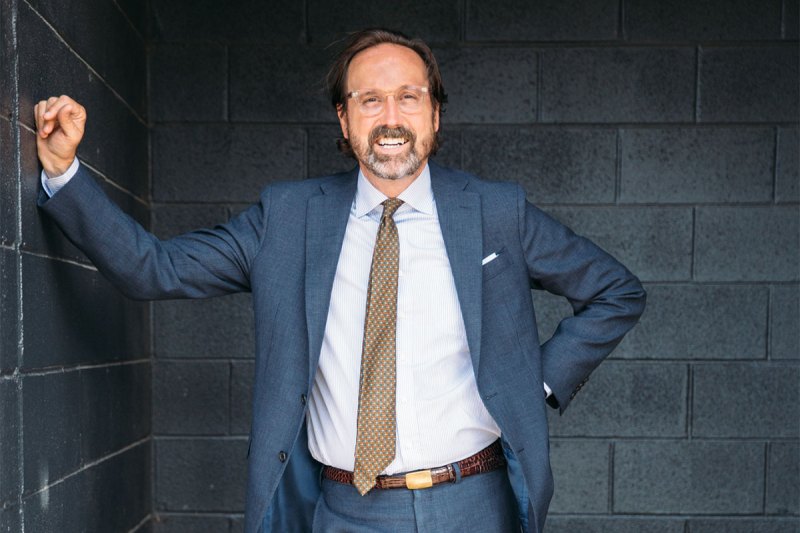 Congratulations on the new L.A. store.
We are very fortunate to have opened up there. When we go to a new market it really is a mix of art and science. In this case it is a combination of the encouragement we've gotten from California and also just the opportunity out there from what it is we offer. So that's kind of the reason that we found our way there. Another reason is that in our online business our number-three city in the country is Los Angeles. It was almost like it was inviting us to come open a store there.
How is your L.A. customer different from those of yours in, say, Atlanta or Houston?
It's interesting because we're in Brentwood in the Country Mart. It's also a little bit of an assymetric play on what we typically do because in the past the stores we've opened up have really been flagship stores and this one is only 600 square feet. The Brentwood Country Mart is a really cool mélange of some unusual stores. You've got everything from a taco shop to a James Perse to a Christian Louboutin to Jenny Kayne to a fried chicken stand. It's actually our kind of place because we like the high low mix of things. What we've seen out there though – and it's kind of hard to say because L.A. is so big and so sprawling – but it really feels like there is a decidedly much more casual customer. A big part of our business not necessarily from a unit perspective but from a dollar perspective is our tailored business, like dress trousers, sport coats and suits and, in a funny way, it almost feels like that piece of the market hasn't been vacated out in L.A. but there's not as many people that used be in that space. Even saying that, we're going out there with a strong sportswear point of view but also we're not really changing the merchandise mix from our other stores. We're going with what we know how to do and we're trying to be as strong as we can with that.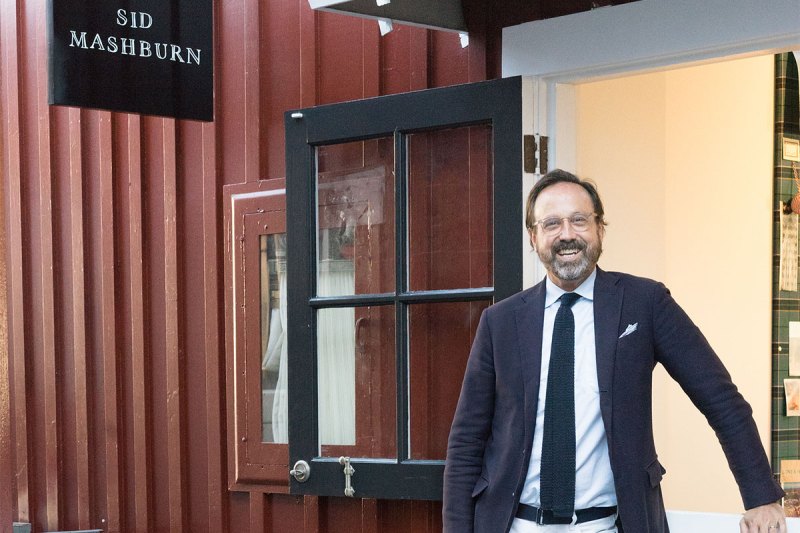 What are the hottest items in all your stores at the moment?
Shirts are probably our strongest category. We think we do a really nice job with sport shirts and with dress shirts. Our dress shirts are not to just be worn with a necktie. They are still sport shirts too. A sports shirt is not a dress shirt, but a dress shirt is a sport shirt. That's been huge for us–and bottoms have been strong for us. Our jeans business has been very good. In the past we just had Levi's and A.P.C. and we just added our own brand of jeans, which we make in L.A., and we've had a super reception to that.
Tell me more about them.
Fortunately, I am in decent shape, so even as a 55-year-old I can still wear jeans that are slimmish. But what we found is that the A.P.C. jeans that we were carrying (and which we still love) and the Levi's 501s which we love needed a lot of tailoring. Every shop has a master tailor. In Atlanta when you come into the shop it's a little bit like the old open kitchen from Spago. Tailors are in and of and part of the show in the store – and not just the show, they are part of the experience. We found that we were doing a lot of tapering to the Levi's jeans and a little bit of tapering to the A.P.C. so we said, "Shoot, why don't we just make our jean that's really kind of in between the two?"
We did a selvedge jean and then we did a non-selvedge jean but the quality of the non-selvedge jean is still a ring-ring denim. We're probably a little bit obsessive about the raw materials that go into our product. We don't take any shortcuts and we don't really care what it costs. We're going to use what we want to use.
How would you describe the overall culture at your stores?
There are a lot of ways to characterize it because fortunately most of the guys and girls who work in the store came from shopping with us. They liked the experience and said, "Wow, you can get paid for doing this?" It's like a lot of guys who got into the clothing business. They could have done a lot of other things but they loved clothes so much they took the heart play as opposed to the money play.
Two of things we hire for are aspiration and kindness. If you can get those two things to dovetail that is awesome.
We don't have a demographic in the store. We don't care what kind of guy you are and we don't care about your age or how much money you make. We just care about serving you and taking care of you. That's where we get excitement. It's like those Danny Meyer restaurants. They are always highly rated but it's not just about the food and it's not just about the product. While the product is super important and has to be one of the best around, but what is the experience and the quality and the value and the service level? All those things are important today because you can buy stuff sitting in your bathtub for goodness sake. You can buy a suit sitting in the bathtub. That's crazy. And you can buy a pair of shoes sitting in the bathtub.
So what are we doing that makes it fun and exciting and worthwhile for you to come share that time with us? So we feel it is kind of a responsibility on our part to make it worth your while once you come in. [My wife] Ann and I both felt that when we opened the store we wanted to make each store as residential as possible, like coming into our home. And all the people in there might not be children of ours or siblings of ours but at least they are country cousins of ours. We share something in common and what we share is that we like to connect with people and we like to share things that we like and think will give you some joy and value in your life. And we think that's a little bit of an underserved market.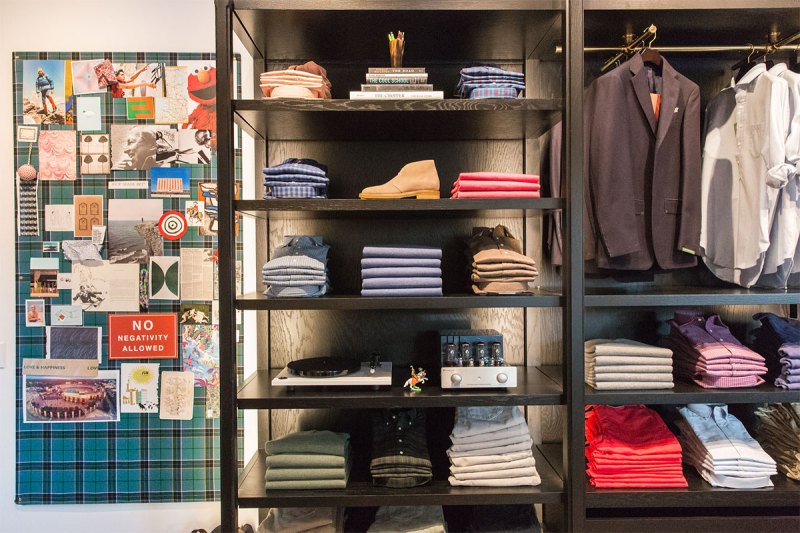 What's the price range in the shops?
You can get a pair of Levi's jeans for 65 bucks from us. Then if you taper them we do that for $30, so for $95 you can get a pair of customized Levi's. Then we also dye them in different colors, which is another $30 so you can get a pair of custom-dyed, tapered jeans to your body that have been customized for you for $125. That is hard to beat. Then on the other hand we also have a handmade suit that could be $15,000. When you see that on paper you go, "That sounds disparate." Basically what we are saying is that we know what it takes to make a great, completely handmade suit at that price, but we also want to take care of the guy who just needs a pair of jeans. We're building a sort of cultural crossroads to tell every guy: We want to take care of you.
How is tailored clothing selling in this more casual age?
It's a very good business for us. There are two reasons why. We offer a massively high quality product for a great price. The fit is fantastic but if it needs a little bit of work we've got a tailor shop. It's all in one location and can hook you up very quickly. Besides that, I like to be in stock on tailored clothing. I don't want to wait to take custom measurements. I'd rather have the suit hanging there for when a customer comes in and needs it. With the tailors that we have we are able customize the suit in our store, so it's almost like a first fitting on a made-to-measure suit that you're getting.
In about two to three weeks we will be launching a new initiative that will be made-to-measure shirting online. It's pretty cool and it's going to give you about four ways to interact with us. You can do it online with the measurements you've gotten from us before or you can look at our made-to-measure video about how to measure yourself. We're also going to offer an option where you can do a FaceTime or Skype fitting with us – but not from the bathtub.
What would be your number one style tip for readers of The Manual?
Know what the fundamentals are of what makes up a good closet. We had a guy that worked for us that was from McKinsey and he loved charts and graphs and would do an analysis on products. He did a usability index on his closet and of the 100 items in his closet he realized that he only used 30 and used them often. So for us the big ah-ha there is that you don't need a lot of stuff; you just need the right stuff. Just in general I'd say you need a gray suit and blue blazer. You need a couple of white shirts and you need some blue shirts. You need a couple of ties and good pair of shoes and you need some good jeans. You need a good belt and you are ready to roll. That will get you to a funeral, get you to a wedding, an interview, a Friday night out, a barbeque.
Then if you are more thoughtful about your clothes and you really take them seriously you are going to need a good tailor.
You obviously have a lot going on. What's next for you?
Maybe a vacation? We are laser-focused on launching the made-to-measure initiative by Christmas and then we have a few other things on the stove. One of the more fun things we are doing is that we started a radio show called WSID. They need to fire the disc jockey – I'm the disc jockey – but the music is outstanding. We spin vinyl on an AM station in Atlanta one day a week and there's a link to it on our site.
Editors' Recommendations