There is a good reason that Japanese menswear has a cult following Stateside: It's known for high-quality craftsmanship, timeless wearability, and rich history. One such brand that embodies all three of these qualities is Shuttle notes Master Cloth, a terrific men's lifestyle label with an extensive background in textile and garment manufacturing. Its woven fabric mill, Maruwa, was established in 1948 in the Nishiwaki region close to Osaka and since then the company has more than earned its reputation a great manufacturer of premium Japanese fabric and garments. It's no wonder then that it's a key seller at in-the-know independent men's fashion stores from Grahame Fowler and Blue in Green in New York to Unionmade in San Francisco.

James Kimura-Green, Shuttle notes' U.S. sales manager, recently shared the brand's story and the reasons for its appeal …

What is Shuttle notes best known for?

Woven shirts. Currently, we offer four woven shirt styles; a traditional oxford button down called the Officer shirt, a short sleeve version, a work shirt called the Engineer shirt, and our U.S. navy inspired Deck shirt. Seasonally, we offer these shirts in different Maruwa fabric often specially milled for the collection. Regardless of type, dress or work, each shirt is meticulously sewn with the care and detailing found in high-end dress shirts. Any shirt using our premium fabric woven on traditional shuttle looms from yarn spun on 1940s spinning machines deserves to be crafted with the same care and effort as the fabric itself.
How would you describe the overall design aesthetic?
The design aesthetic starts with quality fabric, then combines military/vintage inspired silhouettes with a modern sensibility crafted with the care and attention to detail seen in formal-wear.
What sets the brand apart?
We are a mill brand, so there is a collective experience brought forth by the generations that have worked and continue to work at the company whether it is at the mill, our textile designers, sourcing team, etc. There is a tremendous amount of teamwork that goes into making quality fabric and quality garments. An important aspect that we want to emphasize is that, although we value traditional methods, we design our garments with a modern taste and modern silhouette so that it fits our current consumer's style.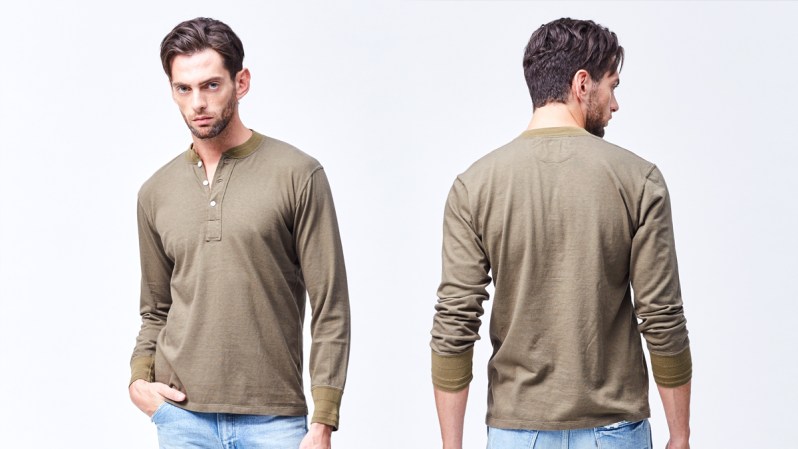 What are some key shirts in the current collection?
The short sleeve Officer Shirt is sewn from dense poplin fabric woven from fine 100/2 yarn. Like our long sleeve Officer shirt, the fine stitched detailing and chain stitch sewing will shrink and shift with wear creating a natural buckling in the seams. The classic detailing sets this warm weather standard apart from the rest.
There are many like it but our Deck shirt is also special. We start with American cotton spun into yarn that is rope dyed for a classic selvage chambray woven on shuttle looms. This work shirt utilizes double and triple chain stitching with further detailing akin to dress shirts.
And the Henley Champs revives the '80s Champion henley in a slimmer silhouette using a soft cotton/rayon composition. The collar and rib is a Shuttle notes standard French hem, with white accents to spruce up the standard henley shirt.
And non-shirt offerings?
We make our 14 oz. left hand twill denim Trucker jacket with a blue stitching, a yellow contrast stitching, and a black denim jacket with black stitching. The jacket has classic detailing with a slimmer body and sleeve.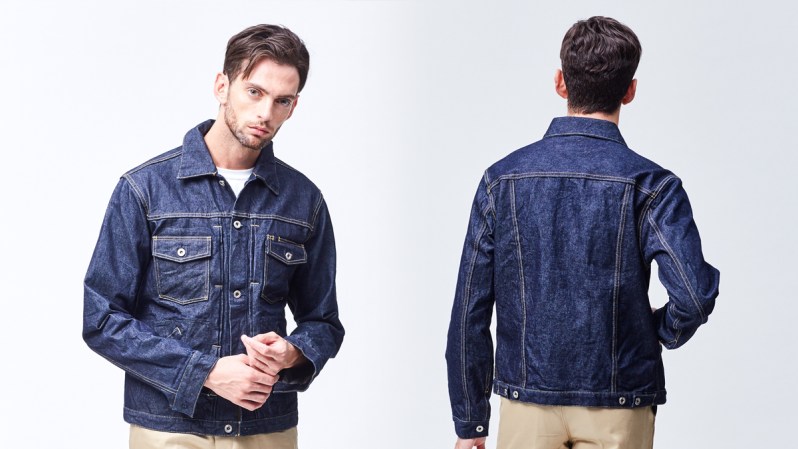 The Ska Sta jacket combines elements of the "Sukajan" also known as the Japanese souvenir jacket and details of the classic baseball stadium jacket. A cotton/nylon and cotton/linen blend fabric is employed with woven ribbing and chord piping on the raglan sleeves.
What is the price range?
Our collection ranges from indigo bandannas retailing at $44, shirts from $150-$300, pants from $250-$400, and jackets up to $600.
Who is your "typical" customer?
Our "typical" customer is a smart consumer who demands and expects quality, someone who will invest in their outward appearance and desires strong staple pieces in their wardrobe that will age beautifully.
What are the top reasons readers of The Manual should check out and wear Shuttle notes Master Cloth?
They deserve authentic Japanese quality in a consumer environment that applauds fast fashion. We provide quality fabrication using quality fabric. This should be expected of us from all readers everywhere, period.
Editor's Note: This article is part of The Manual's larger Journey to Japan travel guide. Over the course of a month, our writers had the pleasure of experiencing Japan in all its forms, from high-rise bars in Tokyo to traditional tea ceremonies in Kyoto. We hope this series will not only inform, but inspire you to take your own trip to the Land of the Rising Sun.