A menswear designer and retailer, Grahame Fowler has toiled in fashion for 42 years. And for the last ten, this English transplant to New York City has run an eponymous, impressive, menswear shop in Greenwich Village that carries his own line, as well as high-quality brands from England, Japan, and Italy. Located in a former dry cleaner, the cozy, slightly eccentric space retains the former tenant's revolving mechanical hanging rack on which Fowler displays the store's outstanding selection of button-down shirts.
Fowler, who says that he has "always done my own thing and been left of center," recently gave The Manual an in-depth look inside his excellent Anglo-inspired emporium, which he aptly describes as "a small gem in The Village."
Congratulations on your ten-year anniversary. What's the story behind the store?
I don't pander to fashion. This shop has a particular viewpoint. It has an English accent and angle to it just because we're all English that work in here and a lot of the stuff is rooted in our youth culture from the Sixties–whether it's brogue shoes or button-down shirts or Fred Perry or classic Barbour waxed scooter and motorbike jackets.
What are your bestsellers?
My own shirts. I make them here in America–some in New York and some in Massachusetts. And I sell Tricker's shoes. I do a lot of my own style of Tricker's, so I go over there and choose the lasts and the leather and details and do very small runs of limited editions. Once they are sold they're gone and then I'll do another run. I do the same with the English shoe company Sanders. And then I sell Levi's Vintage Clothing– some of the limited release stuff. The same with Red Wing. And there are Japanese brands as well like Shuttle Notes. It's stuff that just fits in aesthetically with what we're feeling.
What else do you carry?
We have bags from England and we make our own ties and belts. And we sell Fox Umbrellas–the best umbrella in the world.
We're also doing a collaboration with Gola that will be here in a couple of weeks. That was one of the shoes we wore as kids with Puma and Adidas but Gola was made in England, so it had a certain following.
You also have quite a selection of watches. I know you are a well-known vintage watch collector and expert…
I've been a big watch guy for a long time, but it's just that suddenly it became fashionable. I've stood in the corner with it and then the spotlight hits you. I've collected them for a long time and I've always had them in the shop and bought and sold and traded watches as well. Specifically dive watches, specialty dive and military watches is my bag.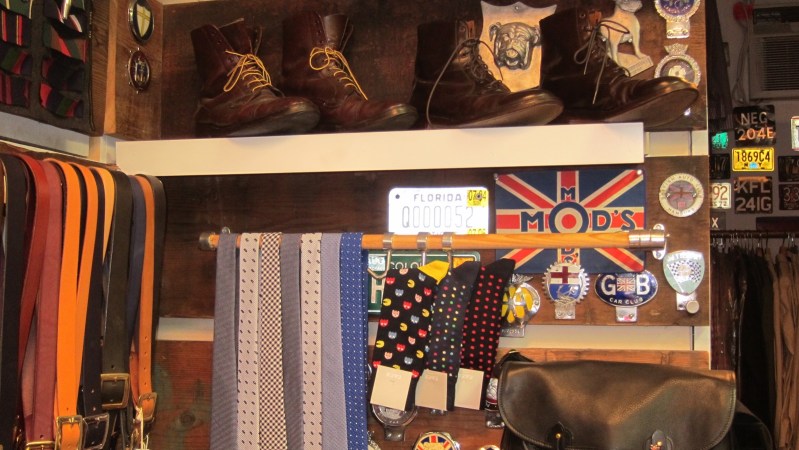 Who's the customer who shops here?
Oh, Lord! It runs the gamut really. We have a lot of people who are in the arts like actors, photographers, film directors or stylists. We get all kinds of people. People that visit from Italy and England. We even have people who come from Japan just to buy certain things. But it still is very niche. Always has been and always will be. I have no plans to make it bigger and deal with all the headaches. I'll let the J. Crews and the Ralph Laurens of the world deal with that.
How much of the merchandise is available from your webshop?
More of it is going to be. It will be very tailored and there may be more objects on there too, like knives and tool rolls and socks and watches.
What, in your opinion, sets Grahame Fowler Original apart?
The reason to exist in a store like this is to have stuff that isn't available everywhere. You have to seek it out and come in and try it on and buy it. Lots of people come in and try the shoes on because they are not going to buy them online. If you want the true sensory perception of what the shoe is you have to go and try it on. And I think that visceral experience is more of what we're about. We're not about stacking it high and selling it cheap. We seek things out that are unusual and rare and not available everywhere.
What is the price range?
Shirts are $125 to $200. Sneakers are about $200 to $225 and then we go up to the cordovan Tricker's that are nudging $1,000. But if you buy that boot in cordovan leather and you take care of it, it will last you 20 to 25 years. So it's a boot for life. It might seem at lot at $950 or $1,000, but divided by 25 years it's a good investment and it's cheaper than a pair of trainers you buy every six months and throw away.
And then there's everything in between. The sweet spot is probably $450 to $550 on the shoes, $150 on the shirts, $400 on the jackets and $200 to $275 on the pants.
What has been the best part about having your own line and running a shop?
I think it's the fact that I am working here today and I know the history of everything I'm selling and I can 110 percent stand behind it. I can stand behind the fit, the quality of the cloth and the shoes. The whole process of designing it, making it, tweaking it, putting it in the shop, merchandising it, and having someone try it on and buy it is very encompassing and very satisfying.
It's not made in China and doesn't come here in a container and get unpacked and get rebranded. It is what it is. It's a proper well-made piece of clothing whether it's knitwear, shirts, jackets, shoes or accessories. Everything has been touched and it's sold with soul.