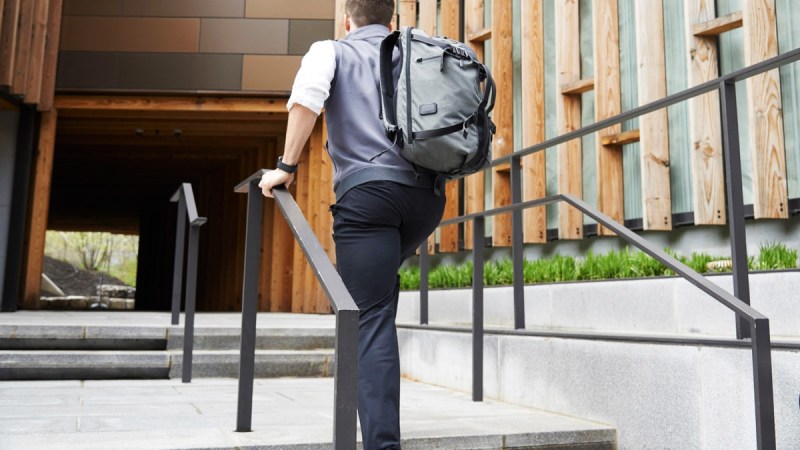 Commuting is kind of a big deal here at The Manual. Being based in Portland, Oregon, our city's infrastructure is known for its focused attention on the creation, expansion, implementation, and improvement of bike paths, lanes, and even bike-sharing options. With all that cycling around town, it's no wonder that we're deeply impressed with active wear brand Rhone's new versatile Commuter Pant.
Perfect for a commute via cycle, train, or on foot, Rhone's Commuter Pant's minimalist style and refined colorways are designed to be not only comfortable in transit, but also classically stylish–so much so that the pant can do double duty as both your commuter pant and your office pant. No need to swap out bottoms after your ride into the office (unless you're a sweat monster, in which case we heartily recommend a pre-work shower), instead go directly from the bike lane to the boardroom without missing a beat.
No stranger to Rhone's quality products, we tested out the commuter pant and cannot impress upon you enough how soft, stretchy, and breathable these pants are. Made from a luxury Japanese fabric, two years in the making, the commuter pant is made for men who, according to Rhone, "hustle for a living."
The pants feature a true-to-fit size, meaning the inseam length for all waist sizes is 33 inches. However, if you're a shorter guy, you can always go in for Rhone's custom complimentary hemming. It will take a about five to ten days longer to get your pants, but a bespoke inseam is worth it to maintain style and fluidity of motion. The pants also feature a security zipper back pocket, a media pocket for your phone, and an articulated knee for mobility. Made from 100% polyester, the pants are easy to launder and dry quickly.
Overall, the sleek and sophisticated cut of the pant, along with its incredible stretch-performance, makes this an uber-versatile piece of athletic wear that any active daily commuter would relish.
But, if pants in the summer aren't really your thing, Rhone's Phase 8 lined short is a great alternative for a comfortable commute. Cut to the perfect length (rising a third up the thigh) for movement and equipped with Rhone's GoldFusion technology to prevent smells and bacteria build-up, these breathable, extremely soft and comfortable shorts may not be able to go from bike lane to the boardroom, but they certainly deserve a home in your gym bag.