Refresh your apparel with new gear from Herschel Supply — the maker of your favorite everyday bag is now producing a stylish, effective and travel-ready collection of men's jackets, the brand's first foray into the fast-moving menswear market.
It's only fitting that the brand's outerwear offering — made up of two collections — harnesses the same mobile spirit, clean design, and great looks as the Herschel Supply line of functional, durable bags for your everyday carry.
Starting at just a shade under $70, the Voyage Anorak features a reliable, sharp, and yet simple design — the type of jacket that would be perfect to bring along on a weekend trip or a breezy day at a music festival. As the brand notes, it's "practical protection from light wind and showers," and we think they look quite stylish, to boot. The color offering — from bold camo prints to solid neutral options in standout colors like navy — should help the Voyage Anorak serve as a reliable top layer over your favorite spring and summer travel essentials; you know, pieces like a classic Oxford, slim tan chinos and white leather sneakers.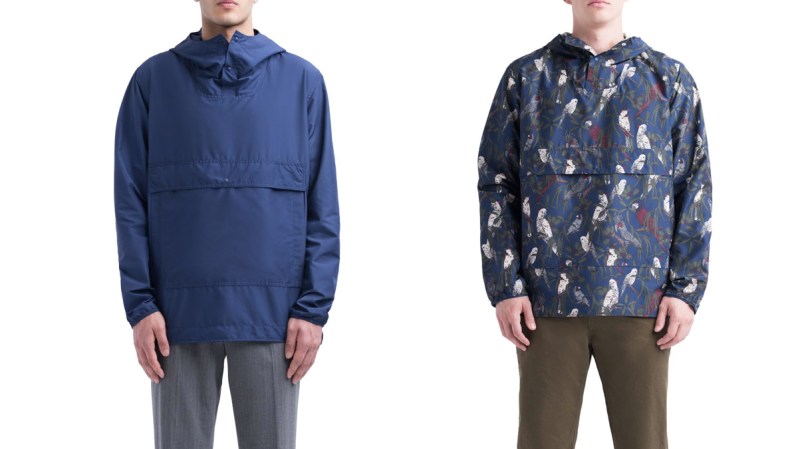 And the best part? These jackets appear to work seamlessly with the brand's lauded, simple-yet-stylish backpacks and duffel bags. Again, it's the perfect set of travel gear that'll have you covered for transit and days out on the town once you reach your destination.
If you prefer style that's even more classic and laidback, the new Voyage Coach's Jacket harnesses throwback style, simple looks, and the ability to blend in with other lightweight layers. It's available in an even more astonishing 13 colors — enough for every type of style, to say the least. We like the classic navy option for wearing with a grey Oxford and light wash jeans — but that's just us.
And the equally functional and crisp Forecast Hooded Coach Jacket adds a premium look and feel to the overall offering, clocking in at just under $100 and featuring several color options (our favorite is the head-turning Peacoat, a pleasing shade of blue). There's certainly a color choice and jacket style for everyone with the new Herschel Supply men's outerwear collection — and if you're seeking an on-trend, uniquely stylish way to complement your favorite Herschel Supply jacket, we've absolutely found your next purchase.
Featured image of the Voyage Coach Jacket courtesy of Herschel Supply
Editors' Recommendations