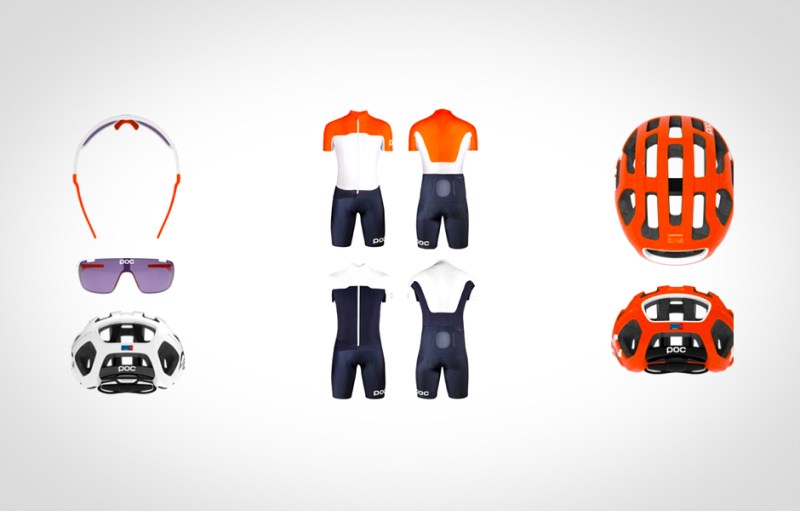 When you're forty miles into an all day ride, the first thing on your mind should be where your next set of calories are coming from, not if you're in danger of going unnoticed by drivers on the road. However, you can't always ride completely decked out in neon safety colors and reflective tape, so what is a cyclist to do? Swedish based POC's new AVIP Collection (Attention Visibility Interation Protection) is designed around the principles of engaging drivers with riders through minute visual cues. Integrated color schemes, kit coordination, and and contrasting designs ensure cyclists are noticed almost instantly. The unique helmets and sunglasses add to the jerseys and shorts, providing a complete safety suite for cyclists of every ability.
To start, every single AVIP product is designed with a simple color palette – fluorescent orange, visual white, and navy black. Providing eye catching color blocking in any environment is the key here – if I motorist doesn't see you, he can't steer clear. The AVIP Long Sleeve Jersey is a perfect example of integrating this design into a top of the line cycling jersey. Underarm mesh panels and a full length zipper are cut for an on-the-bike fit. The oversized back pockets easily swallow your snacks, an extra layer, and any emergency tools you might need to fix a flat.
If the worst happens, make sure you're a equipped with the all new Octal Helmet. POC's development team harnessed their decades of experience building snow sports and mountain biking helmets to build one of the lightest – and strongest – road cycling helmets ever built. Weighing in under two-hundred grams, the Octal provides extra protection at the temples, and back of your head, while also utilizing more than a dozen vents. It can also integrate with optional ICEdot crash sensor technology, which provides a unique interface to notify your emergency contacts if you hit the pavement.
With products to cover you from helmet to pedals, the AVIP collection is a must-have for novice riders, weekend warriors, and serious racers. Sure you could leave your safety and comfort up to chance, but if you're crazy enough to spend hundreds of miles a month on your bike, you should invest in the best gear.
Editors' Recommendations