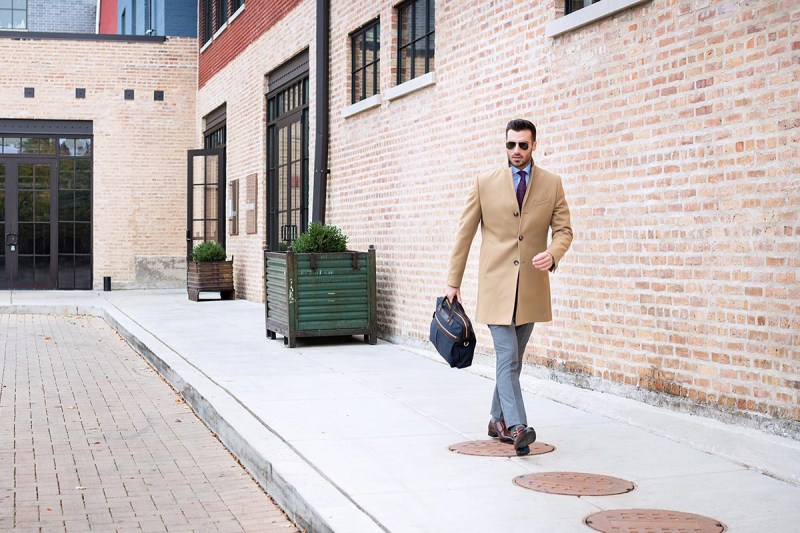 Most things in life require clothes, but it can be a real pain in the ass to get said clothes.
Maybe you hate shopping, maybe you don't have a great sense of what you like or what looks good on you, maybe you just want a whole new wardrobe in order to forget 2016 ever happened.
The answer to all these problems is styling boxes: clothes picked for you by personal stylists, sent to your home for you to try on. No crowded parking lots, pushy sales clerks, or chilly dressing rooms. Here are some of our favorites:
How it works: Trunk Club actually has two options: You can either have them send the clothes to your home, or if you live in Chicago, Dallas, New York City, Charleston, Washington, DC, or LA, you can go to their Clubhouses. The luxurious Clubhouse will make you feel like you're shopping in a different era: you get a free drink from their bar while you try on the clothes your stylist pulled. Take home whatever you like or discuss their custom options.
If you live anywhere else, take the style survey to help them select your clothes then, they'll send you an email with a detailed list of what's coming. You can make any changes you like, then once approved by you, it's mailed to you. You have five days to have a movie-montage-type try on of the clothes. Send back whatever you don't like (free shipping) and the $25 fee for home try-on is credited to whatever you end up buying.
The threads: Everything from weekend casual to tuxedos. The clothes are on par with what you'd find at high-end department stores; you can indicate if you're looking for big time investment pieces or you're trying to dress well without spending a fortune.
For a list of the brands they pull from, click here, but it's things like Ralph Lauren, James Perse, Theory, and Original Penguin.
The Stylists: Are a mix of men and women: if you're in Clubhouse cities, go meet them in person. If you're not, you can connect with them via phone, email, or the company's chat app. You can choose the stylist, or switch it up whenever you like. They're also available to offer advice on what to wear, like to that wedding that suggested "snappy casual," whatever the hell that means.
Subscription Plan: It's not a subscription: you request the trunk as often as you like.

How it works: You take a style quiz, set a budget, and tell them what you want (if you have specific types of clothes in mind). Coupled with checking out any social media you have to get a better sense of your life and style, the team at Bombfell uses an algorithm to help select options. Your personal stylist ultimately chooses what's picked for you and you receive a preview email before sending the duds your way.
You have ten days to try everything on, sending back the items you don't want with free returns. Bombfell has no home try-on fees: you just pay for what you buy.
The threads: Bombfell is for upscale casual pieces; think nice dinner out that doesn't require a suit. They average about $89 a piece, but the stylists will work with you on budgets. They offer brands like, Maker & Company, 7 Diamonds, and Ben Sherman. They've got some items for you big and tall chaps, but it's not extensive.
The stylists: Professionals from the world of fashion who couple technology with their eagle eye to make you look dashing everyday. You can swap stylists as you see fit.
Subscription plan: It is a subscription but you're free to cancel it. The default option is a monthly box, but you can change that to every two or three months. If you need to skip a shipment, you can.

How it works: This is fashion with an altruistic side. For every box purchased, they give $1 to adoption services. You'd get to follow up a compliment about your outfit with a "Thanks! Dressing this well helps kids get adopted." You take the ever-present style quiz, talk about your lifestyle and preferences, and then select your–
Subscription plan: $75 for a curated box of 2-4 items every month, $77 for said box every two months, or $80 for every three months. You cancel anytime. But that fee covers everything in the box. And, believe it or not, they have a 365-day exchange policy.
The threads: Fancy casual styles, include accessories like watches, sunglasses, and even lapel pins. They carefully vet labels to ensure high-quality items that will last.

How it works: Five Four Club is a little different; they're like having a private fashion label dress you. Take the style quiz, then for a $60 a month (some states charge tax, too) membership fee, you receive three items personally selected for you each month. These clothes come from their in-house designers, chosen based on your style and the season. You can also shop in their online store where members get up to 80% off. Shipping is free and you can exchange sizes.
The threads: These clothes are definitely on the more casual end of the spectrum. No black tie event shopping here. That being said, they offer just about every category of clothing: shirts, pants, jackets, shoes, socks, ties, bow ties, belts, tees, even a soccer ball, because why not?
Subscription plan: The boxes will show up monthly until you cancel.
Having your own personal stylist isn't just for the rich and famous anymore. Now get out there and find some new clothes! Or rather… stay in the comfort of your home and find some new clothes.
Editors' Recommendations