Figuring out what to wear to work can be a real head-scratcher. Do you invest in complete outfits? Wing it with separates? Or just try and mimic everything your boss wears? In my opinion, the best way to stave off imposter syndrome (and streamline your workplace attire in the process) is to fill out your closet with some versatile and stylin' staples.
Snag a few interchangeable basics and you'll be shocked by the ease with which you can mix-and-match your way to success by creating dozens of different looks that are as fly as you are. Interested in the idea but have no idea where to start? No worries; I'm going to introduce you to my favorite pants, shirts, and jackets that'll help put your office outfit routine on auto-pilot.
Pants
Dockers Alpha Khaki Pants
A close-fitting, lean cut makes the Alpha Khakis from Dockers an obvious workplace go-to. They're fun yet professional, trendy yet effortlessly classic, and it doesn't hurt that they're infused with four-way stretch for extra mobility. Pair with a simple button down for a laid back look or dress the whole thing up with a dark colored jacket.
Flint and Tinder Cool Chinos
Lightweight, comfortable, and super versatile, the Cool Chinos from Flint and Tinder are a slam dunk for some mix-n-match styling, whether you want to go old school with a turtleneck and suit jacket or casual with a graphic T-shirt. Plus, they feature an open knit that's incredibly breathable.
Club Monaco Sutton Donegal Herringbone Dress Pants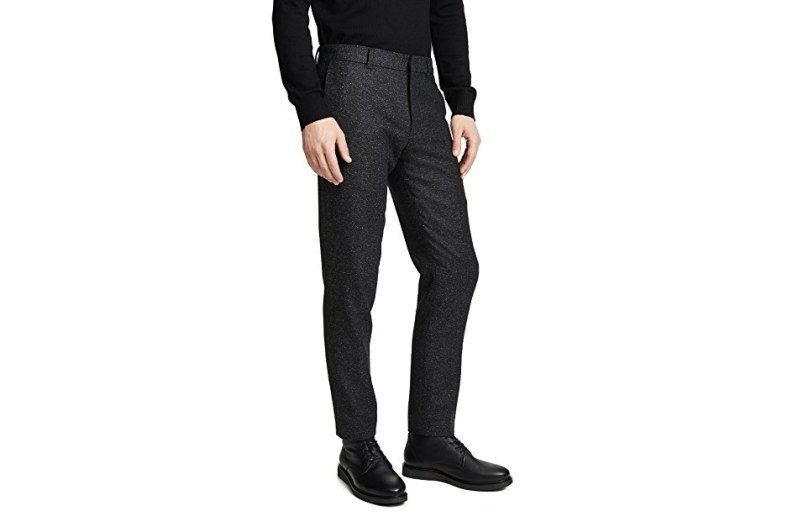 While the above options are great for most workplace situations, you'll definitely want to keep a pair of dressier pants around as well, like these from Club Monaco. A herringbone weave makes for an elevated aesthetic that could take any look from 0 to 60 in no time flat, so bring these out for your next one-on-one with the boss.
Shirts
Tommy John Stay Tucked Dress Shirt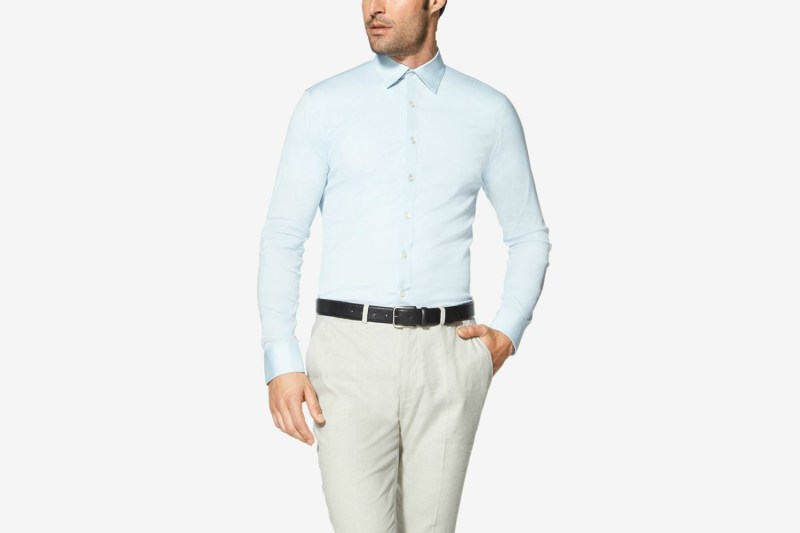 Every office outfit rotation needs a streamlined button down, and this one from Tommy John is an absolute winner. Why? Because it's guaranteed to stay tucked no matter how much you move, resulting in a tailored finish appropriate for any situation.
Duer 9 to 9 Button Down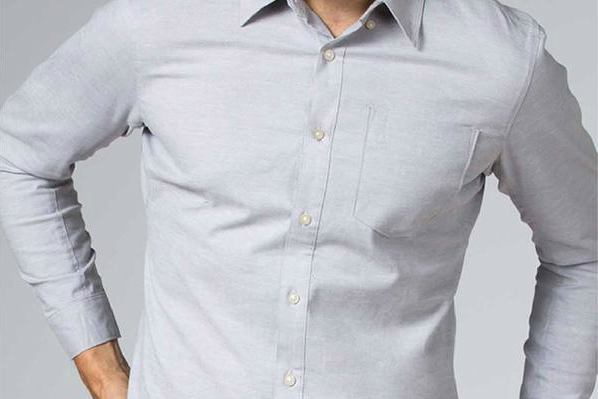 Another great button down option is the 9 to 9 shirt from Duer. Though it's currently sold out (sad face), we highly recommend you jump on this the next time it's available. Not only is it imbued with special cooling and stretch properties, but also happens to look extremely flattering on most guys.
Faherty Stretch Oxford Shirt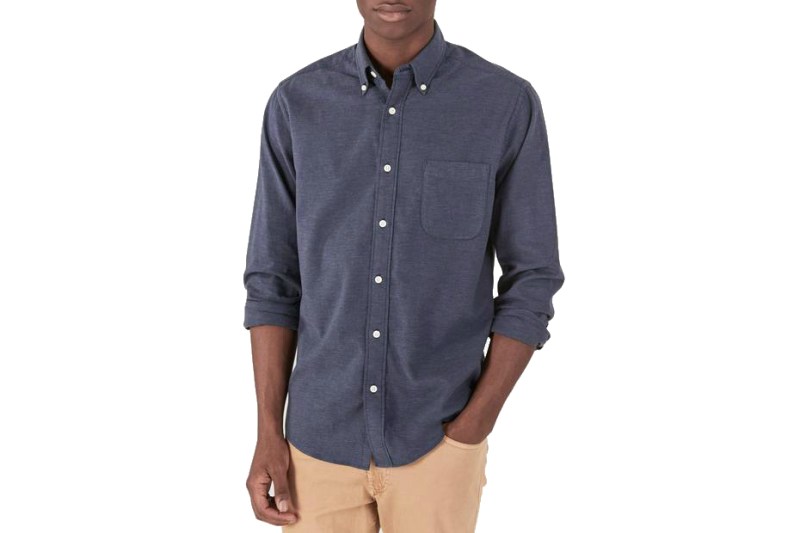 For something a little more relaxed, consider this stretch oxford from Faherty. While traditional oxfords are notorious for being stiff and boxy, this bad boy has a looser fit that looks just as good tucked as it does untucked, while still maintaining that air of office-appropriateness.
Jackets
Taylor Stitch Telegraph Jacket in Navy Slub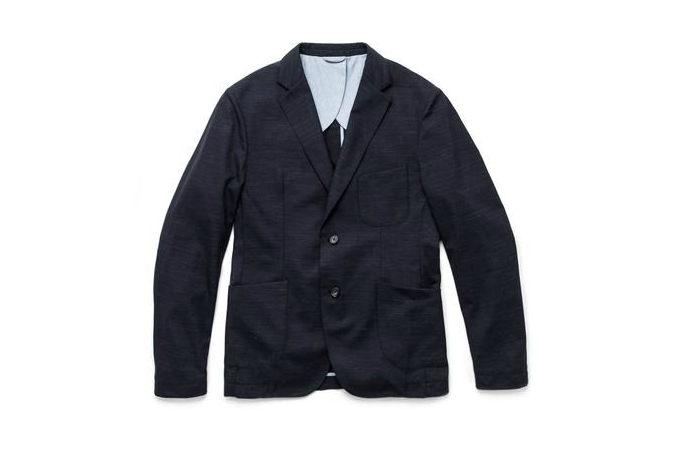 Looking to boost your workplace look without too much fuss? Then you'll definitely want to incorporate the Telegraph Jacket from Taylor Stitch into your rotation. An even knit of cotton and wool (plus a lustrous chambray finish) makes this blazer both hip and classic, as appropriate with cuffed jeans and a tee as dress pants and a tie.
Bonobos Tech Blazer
Though it's always important to build a wardrobe to your personal tastes, there are still some items you've just gotta have, one of which is a crisp, clean blazer. Sure, this item may not seem super exciting hanging in your closet, but it's guaranteed to look damn impressive at your next client meeting. There are a lot of blazer options on the market, but for our money, there's no better jacket than this one from Bonobos.
Indochino Houndstooth Linen Cotton Blazer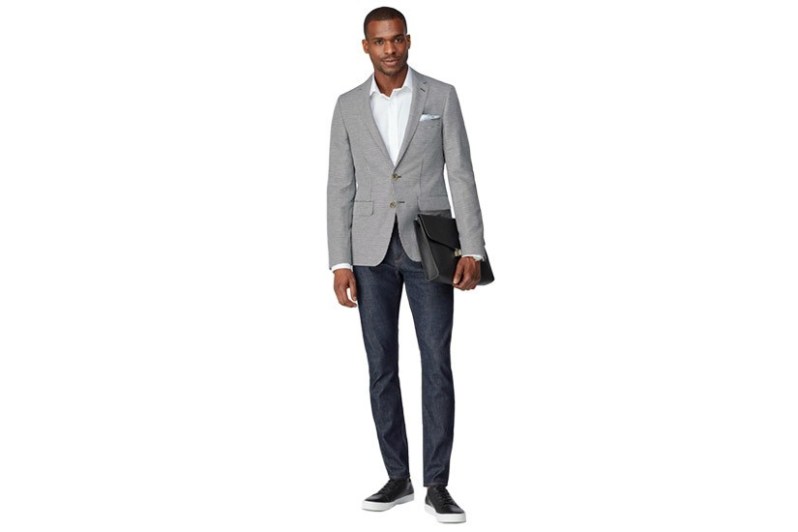 And of course, no office outfit collection would be complete without a little luxury, so why not throw this houndstooth linen cotton blazer from Indochino into the mix. Here, merino wool and premium silk work in concert to create a sumptuous vibe that's cozy and classy i.e. ideal for stepping up your style game without sacrificing comfort.
And now that you've got your office outfits on auto-pilot and are happy with your fashion-forward, but easy look, why not upgrade your workspace while you're at it?