You may recognize the design of the deck jacket from cracked and yellowed pictures of men in the armed forces during the middle part of the last century. It's the type of jacket you'd see on dudes who'd only ever had one type of haircut (flattop), and only one type of shirt (white crew neck t-shirt). And somehow they still looked cooler than anyone alive today.
The MIL-SPEC N-1 Deck Jacket ($1,495), the newest adaptation of this iconic design by Freemans Sporting Club, is steeped in that old-fashioned aesthetic perfect for any man in need of throwback winter wear.
Because this unique piece was made in New York and uses extremely high quality materials, it has a price to match. But FSC got so many of the details spot-on, this has become one of the most striking high-end jackets of the fall.
To start, this jacket is absurdly warm. Don't even bother with it if the temperature outside is over 60 degrees because you'll just end up sweating out your shirt. When it does get windy or cold or wet, you may as well be on the other side of a brick wall for how well the N-1 Deck Jacket blocks the elements. The mid-length waist gives you a lot of mobility and freedom of motion, which would be perfect on a motorcycle in less-than-ideal temperature, too.
The shell is cut from raw 8.25 oz MIL-SPEC TexWax that has a somewhat rough, but pliable texture, and it comes in a natural chestnut color or forest green camo pattern. Because the cotton is treated with wax, it also shows marks and wear in interesting ways, meaning this thing will age into an appealing distressed look over time. The interior, on the other hand, is lined with dense Uruguayan shearling that's as warm as it is soft. If it gets really windy, you can fold the wide collar up around your neck for extra protection.
Hidden wool storm cuffs keep your wrists warm and prevent drafts from going up the sleeves, while a waist drawstring allows you to tighten the jacket down to your specific body shape. The main zipper is a two-way Ideal zipper, which is a little sticky brand new, but may wear in with time. Covering the zipper is an extra storm flap which is held closed by horn buttons.
One of the best features of the coat are the two deep pockets on the front. Since they are sewn onto the outside, you don't have to worry about tearing out the pocket linings, and they are wide enough to accommodate gloved hands if it's really cold out.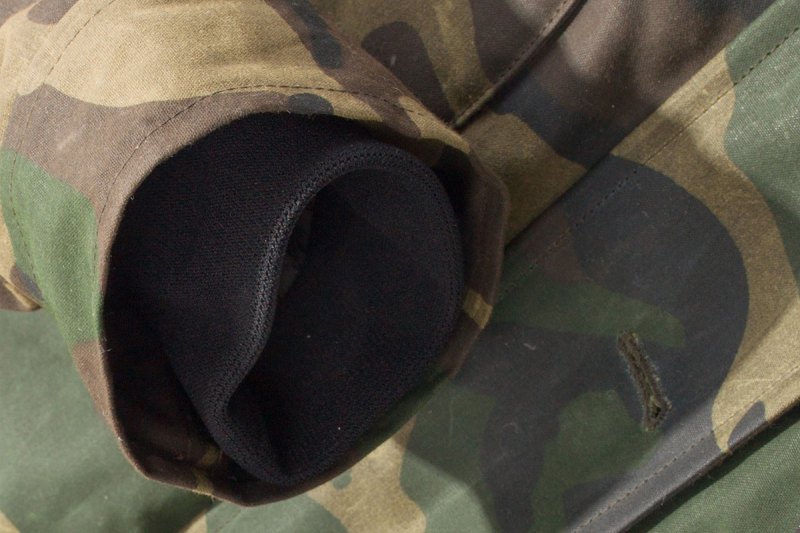 This design was popularized back in the 1940s, when the Navy understood that if they wanted to keep sailors fighting Nazi U-boats and Japanese battleships, they had better keep them warm. It was so effective in cold and wet weather, the Navy used it another 20 years before being decommissioned.
If the design worked for the armed forces all those years, it will probably serve you well, too.