Rob Magness, a former menswear design director at Ralph Lauren, launched his menswear brand and its accompanying downtown New York City store Grown & Sewn six years ago with a simple premise: "To re-create the way you think of khakis, this historical, iconic pant that kind of became a bland afterthought where people walked into a store and were asked, 'Pleated or plain front?'" Initially meant to have every piece literally grown and sewn in the USA, the brand has since evolved due to necessity and now includes some imported fabrics and non-khaki pants, along with other pieces.
However, this terrific label still manages to cling to its roots as a new American Heritage brand. Everything is still proudly made in the USA and its shop, at 116 Franklin Street in Tribeca, with a design and administrative office in the back, is a welcoming, unpretentious retail destination that carries the full and very high-quality collection, along with boots by the Wisconsin-based Thorogood and a few vintage military bags.
Magness recently met up with me and walked me through the store and its fantastic merch, which is also sold directly online and in top stores in Japan, a place that recognizes American made quality like no other.
What is the backstory of Grown & Sewn?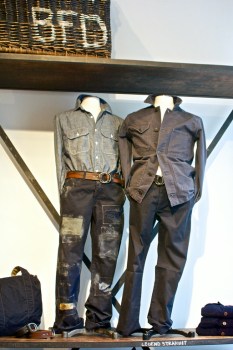 I spent a decade at Ralph Lauren which was an amazing experience and then went to work for a startup for a short stint. After that I had this itch I had to scratch and it was now or never. I was getting married and my wife decided that she was OK with it too so it started as a small concept: two pairs of pants and a pop-up store down the street. We tried to take the influence of what you love about jeans and the love of khakis and kind of merge them together. So we developed a custom cloth which is a really tightly woven three-ply which also gives you comfort as well as durability. And we sourced American hardware and we actually worked with a factory in San Francisco that had roots working for Levi's. That was the perfect segue for what we were trying to accomplish: This historical brand that has had a big influence on denim and have them go in and really put their DNA into just a khaki pant.
How has Grown & Sewn evolved?
We started with just a straight leg and began following the denim influence of fits. Obviously it is a language that is very common now but it was not as common five or six years ago. After starting with twills we moved into doing different fabrics whether it be corduroy or wools. We do a little series. We work with an artist and call it The Artisan Collection. We do limited edition, hand numbered artisan pants that are all hand-patched and painted and numbered. It helps tell the story of the artisan aspect that we want to be.
How many different silhouettes do you offer?
Four: Straight, which is your classic regular, Slim Straight, which is regular with a little more tapered leg, a Slim, which has almost become the new classic with a cleaner thigh and a more tailored feeling, and a Skinny, which is just a clean silhouette. That's what we work around but that's not to say we won't do some fun fatigues with a military influence.
Tell me about Grown & Sewn's non-pants options.
And we just started a relationship and made some fun garment-dyed custom T-shirts that have only been in the store a week or two. This spring we will lighten up the fabrics so we'll have some lightweight twills and shorts and T-shirts and some fun, subtle graphic T-shirts for spring as well as a little women's story.
Is the fact that everything is made in America an important selling point?
I think it catches some people's attention. We have people who make an effort to buy domestically made goods just because they feel like it's their part. Some people feel that way but some people could care less so at the end of the day we just want to make sure our product withstands the test of time and that it's not the type of product that when you look in your closet you ask: Why did I buy that? We want it to be something that when you look in your closet you think: This is so amazing and I am so glad I made this investment.
What are your bestselling pants?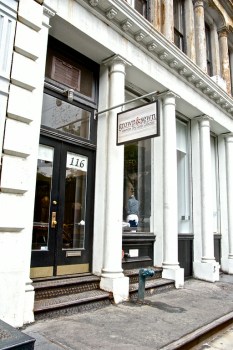 The Slim. It's kind of more of a tailored classic so when we first started the independent Slim pant it was made purely for Japanese clients and has slowly evolved into being our number one selling pant. We still have a lot of guys who like the traditional, easy regular straight fit leg, which is still very popular. But it is interesting. We have recently seen a shift. Our more classic fit has picked up.
And top colors?
Ironically, grays and navys are more popular than khaki now. They're like the new khaki. We started with khaki and will always have it but we have evolved where darker shades have become more the norm.
What are the prices?
It's in that $168 to $200 range is our core. But then we will have some special items like an Italian wool flannel that is $250. These are actually really good value considering what we put into it. And we just started with T-shirts that are all American made with a high thread count and they are all $40.
Who is your typical customer?
It is a really interesting demographic. Our age group is so broad. It's 18 to 80, which is a huge range. Some guys walk in who are very contemporary and dress very modern in very slim and body-conscious all-black clothes and then there are other more traditional guys. Everybody who is a part of our brand has an appreciation for clothes and an appreciation for quality. That is kind of our backbone of the people who support it and that is why there is everyone from a guy who works down the street at Goldman Sachs to a kid from Brooklyn who wants something very contemporary and cool.
What's next for Grown & Sewn?
We just want to make great clothes. That might sound silly but as easy at it sounds, it is very challenging. We hold ourselves to a pretty high standard.
Editors' Recommendations