While it's still technically winter, warm weather is just around the corner. The impending change in weather will require clothing that looks good while keeping you cool during the day and warm at night. It's not easy to look like a boss while balancing between the warm days and cool nights of spring, but it is totally possible. And Ledbury, one of our favorite luxury menswear brands, just made it easier.
Just in time for spring, Ledbury's Commonwealth Collection has released two limited edition popover shirts that are ready-to-wear, but reflect the menswear brand's respect for bespoke clothesmaking. These shirts are simple, handsome, and a must for any man who is looking to up his wardrobe game this spring.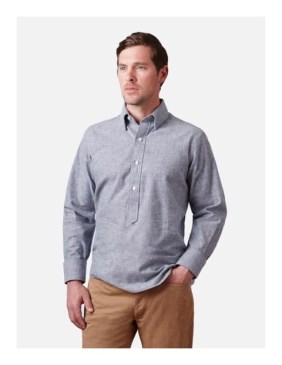 The Ledbury Workshop recently acquired one of the last bespoke shirtmakers in the country, which has been making custom shirts for more than 100 years, outfitting the likes of Presidents Harry S. Truman and George H.W. Bush. Ledbury is carrying on the legacy of the care and attention that is put into bespoke clothesmaking. And through their buy-now-wear-now Commonwealth Collection, they've decided to share the wealth of carefully crafted clothes with those who might not be able to make it to Virginia in order to get their own custom shirts.
When it comes to looking (and staying) fresh in warm weather, nothing quite compares to the popover—the woven, collared shirt where comfort meets style. Ledbury's popovers are handmade with brushed slub cotton, which gives the shirt enough weight to keep you warm at night but won't leave you feeling weighed down during the day. Ledbury has only made a limited supply of each design, so these shirts won't last long.
Interested in how Ledbury makes magic? Check out the video below:
Editors' Recommendations