Marine Layer wants you to wear trees. And once you feel their clothes, you will too. They use MicroModal fabric, which is made from beechwood pulp and it will change your life. Their shirts also change lives of people who don't even wear them through Charitees.
But first, let's explain the tree thing: MicroModal. This is a type of rayon made from the cellulose of things like bamboo and beechwood pulp, spun into fibers. If you've never felt Modal, or the even more breathable MicroModal, it's ridiculously silky-soft. Marine Layer shirts feel like your decades-old favorite tee, but without all the pit stains and holes.
Lots of companies have jumped on the MicroModal train, but Marine Layer is special, creating more than 25 different custom fabrics using MicroModal. Plus, their fabrics are made from recycled beechwood, meaning their process is sustainable and remarkably eco-friendly. A majority of Marine Layer's work is done in San Francisco or Los Angeles, though they do use responsibly-chosen overseas factories with ethical work environments and sustainable practices for some of the more complicated stitching.
Design-wise, they're a laid-back company with California-cool, minimalist pieces that will never go out of style. They've got tees, sure, but they also have polos and button downs, which will make the office or a dinner party feel heavenly. Anything you could possibly need– from boxers and socks to outerwear to skincare, Marine Layer has you comfortably covered.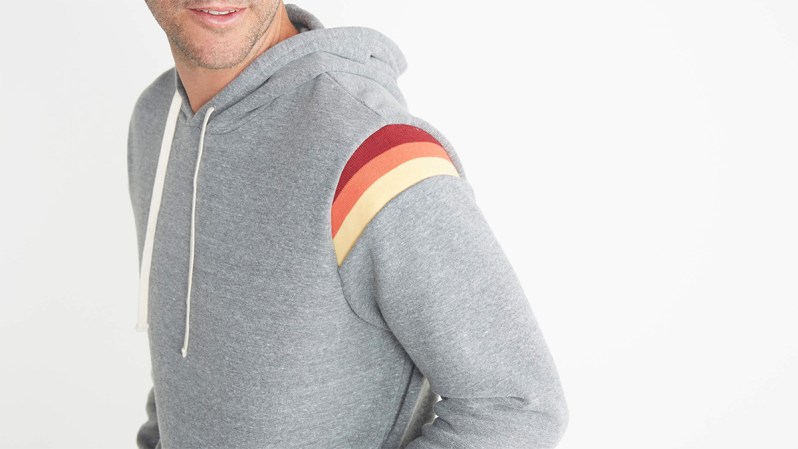 But the company doesn't stop at just being environmentally-friendly and conscientious about their manufacturing. They give back to their local communities through Marine Layer Charitees. They will choose a charity close to one of their stores, create a limited edition tee shirt for it, and donate $15 of each purchase to the cause. Currently, they're working with the Warriors Community Foundation, which works to support, inspire and invigorate the youth in the Bay Area.
Past partnerships have included The Lonely Whale Foundation to support marine science education in Southwest Chicago; Keep Tahoe Blue, which does just what the name suggests; and GLIDE, which does remarkable work in San Francisco, like offering three meals a day, legal help, child care, housing assistance, and so much more.
This is definitely a tee-shirt collection worth having.