Not just another brick in the wall, a new Bamboo Sports Hall made for Panyaden International School in Thailand uses solely prefabricated bamboo rods to form the exoskeleton of this commonplace gymnasium. Yes, only bamboo.
The Bamboo Sports Hall is reminiscent more of a great natural temple or meditation space as opposed to a phys ed building where you might find scrawny kids hiding from dodge balls (this Hall fits around 300 students). Its architects, Chiangmai Life Construction, are experts in bamboo design and have eschewed the idea of using any steel reinforcements to make the intricate weaving and busheling of bamboo more secure. Chiangmai Life already expects the building to last at least half a decade, with attention to the unique storms or ecological forces that might sweep through the area (anything from high winds to earthquakes).
Inside, where fresh air can roll through the open-wall design, is a long court bordered and roofed with huge bamboo arches. The court can be used for a variety of games such as basketball, volleyball, badminton, and a form of football. At the sides are storied balconies for spectators to watch, and beyond the end of each main side of the court (think of where the baskets would be on a basketball court) are dizzying waves of bamboo that summon the motion of a vintage roller coaster.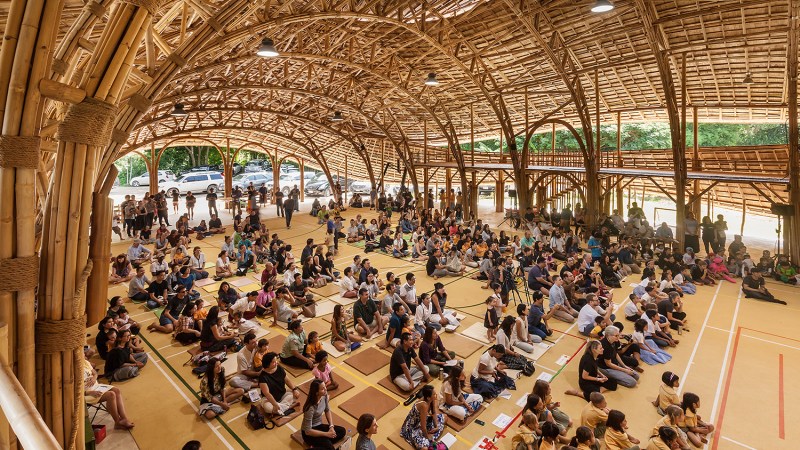 This shape is a side effect of the roof design; a 55+foot, three-tiered dome inspired by the shape of a lotus flower. Meanwhile, the unique formation and busheling of bamboo in certain areas creates a natural insulation and ventilation system, since after all, one of the goals of Chiangmai Life in building the Bamboo Sports Hall was to keep things hyper-natural.
This eco-minded design keeps with the ethos of Panyaden International School, which educates pre- and primary-school children with a curriculum that incorporates Buddhist values and green practices. By using only green architecture, Panyaden is both fostering an environment that is "peaceful and close to nature," while demonstrating how to "live an environmentally mindful life with a low carbon footprint," it's official website reads.
That means no water-wasting showers where you might find yourself with a towel whipping after gym.
Bamboo Sports Hall is unlike any school gym on the planet. It provokes a sense of ease and calm, being both an insular, man-made structure and a remnant of nature.
Let's just say if our school gym looked this way growing up, we wouldn't have ditched as much… and maybe even gone to dodgeball with a Zen meditation in mind to make it sting a little less. Chaos is inherent in all compounded things. Strive on with diligence.
Editors' Recommendations