Boasting a strength greater than steel yet a weight as light as aluminum, bamboo is an incredibly unique material that's popping up in products ranging from computer keyboard and mouse covers to cutting boards and even wrist watches. So why not bamboo bicycles? Launched via the popular crowdfunding site Indiegogo is exactly this, an innovative bamboo bicycle that's not only uniquely constructed but aesthetically pleasing to boot.
Related: Priority Bicycles lives the laid back lifestyle with its Coast beach cruiser
Created by a company out of Bucharest, Romania called Craft Bicycle, these one-of-a-kind rides boast some of the highest quality components and construction of almost any relative bike. Aside from its bamboo frame — of which required roughly 60 hours of work to build — the bike is also constructed using natural hemp fibers and a bio-resin that creates a nearly indestructible seal on all its joints. Additionally, aircraft-grade aluminum was utilized to create the rest of Craft Bicycle's sturdy frame.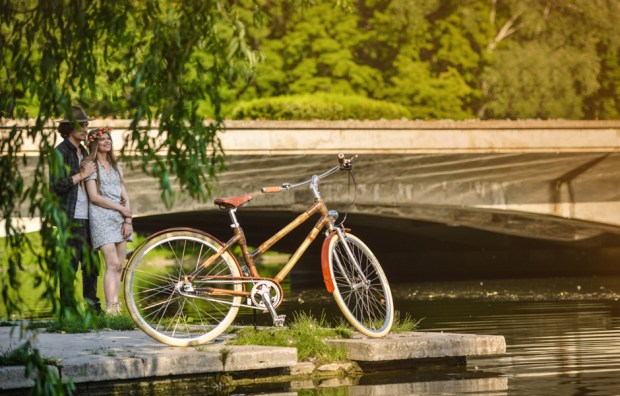 "Our objective from the very beginning was to create a truly unique bicycle, one that would be the pride of any bike-rider," reads the Indiegogo campaign. "The process involved multiple iterations of drawing, modeling, building, and testing until we were sure we had a bamboo bike that will turn heads. Now, after years of research and testing, we can proudly say that our bicycles are made from the best quality materials on the market."
In addition to its frame, a Craft Bicycle bamboo bike also comes standard with Shimano's Nexus 7 gear shifter, its Rapid Fire Shifter mechanism, Ryde's Sputnik braking system, and Schwalbe's Kevlar reinforced Delta Cruiser tires. Furthermore, the Romanian company enlisted the help of Brooks England for the bike's leather saddle and leather grips which perfectly round out the product's incredibly high quality across the board.
Those who fancy a bamboo bike can simply head on over to Craft Bicycle's Indiegogo page to secure a model for themselves, though it is worth pointing out the bikes cost a rather pretty penny. While "Super Early Bird" adopters have the ability to purchase one for roughly $1,107, the typical retail price figures to sit closer to around $1,350. At least buyers can rest assured the thing won't break down on them anytime soon.