This is big news in the menswear world. Like Super Bowl big. Well, if you nerd out on textiles as much as we do.
As you know we are huge fans of Harris Tweed. It's the epitomy of the British gentleman in one single cloth. We assume this cloth smokes a pipe when the mill shuts down. It's wool is most likely strengthened by wee drams of whiskey woven through every fiber.
Yesterday the iconic brand received the ultimate seal of approval from Lord Lyon King of Arms (no less!), Dr. Joseph Morrow QC (Queens Council) – a Grant of Arms.
Related: A Discussion with Harris Tweed
What exactly does this mean? We rang up the charismatic Norman MacDonald, chairman of the Harris Tweed Authority to hear more.
What exactly is a Grant of Arms?
Besides conferring prestige on the brand, it gives holders the ability to take action against unauthorized use of a Coat of Arms. (i.e. copycats).
What is the history of the Grant of Arms?
The Lord Lyon who has the responsibility for regulating heraldry and issuing new grants of arms gave the first Grant in 1672.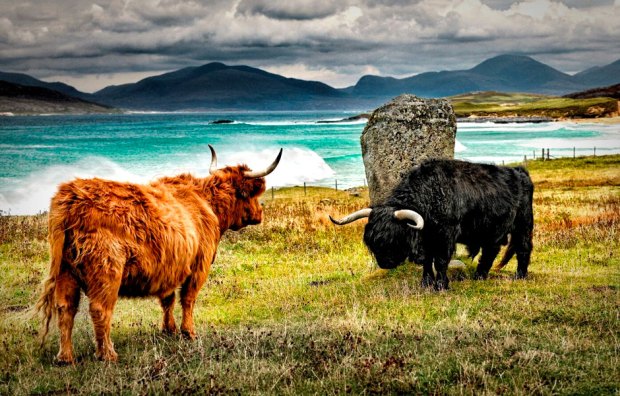 How long did it take to secure the Grant of Arms?
The process of securing the Grant of Arms took just over 12 months to complete and was handled by Campbell Newell, a partner with intellectual property firm Marks & Clerk.
What does the arms look like?
The arms incorporate the elements of the Harris Tweed Authority's logo with the motto, "Guardians of the Orb", appearing on the Letters Patent. The Authority also uses the Gaelic phrase 'Ughdarras a Chlo Hearaich', which translates as 'Trustee of Harris Tweed'.
What is next for the brand?
Today we are launching an new exhibition that tells the story of Harris Tweed. We have worked with the amazing photographer Ian Lawson who has expertly charted the people and places that are instrumental in the creation of this sought-after fabric in the Scottish Hebrides. There will also be a collection of Harris Tweed products and objects sourced from the weavers and designers. The exhibition will be officially opened by Patrick Grant, creative director of Saville Row's Norton and Sons.
If you are in the UK check out the show at The Gallery, Rheged Centre, Penrith. The exhibit runs till May 15th.