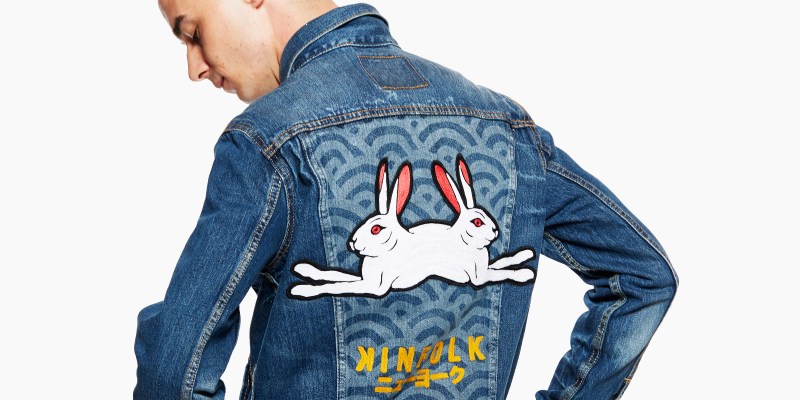 Originally founded in 2008 as a bicycle company, Kinfolk has since expanded into clothing, home and lifestyle design.
While its focus has shifted over the last decade, the brand has remained committed to innovation and quality, a priority very much apparent in the brand's recent collaboration with Levi's.
"The first conversation we had about the collaboration happened exactly a year ago," began Keith Abrams, Managing Director of Kinfolk. "In terms of Levi's history and the high quality of its products, it was a perfect fit with our brand."
"Levi's attention to detail mirrors our own design focus," he continued, "so the process of coming up with the Double Bunny Trucker Jacket was really seamless."
The playful graphic of conjoined white rabbits that appears on the jacket comes from an icon used by Kinfolk on some of its earliest bicycles, dating back to the beginning of the company.
As Creative Director Jay Perie explained, "I wanted to pay tribute to Kinfolk's birthplace by using traditional Japanese patterns while taking full advantage of Levi's Eureka custom capabilities. The chain stitched double rabbit embroidery is Kinfolk's iconic logo, first used as a metal shield on Kinfolk custom bicycles back in 2008."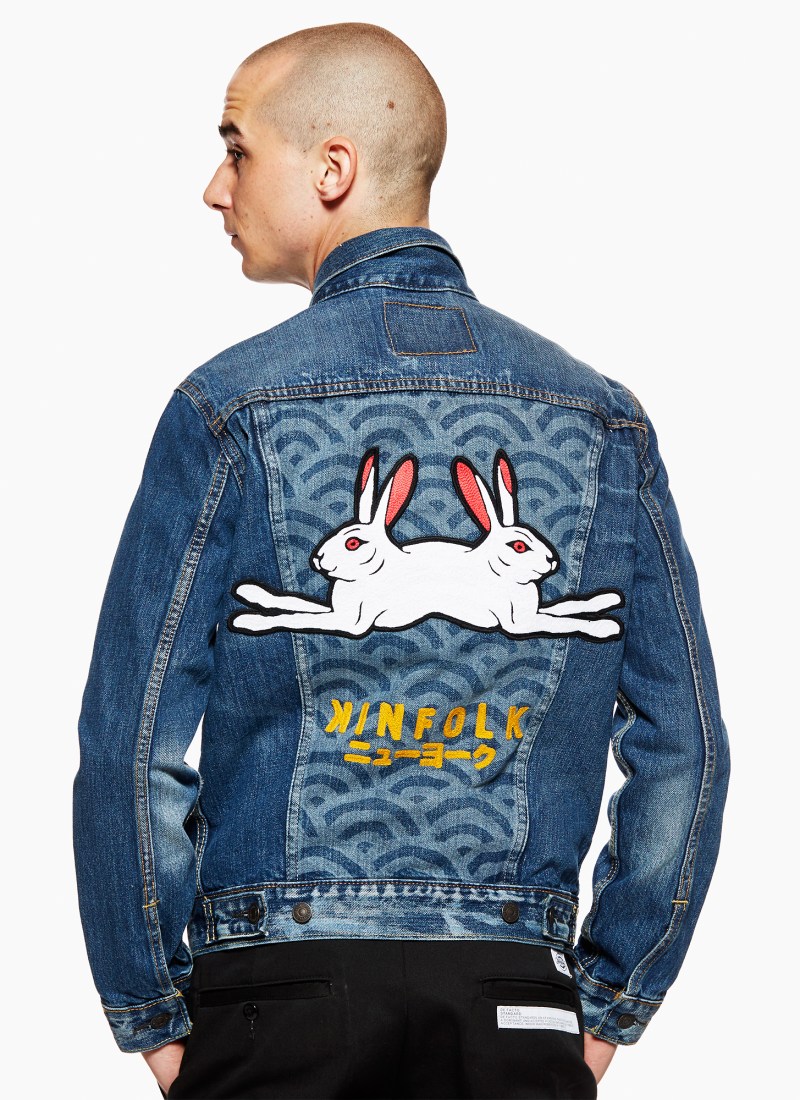 Eventually, Abrams and Perie ventured together to Levi's Eureka Lab in San Francisco to help craft the denim that would feature the graphic, playing around with a wide range of techniques and fabrications before landing on the final product.
"It was a fun process and I think the finished design is really incredible," Abrams commented. "This marks the beginning of what we hope is a long relationship with Levi's."
In addition to the Double Bunny Trucker Jacket, Kinfolk also recently debuted collaborations with Birvin Uniform (with a wind-resistant black parka, $700), Ink (in the form of a military jacket sporting another rabbit graphic, $460) and Cockpit USA (a bright blue aviator-style jacket, $1,400).
Editors' Recommendations