"We started the company about four and half years ago. We were partnered with a factory on the West Side of Chicago and the goal of the business was to design, develop, and manufacture high-end American made men's clothing and sell directly to our customers at a more approachable price point. That was the initial model of the business and is something we still do to this day," explains Jim Snediker, one of the three partners behind Stock Mfg. Co., a Chicago-based designer/manufacturer that in addition to offering an eponymous men's line now also runs its own physical monobrand clothing store and creates uniforms for top ranking restaurants and hotels.
Snediker recently shared the story behind Stock's "locally made" success…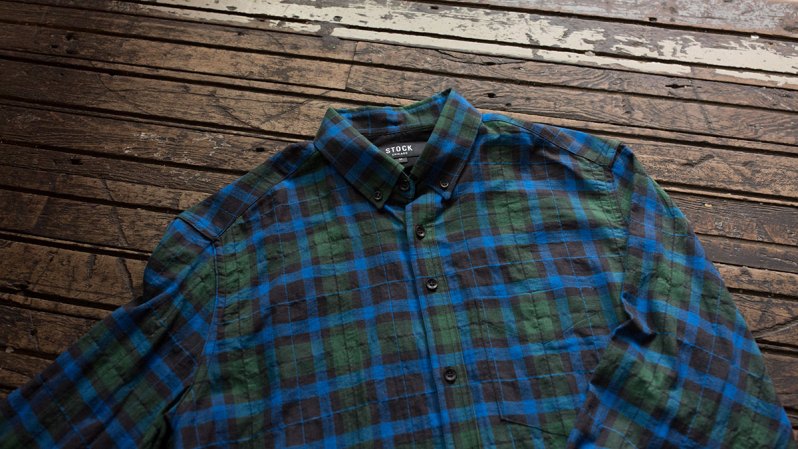 What prompted you and your partners to start the business?
A big part of it was just seeing a gap in the marketplace. We were all big fans of American made brands and styling and that heritage thing that was really going strong five years ago but we realized that we were always looking at the stuff but never buying it or sitting on it and waiting for sales – maybe buying one shirt from Gitman in a year. Button-down shirts were 200 bucks so it wasn't a feasible way to fill your closet out. So we saw this opportunity and said that we can make really high-end clothes with all Japanese fabrics and top-quality zippers and buttons but not at a J. Crew price point.
Who's your customer?
Our customers tend to be guys who work in the creative or entrepreneurial fields. We have a lot of customers who work at ad agencies, photographers, artists and a lot of people who work in the service industry. And we have a pretty nice following on the West Coast in San Francisco and the Silicon Valley area. We see a lot of those people who are dressing not necessarily for your standard office job.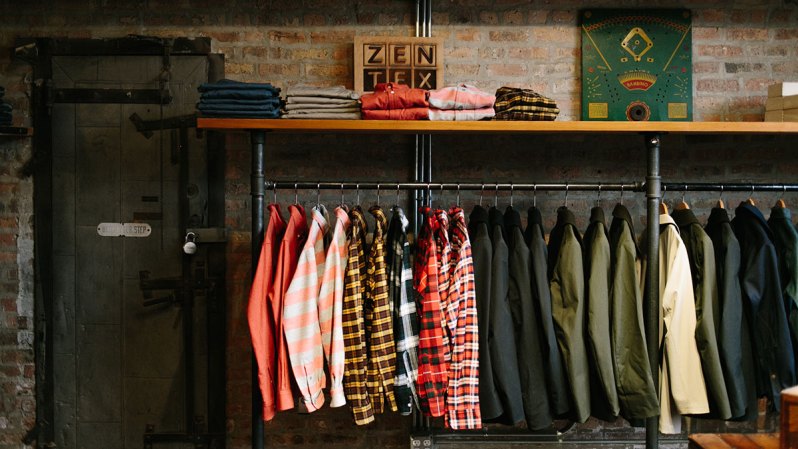 What are some of your bestsellers and favorite pieces?
We do a couple iterations of our denim work shirt every year and that is the thing that gets the most buzz on what we do year in and year out. It's kind of a classic four-pocket overshirt but we do it in different types of interesting denim or fabric every year and it has a lot of high-end finishes to it. It is sort of our staple piece.
We don't reissue a lot of things. We're pretty much constantly releasing new stuff every year. Once in a while we'll do a restock but some of my favorite stuff is because we've found a lot of interesting, nice fabrics, generally from Japan. You'll see we've got shirts coming out this summer that are a good example – fun interesting weaves and prints and we've started getting into quite a few jacquard patterns which are pretty interesting because they add a little bit of texture as well as color to your garment. Our focus has really been on taking classic menswear staples and putting a more modern twist on them.
And you've done collaborations?
2016 into 2017 has been pretty quiet with collaborations, but that is really how we got the business going from the ground up: leveraging the fact that we had design and manufacturing in-house and doing collaborations with lots of really interesting brands and unique partnerships as well.
The biggest one we did was this project with Miller High Life about a year and half ago where we dug into their advertising archives and created a clothing collection based on 100 years of advertising that they've done.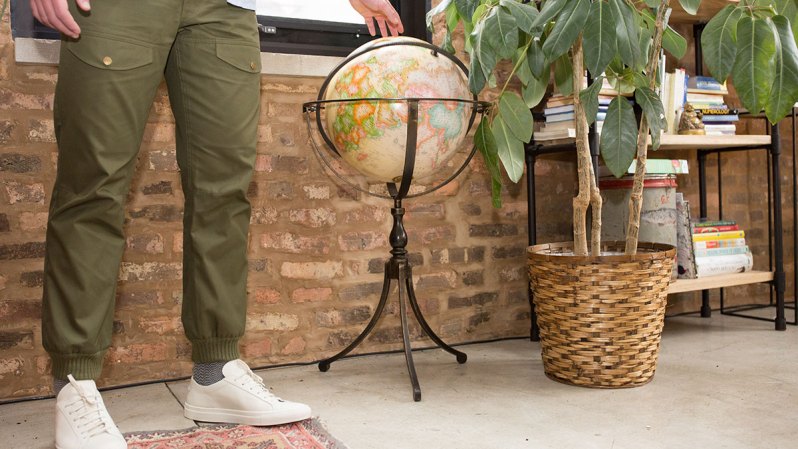 Then we've done collaborations with a couple of other American made brands – Taylor Stitch out in San Francisco, Ball & Buck in Boston and Red Wing Boots in Minnesota. The theme of that collaboration was that you could drive from San Francisco clear across to Boston and get everything you need along the way.
How's the brick-and-mortar store going since you opened it two years ago?
It's great. It's off the beaten path. We got the space as an office and decided to build a store out in the front so we've got a pool table and a bar and a little lounge hangout area. It's as much as a place for people to come and spend some time as much as it is for them just to come, shop, and get out.
What sets Stock Mfg. apart?
We kind of view ourselves as clothing design and manufacturing company that runs a menswear brand because we do other projects for other companies and big part of what we do is design and make uniforms for a large amount of higher-end hospitality companies. In New York we are doing the uniforms for Soho House and in Chicago we're working with a very large percentage of James Beard Award–winning and Michelin Star restaurants.
What's next for you guys?
We just built a factory a couple months ago. We've been partnered with factories across the city especially the one we initially started working with and we've been partnered with a variety of contractors. We still do work with other contractors, but we quite literally bought machines, hired people, got a space, and built a new factory that we opened up at the beginning of this year. Now we're working on something that sort of puts together all of our worlds into one space.
Why is it so important to have your merchandise produced locally?
As we have grown on the brand side and learned more and more about the industry we've also grown on this uniform-design business side and we've very quickly realized that we wouldn't be able to do this even if the factories were in California much less overseas because what has made it so successful is that we are so close to the product. We can turn things around very quickly and we have a lot of control over the process from creative to development to sampling to production.
On the brand side that huge for us because we can offer a much wider variety of products. That's sort of what we are working on now: Releasing a lot of stuff all the time but not having to make big commitments on the inventory side.
Why should readers of The Manual check out your brand?
Because we have a very intensive focus on fit, fabric, and style. We want people to feel very comfortable that when they come to us they know that they are going to get something that fits great, looks great, and be of high quality. And because we are controlling the process every step of the way we are able to deliver that experience and goal very consistently.