Grovemade, known for their wood speakers and handsome desk organizers, has released their second-ever knife and it is a stunner.
The Minimalist Knife takes its design inspiration from a traditional Japanese folding knife known as a higonokami. Higonokami hit the scene in Japan in the late 19th century after reforms to the shogunate meant samurai were no longer necessary, thus sword-makers lost their businesses and livelihoods. Without a need for swords, the metal smiths turned their efforts to pocketknives instead, and the simple, friction-knife higonokami was born.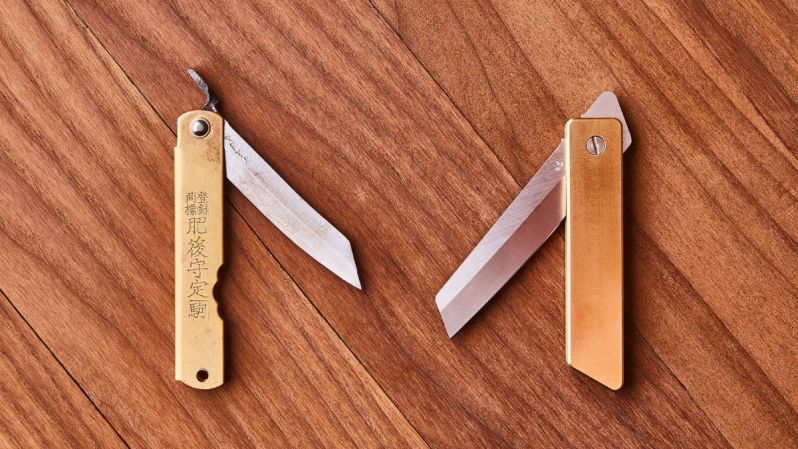 Grovemade's version of the higonokami maintains the friction-knife design of the Japanese original — meaning it's held open by the weight of your thumb on the blade's tang — but streamlines it through unique construction. Using a single-piece handle machined from a solid block of metal (either aluminum or brass), Grovemade removed the need for more hardware, slimming the knife and simplifying it to the bare minimum. The knife is completed with the addition of a 440C stainless steel blade, hand-sharpened and built to retain its edge and resist corrosion. The result is spectacularly clean-lined, minimalist knife that any man would be proud to have in his pocket or on his desk at home.
But one of the best things about the knife? It's all made in the U.S.
"With the Minimalist Pocketknife, we saw an opportunity to strip design down to its simplest level without sacrificing overall function of the product," says Ken Tomia, Grovemade's co-founder, in a statement. "The knife was a challenging design," he notes, referencing its monobody design and unique engineering, "We needed to keep it close to home, so it's made 100 percent in the U.S.A."
The Minimalist Knife comes in three material options: black cerakoted aluminum, anodized aluminum, and brass.
The knives price in at a $99-$119 and are a perfect holiday gift for a father, brother, uncle, husband, or son. We're particularly fond of the brass — it's got a visual heft and appeal that can't be denied.