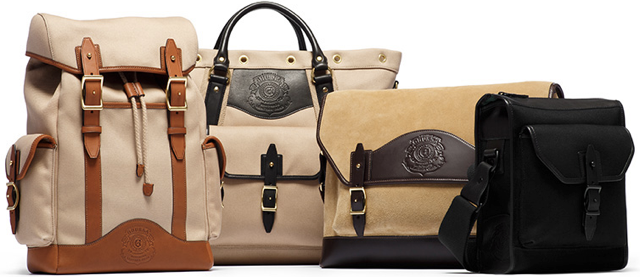 We have heard about the Ghurka line of leather goods for years now.  But what the hell does Ghurka mean?  Come to find out, Ghurkas are an indigenous people from parts of Nepal and India, and they were known in the 19th century for their fearless military capabilities.
 Fueled by his love of history and leather craftsmanship, Marley Hodgson, founder of the brand, Ghurka, bid on some campaign gear from a Ghurka regiment at an auction in the early 1970's.  Inspired by it's rugged elegance, he made a knapsack for his son, and that granddaughter still uses it today.  That, my friend, is a well made bag.
Ghurka has recently come out with The Walker Collection, which is inspired by classic climbing gear. The collection brings together function and design for the everyday modern adventurer. Consisting cotton twill with leather trim, the new pieces go from work to weekend, seamlessly.  Made in Connecticut, Ghurka combines American craftsmanship, and global appeal-our two favorite things!
The Manual reached out to Tim Farah, Creative Director of Ghurka, and asked about his inspiration.  He told us that, The Walker Collection is a rugged youthful extension of our core line. A group of day and weekend travel bags that capture the classic American styling that is our DNA, in constructions that work for everyday.
Today, the collection is available online, and at their flagship stores on Fifth Avenue and in Soho, New York, as well as a new store opening in San Francisco this fall. Soldier on and find the one that works for your daily adventure.
Editors' Recommendations