Recently born footwear and accessories brand Fronteer has embarked on a new stylistic frontier by making climbing-look shoes that can be worn every day. In other words, they look rugged but are comfortable and appropriate enough to be worn/poured "without rocks."
The brainchild of Jon Tang, a shoe designer and footwear aficionado for the past decade who has worked at Puma and K-Swiss, this new label is already sold directly at its webshop and at some of the best shoe shops in the world including NYC's Kith, L.A.'s American Rag Cie and Slam Jam in Italy.
Tang recently gave me the story behind his new venture and its eye-catching, colorful logo.
What's your background and the history of Fronteer?
Having grown up in Houston and during the golden sneaker age of Michael Jordan, I had a love for discovery and sneakers. I loved going to NASA on field trips and also waiting for Eastbay to come in the mail to see the latest Jordan releases. My dream of designing sneakers was already in motion but integrating it with my internal need for journeying and discovery was really what I wanted to do. Thus, Fronteer was born. With all the experience, I was ready to embark on my own journey and pave my own path with something I've slowly been culminating since the start of my career.
How would you describe the aesthetics of Fronteer?
Fronteer is a lifestyle conceptual outdoor brand. It's meant to be a catalyst for discovery. Each drop follows through different themes and stories all rooted in discovery and the life out there. The first few drops have all been inspired vintage outdoor and climbing. Being a rock climber myself, this was a direct inspiration. Currently, color has been a huge storytelling element for the recent drops. The look and feel of each drop depends on the theme and will change dependent on that theme.
What are some of your favorite or bestselling styles?
The favorite is the Super Gratton in the "Boulder Blue" colorway. This is the first model. It carries the most weight in its conception. The colorway is inspired by the first rock-climbing shoe ever designed. I really wanted to make a walkable everyday version of this style. When you rock climb, you can't really walk around in your climbing shoes. I really wanted to build something that could keep the essence of the rock-climbing shoe but be able to take that with you everywhere you go. I think people really gravitated to this. This was something that hadn't really been done before.
How many different styles do you offer?
Currently, I have a mid and low in the Super Gratton. I've also started to make some hats to complement the stories as well.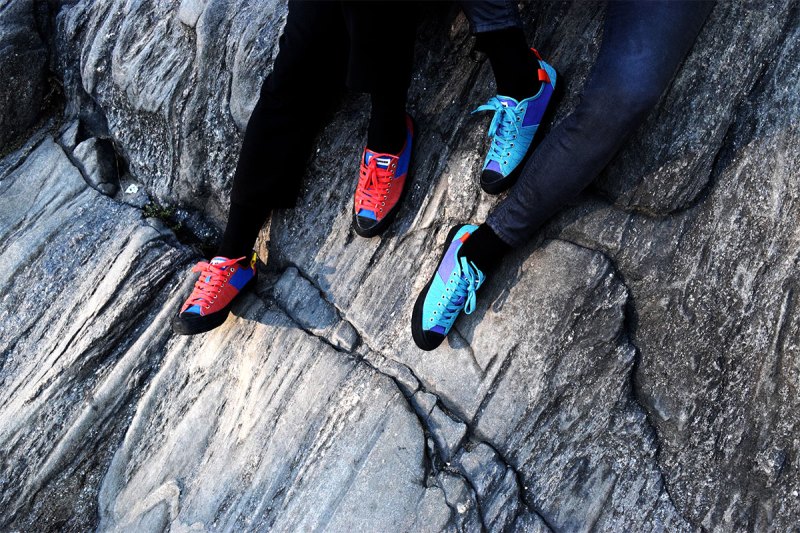 What sets the brand apart from other footwear labels?
I believe Fronteer is more than just a footwear label. It's really a brand and a brand mantra. It presents conceptual stories through a lens of footwear and accessories at the moment. The outdoor world doesn't have too many brands that tell stories that are really out there. At the moment, outdoor products are really functionally driven and it's great. But I think something is missing. The next evolution of that are concepts that are metaphorical representations of the intent. It stretches your initial thoughts about the product and how it relates to a whole.
Basketball was similar to this. Initially, they just made basketball shoes as functional court shoes. As the market progressed and evolved, basketball shoes started to be inspired by things not directly related to basketball but metaphorically. For example, the Jordan XI "Concord" is inspired by the space shuttle Concord. Though this doesn't have a direct relationship to basketball, there is a poetic relationship with flight, speed, and being in the air. I always thought this was something beautiful. I really want to do this kind of thing with Fronteer and outdoor products.
Who is your so-called "typical" customer?
The Fronteer person is one who is on the constant journey of discovery. It's for those who are mindful of things around them. The world is a beautiful place and nothing can be taken for granted.
What's the story behind your colorful, circular logo?
This is known as the sunset. It's sorta an anti-logo in some sense. It's inspired by the twilight moment in Los Angeles when the sun slowly sets on the horizon. There's a beautiful cascading splash of colors that happens every day. When one visits LA, they take pictures of this and Instagram it and share it. Though when someone lives there, they don't really do it after while. But why? Something so beautiful as that serendipitous moment can get taken for granted. That opens up the question: If something as amazing as that gets taken for granted, what else are we taking for granted?
The sunset logo is to remind us to never take things for granted no matter how big or small. There's so much beauty in this world out there and it should all be discovered or rediscovered.
Where are the shoes and hats made?
The shoes are made in Vietnam and the hats are made in China.
How often do you release new merchandise?
The drops aren't really seasonal. I treat the drops similar to how a magazine drops. I call them "issues" like "Issue 1" or "Issue 2" etc. Each drop has a theme and the collection is all inspired by that theme. They come out whenever I can finish them. Some drops might happen at certain times depending on moments such as events in the world.
What are your plans for the future?
The future of Fronteer stretches as far as the horizon goes. I just want to keep telling inspiring stories of things to be discovered or rediscovered.
Why should readers of The Manual buy and wear Fronteer?
The brand mantra is "Life is a journey through self-discovery." What this means is that we journey through life by discovering things. What does coffee tastes like? The best way to find out is to go and taste it. And just 'cause you've had it once doesn't mean you've had it forever….
Fronteer is meant to push those to discover and rediscover things. If you're looking for a journey or an adventure of the world around you, Fronteer is there with you along the way.
Editors' Recommendations