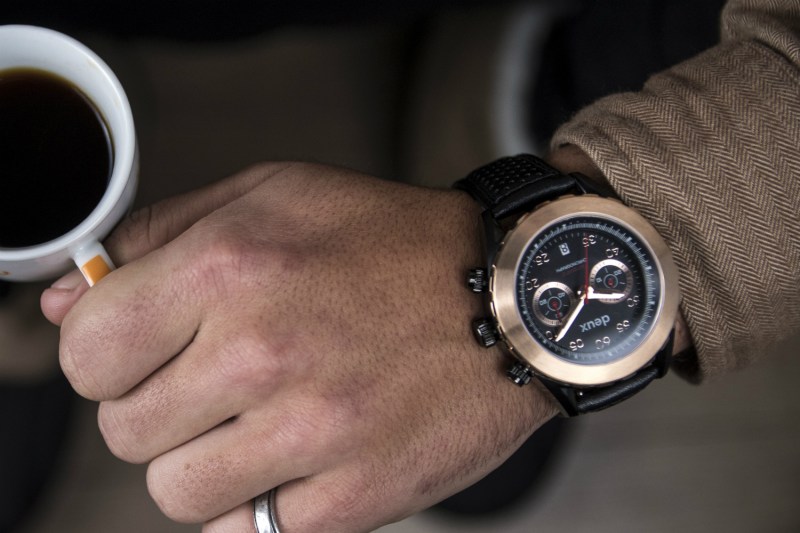 Like the look of a chronograph, but aren't sure you wanna stare at all the gears, dials, and sundry other mechanizations every day? Well then the new dual-faced timepiece from Deux may just be the watch for you.
The special chronograph launched on Indiegogo this February and has drawn a lot of attention for its unique construction, which features a fully retractable face. Basically what this means is that the timepiece can switch back and forth between an industrial, chronograph look (complete with 60-second, 30-minute, and 12-hour counters) and a more minimalist aesthetic, featuring only an hour and minute hand. To transition between the two, users need simply rotate the raised bezel that frames the watch.
If the shift is still hard to picture, the brand suggests imagining a camera lens as it closes in for a tight shot. This design allows users to see as much or as little of the chronograph face as they like, a customizability not often see in the watch market. Though the two-birds-with-one-stone approach may not work for everyone, it could be great for guys who like to shake things up every once in awhile.
At the moment, Deux is offering up three different timepieces to its potential backers. The Janus ($850; features two time counters, special metal strap, and engraved backing), the Janus Elite ($920; features three time counters, special metal strap, and engraved backing), and the Chimera ($360; features two time counters and a leather strap). The three watches are available in either all black, all silver, or a combo of black and gold.
The Deux Janus is powered by 34-jewel Seiko NE86 movement with a power reserve of 45 hours; the Deux Janus Elite kicks this accuracy up a notch with a Swiss Caliber SW500 Movement, which makes for an even smoother time-telling experience. Finally, the Deux Chimera sports a Miyota 9122 movement with a double water-resistant crown.
The brand has currently amassed over $48,000 on its Indiegogo page and shows no signs of stopping anytime soon. If you'd like to join as a backer, you can do so here.
According to Deux, users should expect to receive their dual-faced chronographs by June 2019.
For another unique, though altogether different, take on a watch face, check out Grovemade's wooden watch.