If you're seeking a super-luxurious leather or exotic skin bag or wallet without a logo that screams, "This is a super-luxurious piece that's actually not-so exclusive because everyone else has it," American designer Darby Scott now has you covered.
A longtime fashion-industry veteran, Scott launched her eponymous label of women's exotic handbags and jewelry in 2000 after relocating to Massachusetts from New York City. She has recently added an equally sumptuous men's collection that spans everything from attaches and briefcases to laptops and travel bags. All are made with crazily high-quality leather or other superb skins and many include sterling silver hardware that awaits its new owner's monogram or other personalization. Wallets, credit card cases, small accessories such as shoehorns and a covetable leather-covered flask are also in Scott's very refined and gentlemanly mix.
The native New Englander recently shared the story behind her new men's collection from her studio and headquarters in North Andover, 35 miles north of Boston.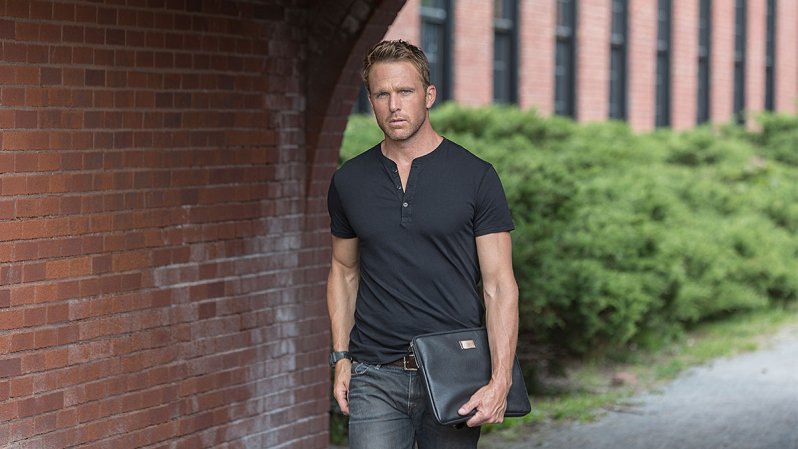 What prompted you to launch a men's line?
I am actually coming full circle. I have menswear in my background. And I live in a house full of men. I have two stepsons, two sons of my own and my husband so I just thought: Why don't I make some wallets and things for these guys? I think it's a wonderful extension for the brand.
What are the special details and materials in your bags?
I love the neoprene lining which is very soft to the hand and to the touch but it's really durable. It feels luxurious on the inside. And the structured pieces where you want to put a pen or your eyeglasses. The inside of the bag is as durable as the outside but it still stays really supple and really soft.
What are your favorite pieces in the collection?
It's a smaller travel bag and it's great for me when I am traveling to New York. It's a dual zipper but it's built so it slides over the top handle of your rollerboard so it just slips over the suitcase. It would be a great gym bag because you can fit shoes in it. It is neoprene lined. I also love the travel duffle and the tote but this one is just super.
Tell me about your unique hardware.
There is a history – particularly in the Rhode Island area – of a lot of sterling manufacturers. We have added a piece to the bags that is 925 sterling and fully engravable so it's like a Tiffany-quality sterling. People are doing thing like hashtags or classic things like putting their own logo or moniker on it or initials. Mine says #persist.
Who is your customer?
I think it's a guy who appreciates something fine and high quality. This is a brand new launch so we are seeing a really interesting mix of gentlemen who are responding. But I think overall it's somebody who is looking for something that is not crummy nylon. They don't want something stiff that is not already 20 pounds before you put your laptop in it.
How big is the collection?
We've added two new styles: There is the Bowling Bag and the Getaway. That brings our leather and exotics collection up to 10 styles. We've got small leather goods and two different style wallets. Now we're also developing men's furnishings like cufflinks. They will be coming out closer to summer. It's a very edited and curated collection.
Given the number of materials that we can work in – exotics and leathers – we'll be adding different leather qualities so there's also a bespoke aspect. We're working with different stores to make small batches. The nice thing about our production is that we can work with a small mom-and-pop jeweler or a customer who wants his own color. We have that flexibility and capacity to do something bespoke for the real discerning customers.
What is the price range?
The starting range is $950 to just under $3,000 for a very large travel bag. That is in classic leathers. Of course in exotics it could go much, much higher in a very, very exclusive full-on croc. But money clips are $85 retail and the leather flasks are in the $200 range. The crocodile flask is about $500.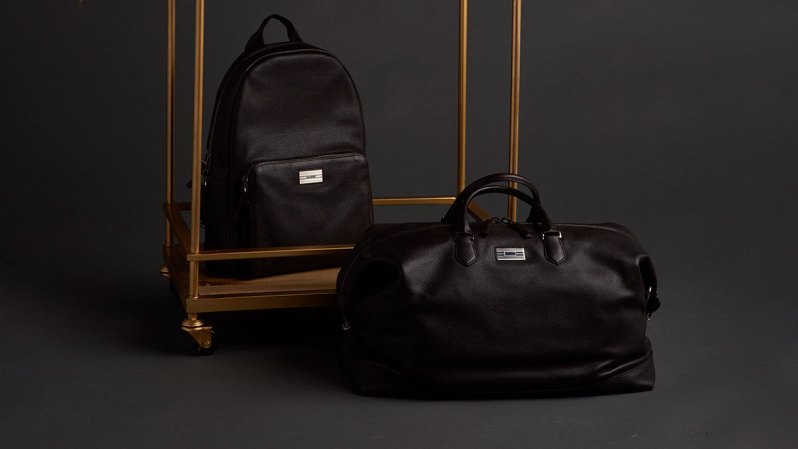 Speaking of, tell me more about the flasks and other small accessories you offer.
I think they are wonderful gifts for groups or for the guy to put on the dressing stand. I noticed that the younger generation was looking for these things on eBay or at auction like an old bowling bag. It's nice bringing back things. There's something to be said about bringing back the old world to the new world.
Part of it came about because one of my sons is really into the vintage style of shaving. He wanted the brush, the bowl and the double-edged razor. So I was thinking in that vein of old men and classic pieces and it came to me. The flask doesn't just have to be for drinks. It can be for some cologne on the dressing table with that beautiful old shaving set.
Where are the products made?
I am designing in Massachusetts and we are manufacturing the bags in USA and South Africa. We are manufacturing jewelry and sterling pieces in USA.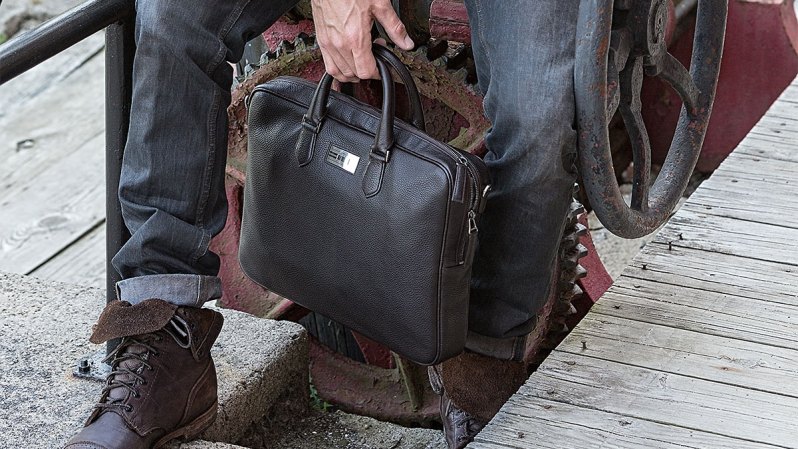 Tell me about your cool headquarters.
We are in North Andover in a building that was built in the 1800s. They manufactured textile machinery. It was called the Davis & Furber Machine Company and they manufactured machinery and textile weaving equipment for the woolen mills in Massachusetts that used to be a huge part of the textile industry in this country at one time.
It's an old brick building with huge windows and our space is very modern on the inside with 30-foot ceilings and great old beams. We put in a new floor and it's all white. My kids call it the Apple Store of North Andover. It's part design studio, part photo studio and part showroom.
Why should readers of The Manual buy and carry Darby Scott?
I think that it's beautifully made and we're one of the few companies that can handle that bespoke program that I've spoken of. And I do think that they are made to last. These are pieces that will hopefully be heirloom pieces that with your sterling monogram you can pass on to your children and they can pass them on to your grandchildren.
I believe that if you make something you need to make it last. But I also think that within that there's a modern aspect to it and that it is responsive. We take them to the airport ourselves and are constantly testing pieces and want to see how they travel and love the fact that they are lightweight and serviceable and they can handle your modern tech. You know your laptop is going into this beautiful sleeve where it's protected with that neoprene.
Editors' Recommendations