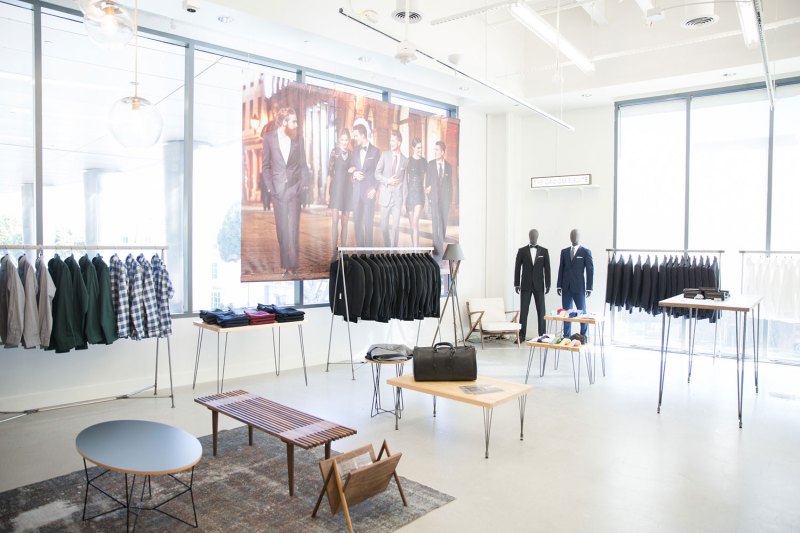 Combatant Gentlemen, the e-retailer who has helped men dress impeccably well without destroying wallets, has expanded from the land of the internet into a real live store in Los Angeles. With this brick and mortar location, they've managed to make it even easier to dress well, so men, (Angelenos especially,) no more excuses.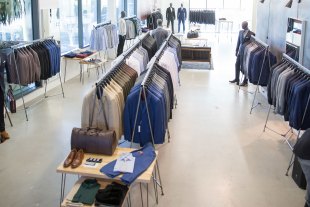 We've talked about Combatant Gentlemen and their amazing new shoe line a number of times and here we go again because they continue to be awesome. Part of what makes their clothes and shoes so affordable, while still being of high quality, is that they control all aspects of production. No middlemen, just their own flocks of sheep (among other things). Fit Tech, their revolutionary sizing technology, has allowed men to shop online with surprising sizing accuracy, though they always suggest a little perfecting tailoring. Now you can have this same experience immediately in the store. No more sitting around waiting for your gorgeous clothes to arrive.
The company's flagship store is a 2,200 square foot location in Santa Monica. Aesthetically, it reflects the Combatant Gentleman it serves: strong steel beams polished by sophisticated woods and clean classic lines. It's almost like you're hanging out at your effortlessly cool friend's loft apartment and he just happens to have a lot of clothes that will fit you.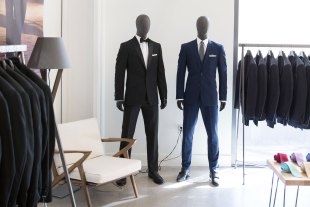 Their store, which opened on July 20th, carries the full ready-to-wear line from suits to outerwear and accessories, to tuxedos all the way down to their Toecap shoe collection. In keeping with their technological roots, you have the option of using touchscreen stations to shop their made-to-order option. Clients can book appointments for custom pieces, too. Additionally, the store has tailoring services to perfect your new threads.
Realizing shopping can be overwhelming, Combatant Gentlemen's in-store stylists are there to help find you the pieces that suit your life, sense of style, body, and in true Combatant Gentlemen style, your budget.
"Suits can be really intimidating," says Kevin Campos, the Chief Retail Officer. "A lot of guys don't know their sizes, what lapels are, or differences between fits. We want to create inviting and aspirational spaces–a no-pressure zone where our guys belong, regardless of where they come from."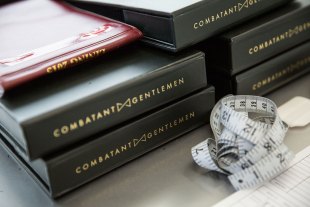 Did we mention you get all this swankiness and service with zero retail markup? You're still looking at only $160 for a suit that makes you look like you paid at least double that. And $200 gets you a tuxedo worthy of any James Bond.
This store is likely to be followed by several other retail locations. Combatant Gentlemen is notorious for listening intently to what their customers want and that, undoubtedly includes more instant access to their knowledgeable staff and classic clothes.
With Combatant Gentlemen's new store, men might've officially run out of excuses to not look sharp as hell.