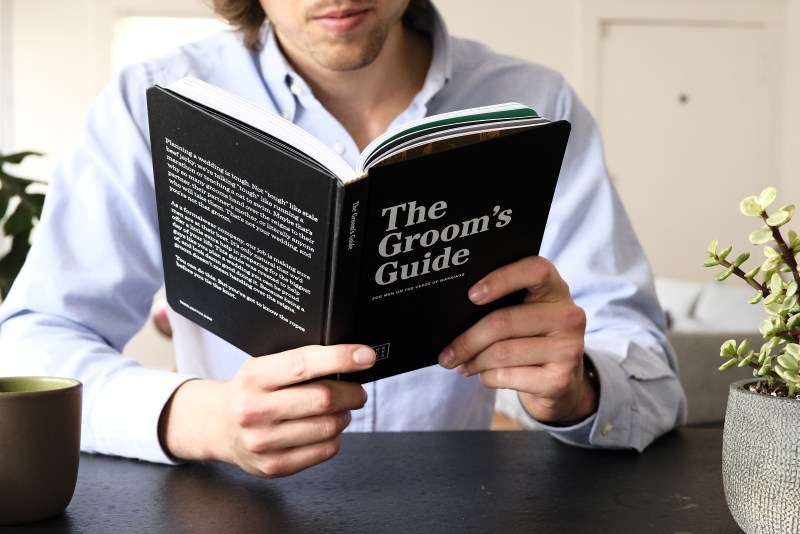 If the thought of planning your wedding makes you sweat, fear not  — The Black Tux Groom's Guide is here to save the day and save you a ton of stress (trust us, we mean a  ton). And even if you don't have a wedding on the horizon, the tips in the Groom's Guide are handy, essential, insightful and actually … quite fun.
As the Guide says, "There's no single emotion that describes wedding planning" … perhaps if you're in the process of planning your own wedding, you know that all too well. But there might not be a guide out there that covers so many "need-to-know" tips and tricks of wedding planning as this one.
Known for their stylish wedding essentials, The Black Tux Groom Guide covers everything you ever wanted to know about planning — and participating in — a fantastic wedding. Worried about the big things — like choosing your best man and groomsmen? It's covered in the Groom's Guide. Curious about writing meaningful vows? The Groom's Guide walks you through the process. And surviving, and enjoying, the reception? It's the topic of a whole section of the book.
Presented with a crisp black-and-white cover and filled with witty illustrations, helpful asides, and plenty of things you didn't know about wedding traditions, it's all written with irreverence, plus an air of fun and support in mind. It's a helpful guide for those who might be bewildered about the myriad steps of planning a wedding — and of course, it reiterates that "Pinterest is not a wedding planner."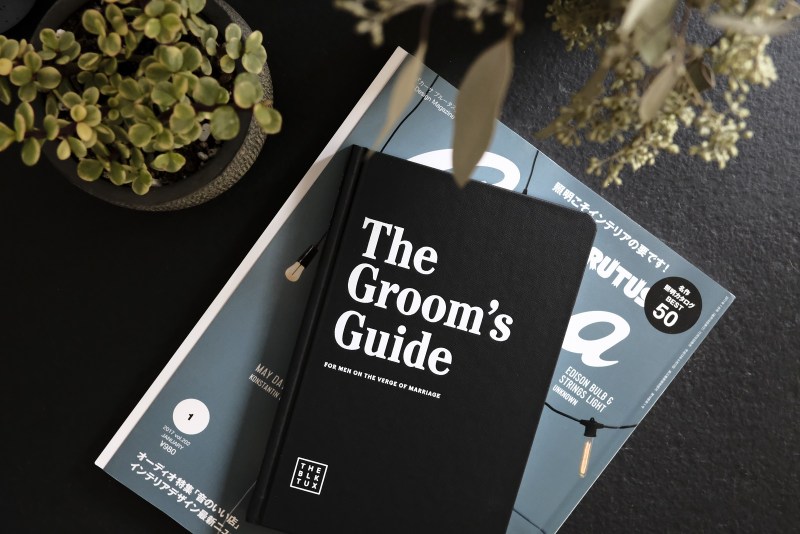 And if you need help from start to finish (who doesn't?), The Black Tux even offers a checklist of what to do on the day of the wedding itself — for instance, starting by killing the dreaded rehearsal dinner hangover. We've also all heard –hopefully, only heard — wedding horror stories, from fainting bridesmaids to drunken best man speeches. If those are concerns of yours, The Groom's Guide helps you prepare adequately.
So, now that the basics are covered, from choosing a band to figuring out what to serve at the wedding reception, there's the small matter of what you're going to wear. Again, it's your lucky day. The Black Tux covers off on what to wear at your wedding from A-to-Z, starting with your choice of dress code and carrying right on through to how to tie your bowtie and how your tuxedo should fit (of course, it would behoove you to not forget about stylish men's dress shoes for the occasion, while you're at it).
Packing your essential tailored wear for your big day is also covered — and after planning a whole wedding from start to finish, the process of dressing for  your wedding should be positively easy (and stylish). The book is packed with a section of glossy photos and inspirational shots from positively beautiful weddings — excellent inspiration for knocking your big day out of the park.
Perhaps most importantly, The Groom's Guide reminds you to "ignore anyone who tells you there are rules you must follow." It's a worthwhile sentiment that ultimately means that your big day should come down to how you and your partner want it to play out — but you should still make your best man skips the drunken toast at the reception.
Get The Groom's Guide via The Black Tux today.
Editors' Recommendations