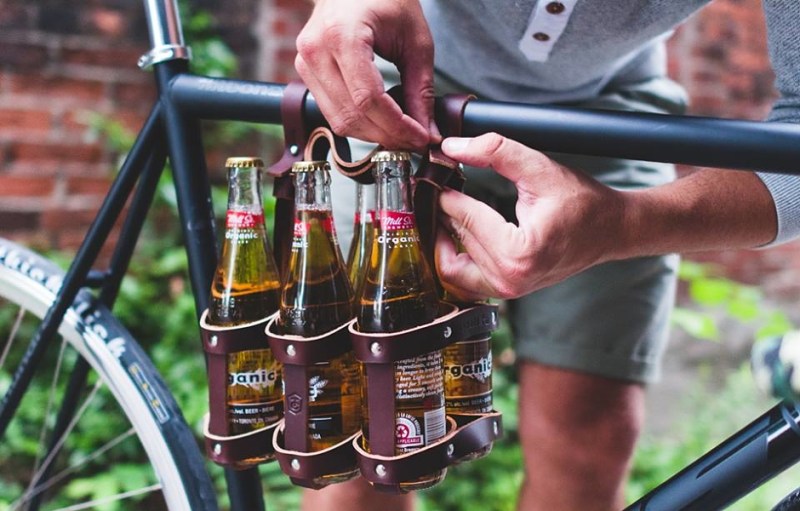 Living in the city, it's often easier to get around to a weekend barbeque or concert on your favorite fixie or beach cruiser than trying to navigate public transit on a weekend night. If you're planning on being a classy guest and sharing a good bottle of wine from your private stock (although if you're grilling we recommend a tasty imported beer) you need to a way to transport your beverages in style – and without hauling a backpack or messenger bag around for the entire weekend. The design team at Fyxation Bicycles has just the thing to haul party favors and a few choice drinks with their handcrafted Tannery Collection.
Originally started marketing just a single model of bike tire, Fyxation's Milwaukee roots lend themselves to stylish urban bicycle parts and accessories. While building a bike from the wheels up with one of their framesets and customized components is appealing, what caught our eyes this time around is the new line up of leather goods.
Locally sourced from Wisconsin based craftsmen, the Tannery Collection is anchored by the Six-Pack Caddy. A few blocks ride with one hand on your beer while trying to steer through busy traffic is less than intelligent. The Caddy allows you to safely ride through even the worst intersection with your beer safely attached to your top tube.
If small batch microbrews or a bottle of wine are more your style, caddies are also available for lugging a sixty-four ounce growler or standard wine bottle. Just don't try to haul all three at once or you may end up cracking open a few on your ride home out of sheer exhaustion.
Fyxation's leather goods aren't just for carrying your favorite beverage, and they understand there's more to weekend than carting a few beers around to the next party. For your Saturday morning yoga class or ultimate frisbee game, there are mat straps and even a caddy for your lucky disc golf frisbees. No matter your drink preferences or favorite weekend sports, the Fyxation collection will easily add a little class to your weekend bike commute.
Editors' Recommendations