Being stuck at home for a year now means increased screentime. It's true — we often find ourselves fixated on the screen of our laptops, cellphones, or tablets almost all day. Whether it's endless Zoom meetings, late-night gaming sessions, or an all-weekend Netflix binge-watch, the toll is usually felt in our eyes.
Spoiler alert: You don't have to become nocturnal to protect your eyes. You simply need a high-quality pair of blue light-blocking eyeglasses.
To help you shield your peepers from prolonged screen exposure and its nasty effects on our eyes, we've rounded up our picks for the best blue light-blocking glasses for men. These stylish options can be purchased with or without a prescription. Once you sport one of these eyeglasses for men, let us know if you like what you see (pun intended). First time buying a pair? No worries! We included a brief buying guide as well as a primer on blue light.
Related Guides
Best Overall: Felix Gray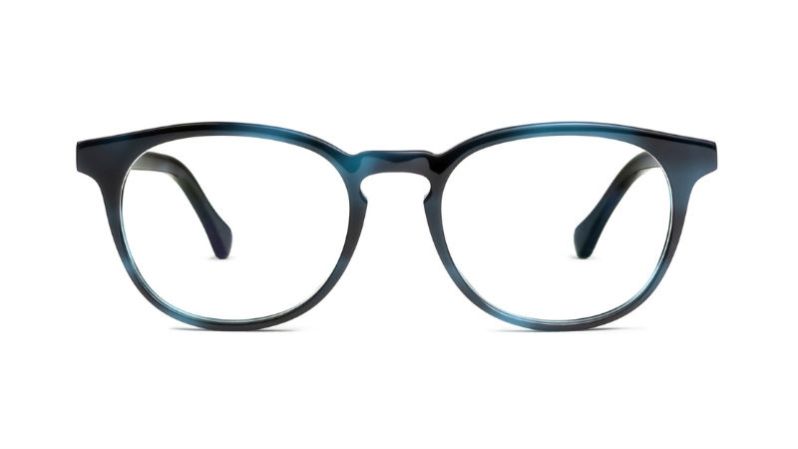 Felix Gray's collection of blue-light-blocking specs are more than just lookers. (Another pun intended.) They boast the sheen, heft, and solid craftsmanship you associate with a high-end sunglasses brand like Ray-Ban, but without the sticker shock that makes you afraid to use them. More surprisingly, while the gold tint of the lenses is nice and dark when you're looking out, it's barely noticeable. The brand's frames come in a variety of classic profiles, but we're partial to the rounded Roebling frame. Beware of working at the coffee shop with these — you'll get interrupted with compliments all day.
Best for the Options Lover: Jins Screen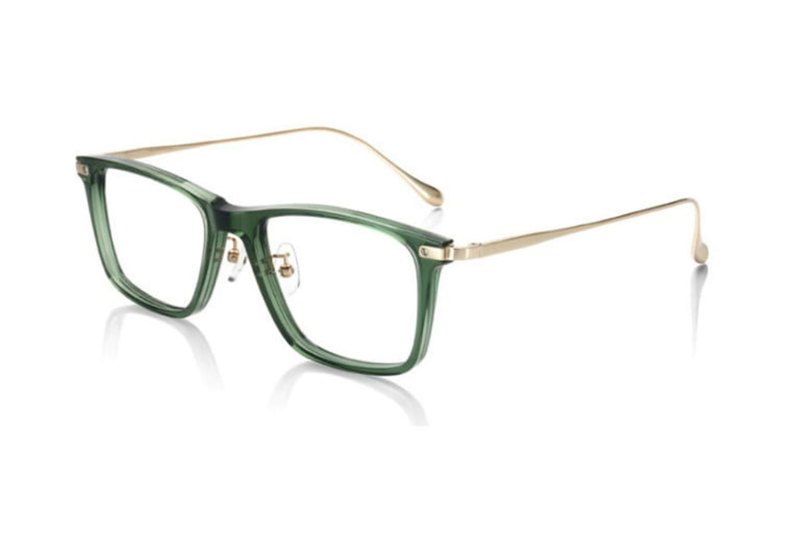 Jins has a wide variety of frames to choose from, and every single one has the option to add Jins Screen, the brand's blue-light-blocking tech for your usual daytime computer staring, and Jins Screen Night, which is tailored for screen-gazing before bedtime. Just choose your favorite style — the square MCF-17S-243 will stand out in a crowd or a cubicle farm — and your preferred lens at checkout for an additional $60.
Best for Blending In: Spektrum Prospek-50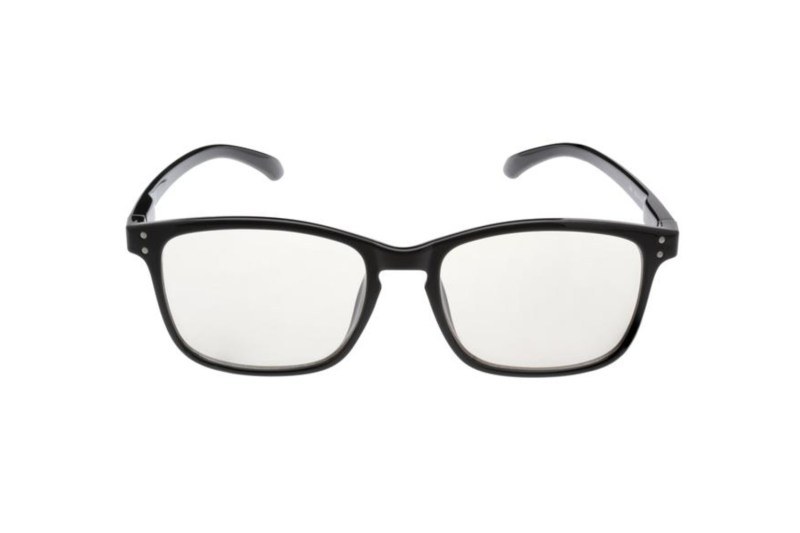 If your eyes could use a rest, but you're not into the whole tinted lens thing, Spektrum's blue-light-blocking glasses are the solution you've been waiting for. The acetate and titanium construction makes them super durable and lightweight. We like the Destiny model for its classic charm.
Best for the Socially Conscious: Warby Parker Kimball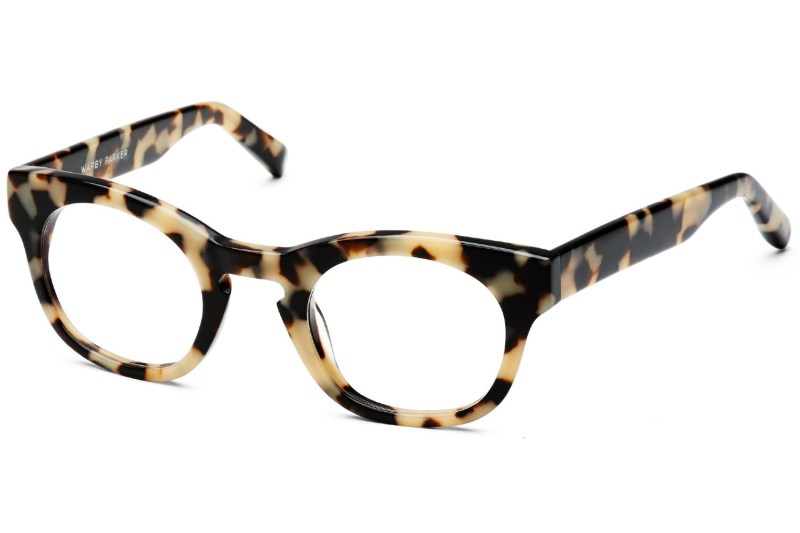 Everyone's favorite get-one-give-one glasses brand has jumped into the blue-light game, bringing all its beloved brand features with them. Warby's virtual try-on tool lets you narrow down the selection before your purchase, as is the free at-home try-on that captured the hearts of America's bespectacled masses. The brand's selection of frames is impeccably stylish, even if it is a tad homogeneous. But who cares when you've got options like the Kimball, a hip vintage-inspired number in just-flashy-enough tortoiseshell. Best of all, every pair of Warby Parker blue-light glasses means sending a pair of real glasses to someone in need.
Best for Gamers: Gunnar Intercept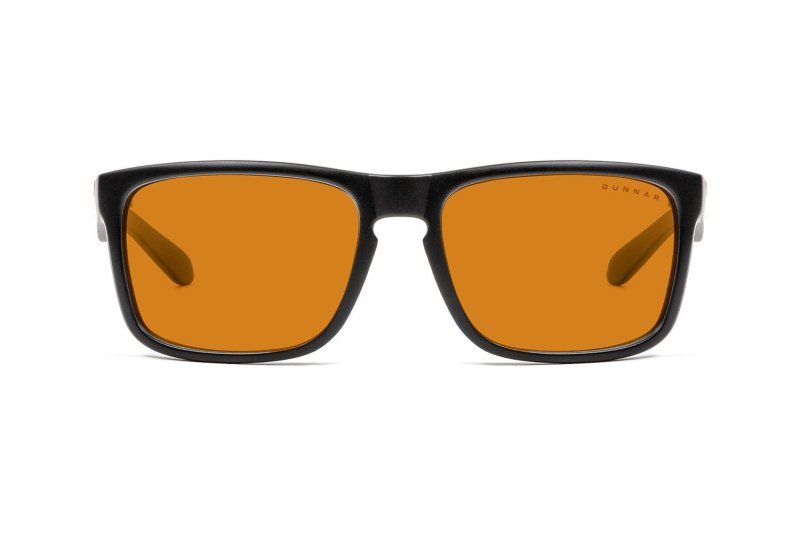 If you're a Call of Duty addict, these are the glasses you need. The dark amber-tinted lenses protect your eyes during all-night campaigns, a silicone coating prevents scratches, and the ergonomically balanced frame means you never have to let go of the controller.
Best Budget Option: TruVision Readers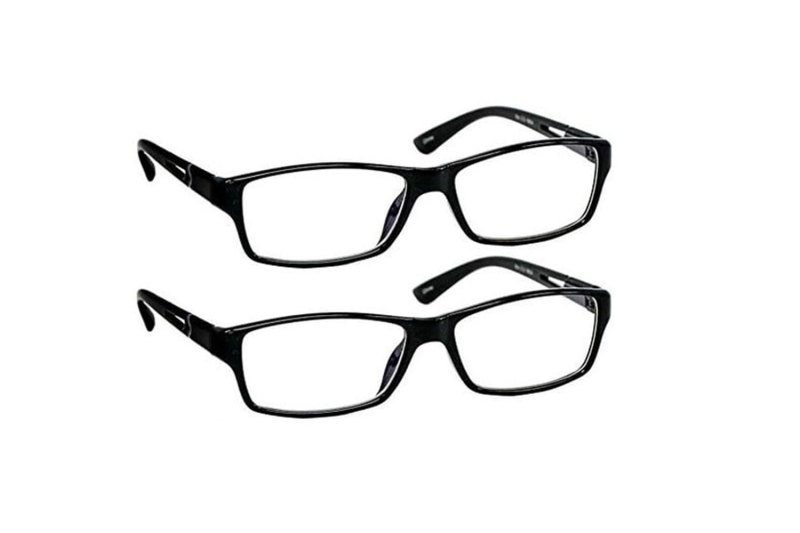 Do you love the simple, rectangular black frame look? Do you love deals even more? Amazon blue light-blocking glasses might be for you. You can snag a two-pack of these easy readers for $30 on Amazon. For even more budget options, head over to our brother site, Digital Trends, which has a list of deals on computer-reading glasses.
Best for Improving Sleep: Gamma Ray Optics Orange Glasses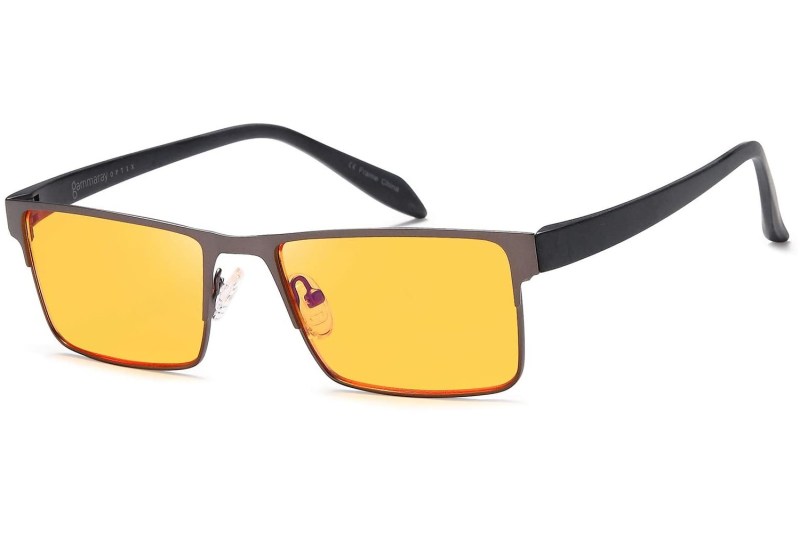 Constant exposure to blue light can affect your sleep schedule. These orange-tinted glasses that block out 97% of blue light can help improve your sleep. Say good riddance to restless nights after facing a screen for long hours. You'll wake up feeling more well-rested than before and ready to tackle the day. These affordable glasses come with a case and cleaning cloth and it doesn't compromise quality.
Best for General Computer Use: J+S Vision Blue Light Shield Glasses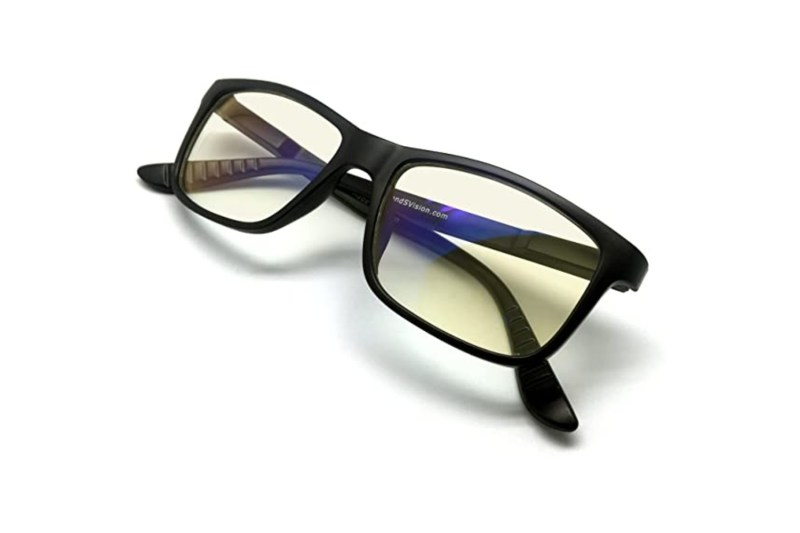 If you find yourself browsing on your computer for hours, you'll need these classic pair of blue-light-blocking glasses by J+S Vision. These glasses can help improve your productivity by lessening headaches and eye strain caused by blue light. They are also suitable for light gaming and computer reading. The low color distortion lens that blocks 90% of blue light also gives you a clearer view. The last thing you want is to be distracted by heavily tinted glasses.
Best for Compliments: Taylor Blue Light Round Glasses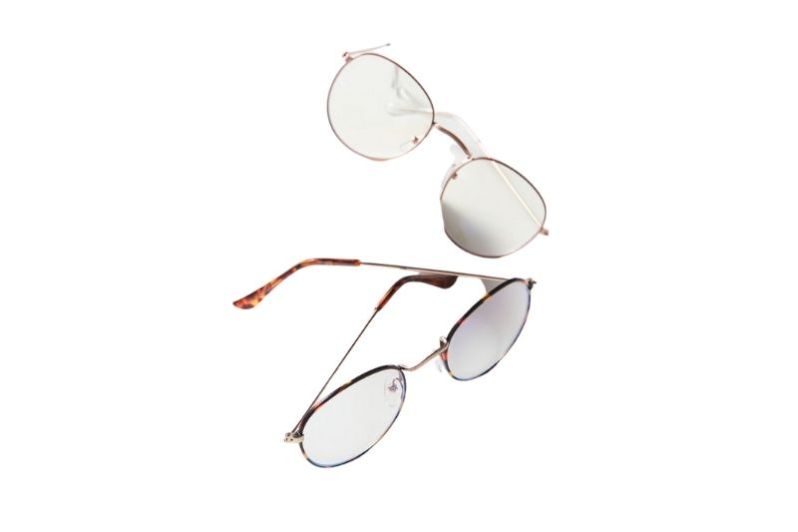 Work from home sounded great until it's 11 p.m. and you're still working because you chose to do your laundry during the workday. You don't need to strain your eyes during the wee hours anymore thanks to these blue light-blocking glasses. The best part? They are super stylish (and affordable) so you are sure to get a ton of virtual compliments.
Best for Style and Function: Look Optic Sullivan Blue Light-Blocking Glasses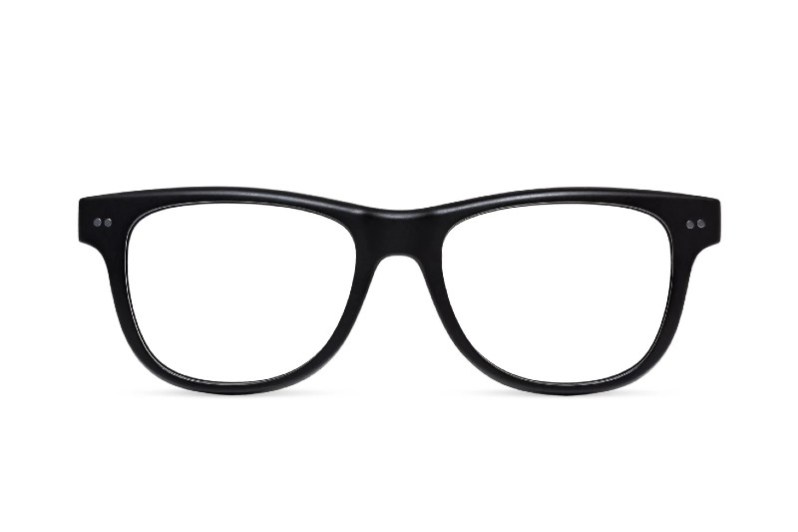 Look Optic uses proprietary protection to shield your eyes from the harm that blue light can bring. It also helps that the Sullivan model is a refined pair of eyewear that'll look great for Zoom business meetings.
Best for Durable Daily Wear: Baxter Blue Blue Light Glasses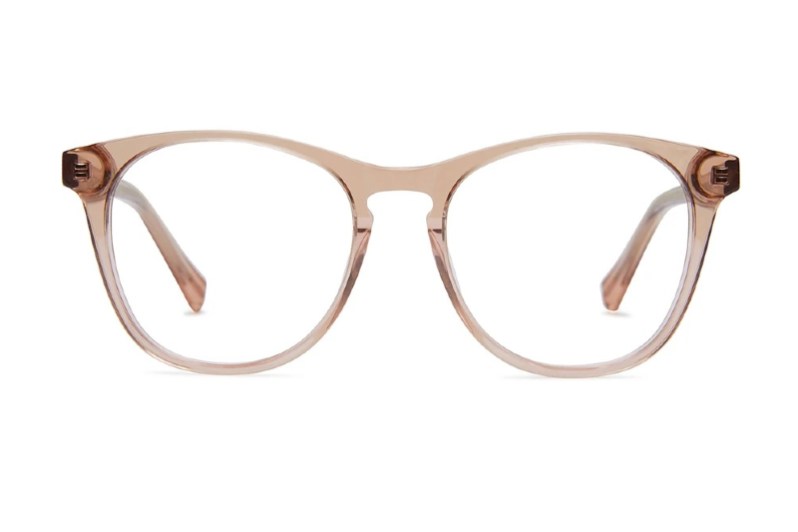 What's not to love about these blue-light glasses in a striking and seriously cool champagne color? The oval frame shape throws in added style points, making them suitable to wear with just about anything.
The Background on Blue Light
Blue light comes hard at all of us through everyday devices such as LED and fluorescent bulbs, computer monitors, smartphone, and tablet screens, and even things like cash register consoles. Is blue light bad? Well, it's not that simple. The short wavelength and higher energy quotient of blue light are great for boosting alertness, aiding memory and cognitive function, and even elevating mood — all fantastic benefits, unless you're trying to wind down and get some rest. The problem arises when overexposure to blue light (especially at night) begins to disturb the wake and sleep cycle, leading to problems sleeping and daytime tiredness. Over time, overexposure to blue light can lead to fatigue, sore or irritated eyes, difficulty focusing, and even age-related macular degeneration.
Yes, as the skeptics will tell you, sunlight contains more blue light than any man-made device. However, sunlight contains an equal measure of all the other colors of light in the spectrum, whereas the blue light is turned way, way up on our screens to deliver a bright, crisp image. Moreover, while sunlight reaches us indirectly and from a distance, we tend to stare directly at the blue light from our screens, at quite close range. All this accounts for why blue light-blocking glasses have achieved explosive popularity since they came on the market.
Do Blue Light-Blocking Glasses Really Work?
For our money's worth, blue light-blocking glasses certainly aren't a scam. Blue light-blocking glasses really do work, adding an extra layer of defense against blue light. Too much screen time strains your eyes and, of course, blue light can wear down the eyes over time.
Blue-light glasses are specifically treated and coated with the material that makes the magic. Witness the number of brands making blue-light glasses the right way, at affordable and accessible prices, and try 'em out for yourself.
What Are the Best Blue Light-Blocking Glasses?
If you want a pair of blue light-blocking glasses for men, you want the best of the best, right? It's hard to narrow down this list of the best blue light-blocking glasses to just one pick, but if we had to select just one, we'd go with the right mix of affordability, functionality, and style. In this case, we think the Felix Gray blue light-blocking glasses are a standout bet for those three qualities.
If you want blue light-blocking glasses for men for the ultimate in versatility and form, you want Felix Gray.
Is It OK to Wear Blue Light-Blocking Glasses All Day?
In short, it's definitely OK to wear blue light-blocking glasses all day. The best blue-light glasses for men are going to protect your eyes in a number of ways, especially from the harmful effects of blue light put forth in larger packages (like your laptop screen) and in smaller ways (via your phone, for instance). Experts say that the blue-light coating isn't excessive or harmful to your eyes, and can provide crucial protection.
You're preventing eye strain and giving your eyes another level of defense, too. So yes, ultimately, you can wear blue light-blocking glasses all day with no worries. Men's blue-light glasses just became your new secret (or not-so-secret) eyewear weapon.
Editors' Recommendations