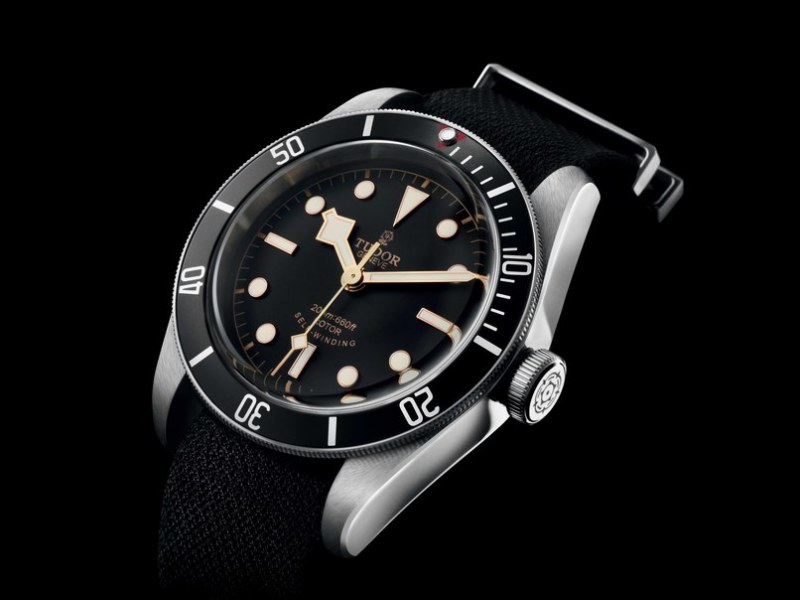 There's just something about the color black. It's simple, classic, minimal, can be dressed up or dressed down, and best of all — it goes with just about everything. So we couldn't tell you how excited we were when we found out that the Swiss watch label Tudor, Rolex's little brother, in case you didn't know, is introducing one of its most favorite styles in black. That's right, the Heritage Black Bay divers' watch, one of Tudor's most popular styles —which was first released in 2012 and a winner at the Grand Prix d'Horlogerie de Genève — is coming out with a black bevel. Previously, it only came in red and blue, which could be an inconvenience if you don't want to be associated with blue or red.
Previously, there was only one Tudor Heritage Black Bay model in black that was made for the Only Watch charity auction. This release marks the first time that the Tudor Heritage Black Bay model timepiece will be available to the general public in all black. So next time you want to go for a dive, look sharp in a suit, or be cool in jeans, a t-shirt and a pair of Converse, go for the Tudor Heritage Black Bay timepiece. It will keep you on time whether you're 200 feet deep in the ocean, or running around the streets of a major city in the world.
Tudor Heritage Black Bay Watch, $3,425 on steel bracelet, $3,100 on distressed leather strap; for more information, visit tudorwatch.com.
Editors' Recommendations