Midnight on December 15 marks the premiere of Star Wars Episode XIII: The Last Jedi, and fans are so excited that some have already lined up to be the first to see the next installment of one of the most famous franchises.
To ring in the latest episode, we've compiled some of our favorite Star Wars gifts for you last-minute shoppers and hardcore zealots alike. You'll see some things we've covered in the past, as well as some new additions to the mix, to help you or fellow fans find something that's out of this world.
Columbia Sportswear Echo Base Collection – $400
Columbia Sportswear has joined in the hype, releasing three limited-edition jackets inspired by the attire worn by none other than Luke Skywalker, Princess Leia, and Han Solo in Star Wars: The Empire Strikes Back. Named after the Rebel's secret base on the ice planet of Hoth, the collection manages to capture the essence of each iconic character and provide protection against winter elements. Each jacket boasts qualities such as water-resistant, cotton-blend fabrics and insulated lining; our favorite is the Han Solo Echo Base Parka. If you hope to tackle the evils of winter, it's best to have some of the galaxy's best on your side.
Pangea Brands BB-8 Waffle Maker – $40
Pangea Brands' versatile waffle maker was inspired by a Force Awakens fan favorite: droid BB-8. In addition to waffles, this puppy can pump out eggs, brownies, cakes, quesadillas, even homemade paninis. Backed by a one-year warranty, and offering, the BB-8 waffle maker makes pre-work breakfast a painless pleasure. For those of you on the Dark Side, check out the Darth Vader and Storm Trooper variants.
Star Wars Two-Slice Toaster –
$18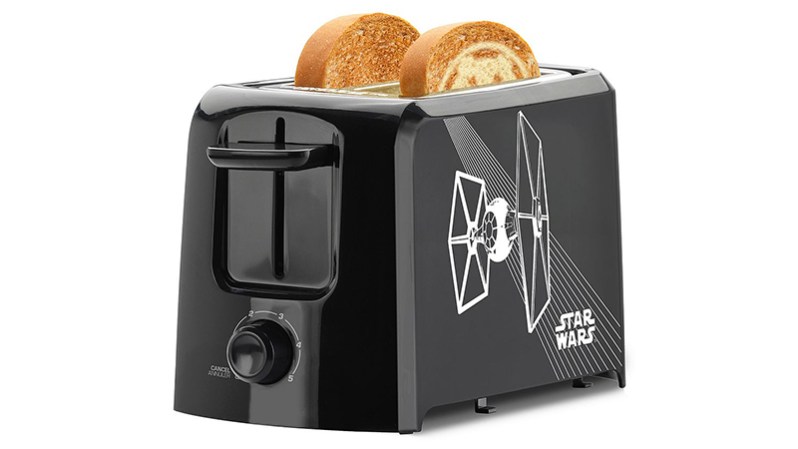 Let this TIE fighter-inspired toaster make your bread dark (side) and crunchy. Featuring adjustable settings, wide toasting slots for those tasty but large pieces of Seattle Sourdough or Texas Toast, and self-centering guides, this toaster is one of the more affordable and attentive Star Wars gifts.
$18
Death Star Coffee Mug –
$18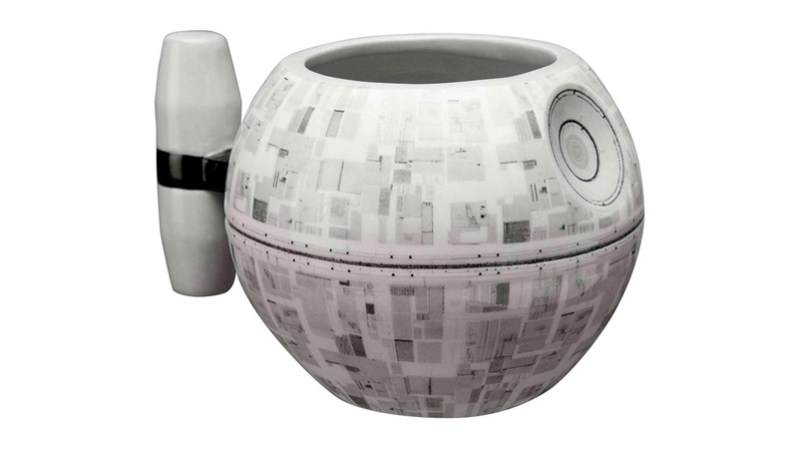 This one is for those who like their coffee dark. And we mean real dark. The Death Star coffee mug is made from heat-holding ceramic and boats a unique shape to add some fun (and planet destruction) into your mornings. Because each mug is hand-painted for a bolstered finish, it's recommended that you hand wash to keep conditioned. We don't want this exploding, now do we?
$18
Stormtrooper Espresso Mug Set – $20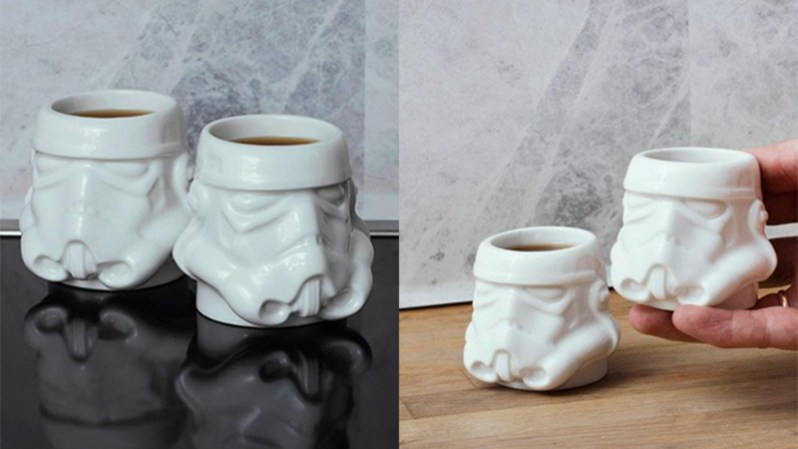 Staying along the lines of caffeine, this Stormtrooper espresso mug set will set anyone's morning on fire. Whether you're surprising rebellions at work, or trying to fight off interstellar advances at home, these double-walled ceramic cups are based on the original molds of the Stormtrooper helmets from 1977.
Monopoly Star Wars 40th Anniversary Edition –
$26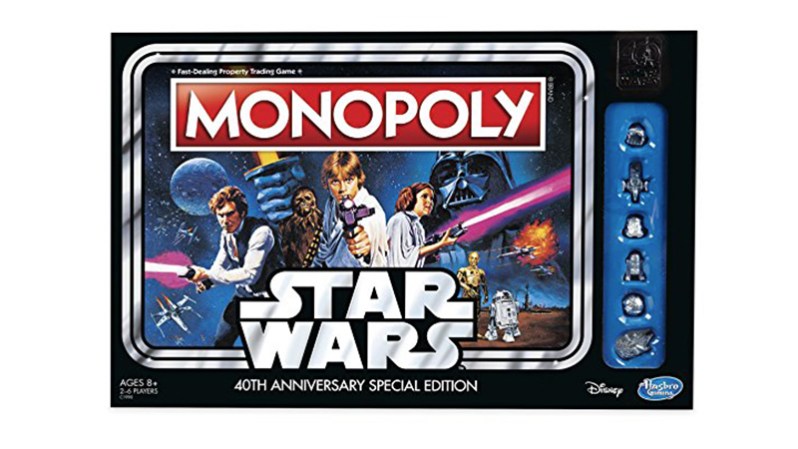 Relive the Star Wars story on your own board game journey. This special edition Monopoly game is a collectible for ultra fans. Unfortunately, there's no space technology laser to expedite the game — it's still just as long.
$26
Onnit Star Wars Fitness Gear – $65-$200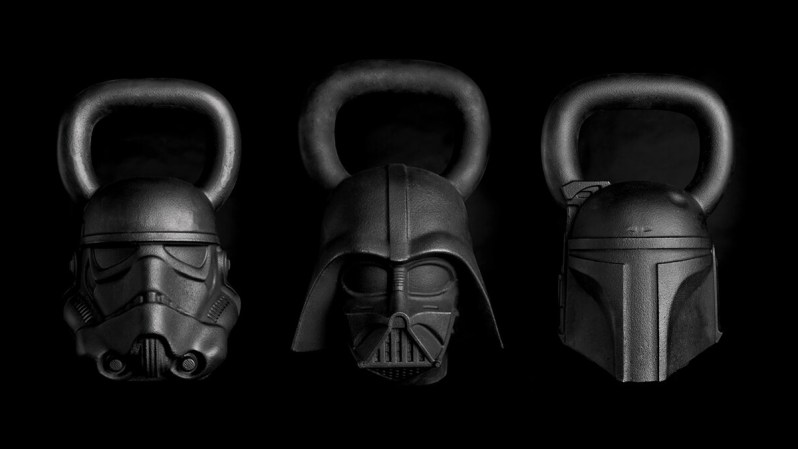 These are great for the the gym rats looking to bring the Force to their workout regime. Onnit's Star Wars collection features everything from yoga mats to slam balls to three sizes of kettle bells to help you reach the next level in Jedi training.
Philips Norelco Star Wars Trimmers –
See It
Achieving a beard that's out of this world isn't an easy task, but it just got easier. Philips Norelco's stubble-slashing lightsabers mirror different characters from both the Empire and the Rebel Alliance, including the high-powered and destructive First Order-inspired SW9700 ($200), Poe Dameron's wet or dry shaving X-wing fighter SW6700 ($120), and an R2-D2 SW3700 trimmer ($40).
See It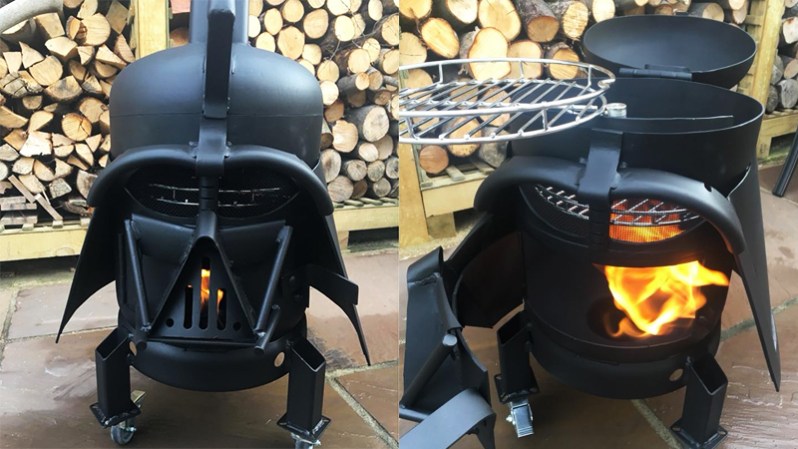 We've covered the Burned By Design Star Wars grills in the past because they're the perfect gift for any Star Wars aficionado who also likes to spend a lot of time grilling meat. BBD will accept requests for existing designs, including the classic Darth Vader helmet, as well as consider new commissions for a themed grill you may fancy. Unfortunately the Death Star grill is sold out once again, but it's a great grab if you're looking for something for a future present.
Editors' Recommendations