Long live records. Just when we think we've come up with a superior means of playing music, the vinyl album comes back, reminding us of just how timeless tangible high-fi audio (and high-res audio) really is.
The immense popularity of vinyl records means that this kind of media is no longer the talking point of disk jockeys and psych-rock fanatics. It's become the go-to way to stylishly play music. It's also a great conversation starter when people come over, and giving folks the chance to choose the next record is fun. But more importantly, with the right turntable or record player, it's often the best way to treat your ears to your favorite bands. A great vinyl record just sounds warmer than listening through other mediums.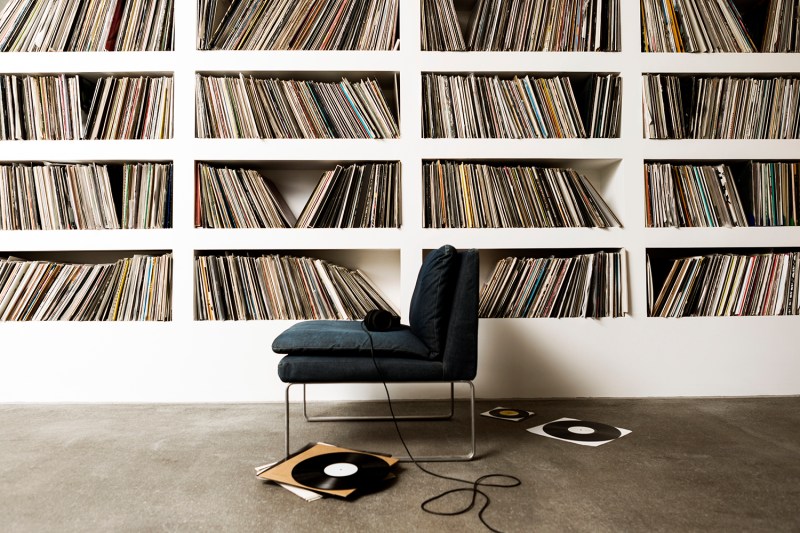 Records are not just the stuff of dust-covered crates in your dad's garage. Many of the bands today release vinyl, knowing full well that a lot of their audience probably owns a turntable (don't worry, they also come with a download link so you'll have a digital copy). But a strong collection, like all things art, should combine the old and new. It should dabble in a variety of genres, from jazz and folk to pop and funk. This music reflects you, after all. Below, you'll find the 24 best vinyl records to jumpstart your collection, along with some pointers on the value of vinyl and why it sounds superior.
Related Reading
Classics
Goodbye Yellow Brick Road by Elton John
Sir Elton's best offering is a majestic piece of piano pop and glam rock gold. Most artists can only produce six or seven great tracks in an entire career. Here, they fall on a single record — an impressive feat atop a career that was already extremely impressive at this point. Many see it as Elton John's magnum opus, with hits like Benny and the Jets, Saturday Night's All Right For Fighting, Harmony, Candle in the Wind, and Sweet Painted Lady.
A Night in Tunisia by Art Blakey and The Jazz Messengers

With all respect for the likes of Miles Davis, John Coltrane, Herbie Hancock, and more, this album, which was released in the late 50s, demonstrates the addictive complexity that is jazz. It's tremendously busy musically, without sacrificing trademark swing and jaw-dropping improvisation. It's also compelling in that Blakey, one of the brightest minds in American jazz, led his band from his throne at the drum kit, a relative rarity in the field. The album truly is a jazz milestone.
Zombie by Fela Kuti

Good records sound wonderful. Great records inspire; or, in this case, infuriate as well. Released in 1977, Zombie points a stern finger at the government of Nigeria, where Kuti is from. The afrobeat star was beaten severely by the military on his commune after the tremendously popular album dropped. It's a powerful and sobering message set to shimmering brass, bouncy percussion, and funk-driven melodies.

Legend by Bob Marley and the Wailers
There's hardly a more universal figure in the world of music than Bob Marley. This collection of hits is just about perfect, reminding the listener just how far above the reggae crowd the Jamaican icon was. There's an almost medicinal quality to the record, never rushed, just patiently uncoiled on its own jam-centric schedule. You'll feel better the moment the needle hits the groove, whether it's the first or five-hundredth listen.
The White Album by The Beatles

Just about anything from The Beatles is worthy of the highest honors but The White Album is a real musicians' album. It marks the band's official foray into more exploratory genres, beyond the delightful LSD-fueled chaos of Sgt. Pepper's. It remains the powerhouse band's only double album ever released and maybe George Harrison's official arrival as a songwriting force (most obviously with While My Guitar Gently Weeps). The Beatles do it all here, from the western country of Rocky Raccoon to the ragtime-y-ness of Honey Pie to the lullaby-like qualities of Cry Baby Cry.
The Yes Album by Yes

This is the album that deservedly launched the prog-rockers into the foreground. It shows the band's out-of-this-world chops, namely in the form of intricate song structures, plenty of pace, and a jumpy style of rock very much informed by the limitlessness of jazz. It's also where one of the best songs in all of prog-rock lives in the multi-faceted I've Seen All Good People. Every song feels like an amazing juggling act of highly organized multi-tasking mayhem.
The Dark Side of the Moon by Pink Floyd
An all-time great, this album has become embedded in our cultural fabric. Musically, it's groundbreaking, flexing uncharted studio prowess and a vast horizon of experimental and cerebral rock sound. There are ten individual tracks but really it's just a single organism flowing seamlessly like a wave from start to finish. The gorgeous vocals and guitar work are matched only by sharp sampling and post-production savvy that make the whole thing feel more like a multimedia installation than just a record.
Jesus Christ Superstar
Arguably one of the best soundtracks of all time, this classic score to a rock opera of sorts is breathless. The work of Andrew Lloyd Webber and Tim Rice, along with many members of Joe Cocker's backing band, it's legendary, electrifying stuff. And, dealing in religion, it's not without scandal, originally banned by the BBC when it first came out.
Tusk by Fleetwood Mac
The greatest record by Fleetwood Mac and easily one of the best albums of the 70s, Tusk demonstrates the very coolest soft rock has to offer. While not the commercial success that Rumours was, this album is beloved by audiophiles for its many subtleties, from post-punk influences to avant-pop sensibilities. The production is clean and intricate, giving your ears lots of candy to munch on over the course of its nearly 75-minute playtime.
Kind of Blue by Miles Davis

Ask a music professor what their favorite jazz album of all time is and the majority will say Kind of Blue. This incredible record glides effortlessly despite being immensely complex. It demonstrates the absolute coolness that Davis exuded, not just as a musician, but as a man and a massive stage (or studio) presence. Released in 1959, it remains untouchable in terms of modal jazz and its creative liberties. Davis is famous for getting the best out of his musicians while allowing them all kinds of freedom and this record cements that.
Mothership Connection by Parliament

The grand-daddy of funk records, Mothership Connection is the musical equivalent of a swagger-induced strut down Main street. With so many hooks and grooves, it's impossible not to dance in its esteemed company. It's easy to see why much of it has been sampled since its original release in 1975. Fun, fantastic, and fiercely catchy, this is disco-kissed funk-rock at its very best. Oh, and it has some of the best one-liners in all of lyrical history.
The Jazz Soul of Little Stevie

If you feel like being taken aback by a kid prodigy, then this record is perfect for you. Released in 1962, the album also calls your name if you just like pure improvisational jazz. One of the first recordings of the great Stevie Wonder, this LP record clearly foreshadows a long and wonderful career. Better still, it feels like the kind of garage-set jam sessions where all the greats were born. There are no rules, save for playing to your heart's content.
Modern Classics
To Pimp A Butterfly by Kendrick Lamar
It's only five years old but To Pimp A Butterfly already feels timeless. The record solidified Lamar's voice as one of the best ever in hip-hop, one so razor-sharp that it ultimately earned him a Pulitzer. The references are astute, the instrumentation is mind-boggling, and the record's detailed portrait of the Black American experience is more telling than ever. Throughout, there's no subject or time signature where Lamar feels uncomfortable. His dense lyrics are the stuff of literature courses and are delivered effortlessly by a real master of his craft.
Black Velvet by Charles Bradley
The late Charles Bradley didn't really experience success until his 50s. The former James Brown cover act from Florida broke late but never looked back. He's responsible for some of the most impassioned vocals in all of music, buoyed by an incredible backing band that plays picture-perfect vintage soul and funk. It feels familiar yet new, revivalist but in an adventurous way. This final release from Bradley cements his all-star status in his own right as well as in his ability to brilliantly reimagine the songs of others (you'll never hear Nirvana's Stay Away quite the same way again).
Heaven and Earth by Kamasi Washington

Yup, a 2018 album can certainly be on the list, especially when you're Kamasi Washington. The saxophonist and brilliant orchestrator is behind some of the best, most thought-provoking instrumental music out there today and it fares extremely well in vinyl form. This album in particular is grand and orchestral, just the thing for a spin on the old turntable. It's an odyssey each and every time, like a nowadays jazz take on Dark Side of the Moon (which you should obviously also listen to on vinyl).
Emmaar by Tinariwen
West African music is a massive genre worth taking multiple deep dives into. Among the finest current acts within the category, Tinariwen is a sprawling band of hyper-talented Tuareg musicians. This is the sixth studio effort from the group and its finest, built around boiling blues guitar and jazz-inspired syncopation. There's a depth to the sound you can only get with six (and sometimes more) musicians working tirelessly as a single unit. There's an intriguing ruggedness to the LP and it jams to the core, built around communal riffing and charging rhythms.
Black Star by David Bowie

Bowie's discography is marvelous from start to finish but there's something both glorious and haunting about his final work. Black Star is the ultimate mic drop, a gorgeous parting statement from one of rock 'n' roll's most towering and fluid figures. It eulogizes his passing with immortal sounds that will fill up "best of" lists fifty and a hundred years from now. We don't need to get into Bowie's prior work because we all know how special it was. But to go out this way is utterly graceful. He earned every right to phone in his last album but instead he did the opposite.
Is This It by The Strokes
There's hardly anything more New York and Y2K-era cool than The Strokes. This definitive album from the indie rockers shows a band in untouchable form, capable of music that's simultaneously radio-friendly and gifted with a bit of punk-rock grit. Any one of the band's members could have off on noteworthy solo tangents (and some have) but this record shows the magic that can come from firing on all cylinders together. It's full of memorable tracks, so much so that you distinctly remember exactly what you were doing the first time you heard Last Nite or Hard to Explain. It's pretty incredible that it was the band's debut studio effort.
Kid A by Radiohead
Many refer to Radiohead as the Beatles of the current generation and for good reason. Picking Thom Yorke and Company's best release is no easy task but Kid A may just demonstrate how important the band's been to music. It expertly marries electronica and rock with classical and experimental sounds to perfectly frame the culture of a brand-new millennium (it was released in 2000). Like the truly great acts, Radiohead has never nestled too comfortably in one genre. The quartet is always adapting and this record shows just how ahead of the curve it always is, as it practically ushered in the popularity of electro-rock and the second wave of post-rock.
Kaputt by Destroyer

Perhaps most famous for his work in the New Pornographers, Dan Bejar is also the brainchild of Destroyer. His solo work is fascinating, combining vivid lyrics and a contemporary sound with the confidence and composure of an experienced crooner. The result is an avant-garde kind of music that's wildly sophisticated yet full of smooth-as-velvet entry points. It's the work of a singer-songwriter with a real storytelling gift and an infatuation with the unexpected.
Melody A.M. by Röyksopp

Released in 2001, Röyksopp's Melody A.M. is a great listen and doesn't seem immensely valuable on the surface until you see that — at least with this limited pressing — the cover art is done by the iconic and ever-mysterious artist, Banksy. It's a great bit of added flair to a smooth and underrated album by one of Norway's greatest electro-pop music duo acts. With the addition of Banksy well before he gained international acclaim, this version of the record is quite valuable.
The Court of the Crimson King by King Crimson

This debut album from heady U.K. act King Crimson is nothing short of extraordinary. As such, it deserves much more than a free Spotify stream. Falling miraculously somewhere right smack-dab in the middle of blues, rock, jazz, and cinema, the album feels progressive even today, more than a half-century after it was released. It's classic rock, for certain, but with a careful ear, you'll detect all kinds of outside influences. And that kind of nuance is best enjoyed by way of vinyl and multiple listening parties.
We Will Always Love You by The Avalanches

Call me nuts, but I think this record will go down in some form of Hall of Fame, decades from now. It features all of the best current talent, woven into a happy pill of music, genres be damned. It's got electro, pop, rock, folk, and much more. And I mean by some esteemed peeps and acts, such as Weezer, Cola Boyy, Kurt Vile, MGMT, and much more. Just set the needle to play and enjoy every single layer of this instant pop classic. It's a complete lesson is how to bring on your favorite guests and blend them in seamlessly into your very own thing; not an easy task.
Agaeits Byrjun by Sigur Ros

Atmospheric music plays oh so well through vinyl. Especially if you have a decent setup and it's Sigur Ros you are playing. The Scandinavian stalwarts of ambient glory never let you down and this album is arguably the band's most animated and energetic. If you want a rollercoaster ride of ups and downs and all kinds of emotive energy, this one's for you. Also, it's on the earlier side of Sigur Ros releases so it will probably gain in value over the years, provide you treat it well.
What Kind of Music Sounds Best on Vinyl?
Everything sounds better on vinyl. But, to nitpick, one could easily argue that the richer and more resonant genres of music sound better in this fuller, more robust sonic format. Great classical, jazz and experimental recordings do especially well here.
What Are The Most Valuable Vinyl Albums?
With vinyl records, it's all about limited runs and scarcity. That, and one-off pressings or foreign versions of iconic albums. Another thing to consider is the label itself. Oftentimes, an act will release an EP or LP through a handful of labels (or sometimes sub-labels of the overarching label). Some of these record labels are long gone and therefore have accrued a sort of nostalgic value.
At the end of the day, it's all about demand. Much like a Michael Jordan rookie card, the first release of now larger-than-life bands can be worth thousands, if not tens of thousands. Think Nirvana's Love Buzz b/w Big Cheese EP from 1988 or The Beatles' debut single Love Me Do from 1962.
Are Vinyl Albums Worth Anything?
In short, yes. However, given the popularity of the field and the mass-production at play again these days, the value is not the same across the board. If you do plan to collect and maintain or even increase the value of your finds, proper storage is key. Like wine, vinyl records need the right environment. Room temperature and reasonable humidity will keep your treasured musical discs from warping.
Also, be easy on the jacket and if the sleeve is still there, keep it on, you're bound to spill something at some point. Don't leave records in the turntable when not playing, especially if they might be subject to direct sunlight. There's value in the format but added value in the record maintaining its integrity. In other words, treat them well and invest in a proper brush and storage setup.
Editors' Recommendations