Even if you haven't heard the classifying term prog-rock, you've likely heard the music. It's the inventive style popularized by the likes of Yes, Rush, King Crimson, and more, and challenges the way we think about rock 'n' roll.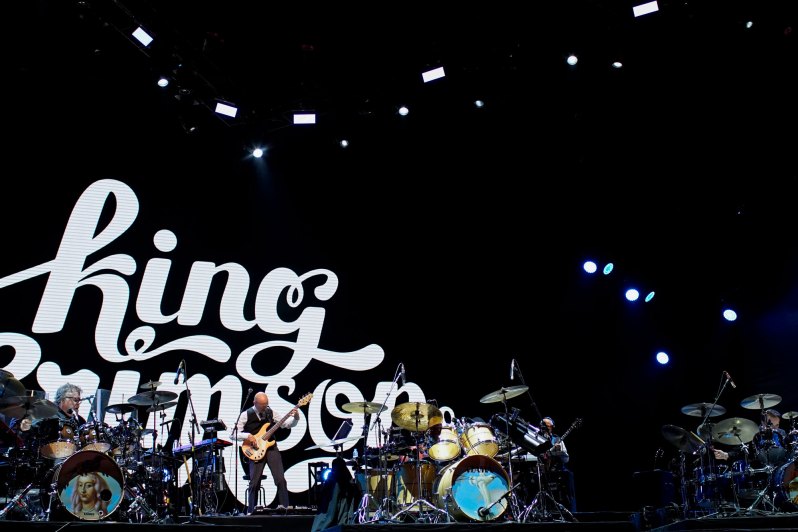 As the progressive name indicates, there's a theme of evolution at play. Prog-rock is captivating because it's always changing. The molten music genre is constantly picking fights with popular sounds and the status quo. That can translate to everything from fusing two unlikely musical styles or playing in an obscure time signature to incorporating weird instruments or stretching a track out to well over twenty minutes in length.
If rock music were high school, you'd likely find the prog-rock kids sketching on their binders in calculus. It's a math-y, nerdy, complex, deceptively rhythmic kind of music that requires an astute understanding of composition. Listening to a classic prog-rock jam, like Yes's Roundabout, is like witnessing a genius solve a problem. You can practically hear the inner-workings of a brain too big for the usual pop music mold. And those sounds come in unexpected ways, making you reassess your interpretation of rock.
It's a math-y, nerdy, complex, deceptively rhythmic kind of music that requires an astute understanding of composition.
Prog-rock's arc is not entirely unlike that of modern food. Industrialization did to grub what the pop powers-that-be did to music. That is, it became streamlined to the point of losing its identity. Soon, food and music would become so formulaic that it was tough to tell individual ingredients or bands apart from each other. It all came out of the same factory, somewhere.
Then, a movement to make things taste and sound better. Food looked back at old techniques and freshness and regionality to maximize flavor. Similarly, rock looked back at classical music and jazz and other structurally involved genres for inspiration. The idea was to make rock an art form once more, something we could spin countless times and decipher something new each time.
There's a new generation taking prog-rock to loftier galaxies, led by the likes of experimental bands like Suuns and heady groups like King Gizzard & the Lizard Wizard and Kikagaku Moyo. A few preceding bands, however, helped set the style in stone and offer brainy lessons on the elaborate nature of the category.
Here are a few albums to help you understand and appreciate the multi-headed and magnificent beast that is prog-rock music:
De-Loused in the Comatorium by Mars Volta
Prog-rock was well established by 2003 when this record dropped by the Texas band that left its massive fingerprint on the style. Like many prog productions, this album is of the concept variety, telling the tale of a coma experience induced by a cocktail of morphine and rat poison. The guitar work is scorching and there are noticeable and pacy nods to American jazz and traditional Latin music. Like Rush and Tool, the Mars Volta reveal the many added layers a great drummer can bring to the genre. And yes, the album cover is awesome, arguably an honorable mention to the best-ever conversation.
Yesterdays by Yes
Just about every record by Yes demonstrates some key facet of prog-rock. The beauty of Yesterdays is its ability to show some of the band's most innovative work, which wasn't harvested for an album until years later after everybody realized its absurd brilliance. It also opens with an incredible cover of Simon & Garfunkel's America, giving the familiar track the full progressive shake-down.
In the Court of the Crimson King by King Crimson
This 1969 release helped define the emerging prog-rock scene. Stitching together blues, symphonic music, and the darker, brooding side of psych-rock. The record seems to go in two distinct directions, down an organic path led by woodwinds and classically inspired structures as well as straight to the core of the psyche via savvy electric guitar work, the mellotron, and some surrealism. Many of rock's greatest reference this album as an influential standout.
The Wall by Pink Floyd
While Dark Side of the Moon is its own masterpiece, the blatant anti-conformity of The Wall and its concept album approach make it prog-rock gold. It was almost too much to handle in 1979 as many initially criticized the record for being self-absorbed. But the album proved to be a wise and relatable tale about the pitfalls of fame, in the out-there incarnation of a two-disc set in the key of rock opera. It revealed yet another side of Pink Floyd, a band that could seemingly do it all.
2112 by Rush
Most of us know what the late and talented percussionist Neil Peart was capable of. This 1976 record speaks to this and more, showing off the Canadian band's instrumental mastery and appreciation of sci-fi. Inspired by writer and philosopher Ayn Rand, the album tracks a futuristic ultra-authoritarian world wherein the state controls everything. It's a chilling story brought to life through extremely sophisticated and spacey rock sounds and fantastic treks led by time changes and scintillating solo work.
AEnima by Tool
The greatest thing about Tool's finest album is that it spotlights prog-rock's more aggressive side. The Los Angeles quartet is typically lumped in the metal section with a band name that became synonymous in the '90s with backpack patches and counterculture. Yet, Tool was always taking the more complicated road less traveled. This record is like a giant classical composition, plugged into towering stacks of amps and launched into the ether with incredible force.
Editors' Recommendations