Dana White says it all the time: MMA is a crazy sport. He's right, too. Anything can happen, and often does. UFC 294 was a great example of this; while the promotion cobbled together a great card that was at risk of falling apart at the last minute, many feel the fights just didn't live up to the hype.
We felt the same. The main card saw a doctor stoppage that almost led to a melee, a three-round fight many felt would end quickly, and a rematch that ended with a shocking knockout. Everyone made weight and was ready to fight, but something about the night seemed a bit off.
After a night like that, the mood is always mixed. This time, it was far more somber. Three of the fighters from the co-main and main events were far more introspective than expected. Alexander Volkanovski essentially said he needs to fight to stay mentally stable, Kamaru Usman was noticeably shaken by his defeat, and Chimaev claimed his heart was elsewhere that night.
We spoke with Dr. Joseph Galasso, clinical and sports psychologist and CEO of Baker Street Behavioral Health, to read between the lines of what was said after UFC 294. Here are his comments: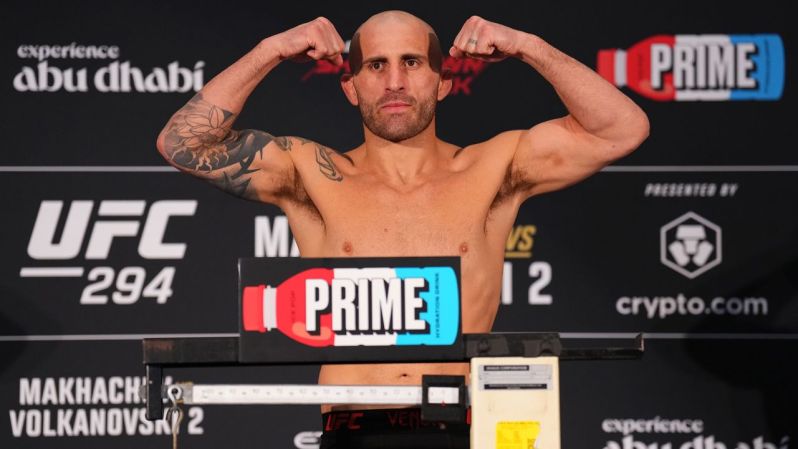 Alexander Volkanovski's post UFC 294 comments
After his fight, Volk said not fighting was "doing his head in." Many felt this was an admission he "needs" to fight in order to feel complete.
I applaud Alexander Volkanovski for his vulnerability in his post fight interview. As a psychologist who has worked with athletes for many years, particularly fighters, the theme of needing to stay busy, stay active, stay in the ring/cage is not unusual. In fact, it is very common that the routine and structure of training and camps, becomes something that athletes crave over time. For many, it gives them something to focus on, a goal that is aligned with their self-concept (a psychological term referring to who you see in the mirror every day). Oftentimes, what happens if this routine is broken by age, injury, or lack of opponents, is exactly as Volkanovski began to describe…a deterioration of that self-concept (i.e., I am strong, I am effective, I am a fighter) which can lead to symptoms of depression and anxiety. Anecdotally, I also have noticed over the years that while all athletes are prone to this thinking, those who participate in solo events (i.e., combat sports, extreme sports, olympic solo events) are particularly prone to this type of thinking (i.e., if I am not fighting, who am I? what am I?).
Kamaru
Usman on his loss to Khamzat Chimaev
This is Usman's third loss in a row. Like Volkanovski, Usman took the fight on short notice against Chimaev, who many feel is the most feared man in MMA.
Kamaru Usman provided a thoughtful and mature view of his performance, and one that comes directly on the heels of his loss. He was very honest about where his deficits are at the moment and they are all hinged on trust. "I need to get back to trusting myself and my team." These experiences can be devastating for fighters, as their loss (in their mind and in the rankings) is directly related to their performance and only their performance. He was very clear in his thinking about how some things that were outside of his control affected his performance (i.e., time to train, going up in a weight class, not fighting a 3 round fight in many outings) and how that ultimately weighs on himself and his thoughts about his readiness and ultimately, doubts about his abilities. Losses at this level, in this sport, require a lot of mental retraining, a lot of suring up his mental defenses so that things like doubt, and lack of confidence don't become a liability and truly detract from one's ability to perform physically.

Khamzat Chimaev was really distracted
Chimaev took to the mic after his win to urge the world to be more peaceful. It's a strange take from a guy who sidles to warlords, but a heartfelt take nonetheless. Chimaev noted seeing kids fall victim to the tragedy of war got to him. Understandably so.
It is unfortunate, but we, collectively as a fan base, forget at times that our heros (our favorite athletes) are human. They have homes and places of origin. They have families and friends that are affected by what is happening in the world as well. We know this firsthand through our work in the WNBA as teams and players had to remain focused during a season that was highlighted by Brittney Griner's troubles. Just as we have stresses caused by the events that are occurring globally, so do athletes, but we expect them to show up to the field, to the ring, or to the ice focused and unaffected. This is even more difficult for fighters or solo sport athletes who need to remain focused during a camp that may be disrupted by travel issues and passport issues amongst other things.
UFC 294 felt off, and now we know why. Three of the four participants in the co-main and main event were there for good reasons, but maybe not the right reasons.
Editors' Recommendations