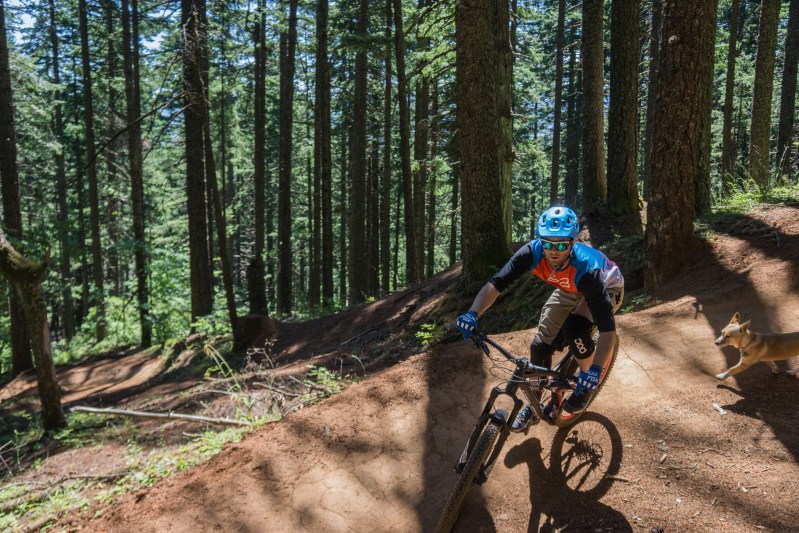 Summer time should be filled with long days on the trail (and cold beer afterwards). If you're lucky enough to live somewhere with an extensive trail system, you've probably seen a few mountain bikers getting rowdy on downhill trails and cross country epics. Maybe you've caught the mountain bike bug after a few rides yourself, or want to test the waters of a new sport. No matter your motivation, whether you're a new biker or seasoned trail rider, choosing a new bike can be a daunting task; simply walk into your local bike shop and you'll be inundated with complicated jargon and bewildering tech specs . We've put together this simple guide to help you navigate getting your first purpose-built mountain bike (or help educate you if you need a little brushing up for your next bike too).
Related: Rip Serious Singletrack with BULLS Bikes | 2016's Best Mountain Biking Gear
There are a few major factors that will go into your bike, namely cost, bike type, fit, and key features. We'll touch on each of these factors to help you make an informed decision.
Cost
You can easily open a biking magazine or website and see some jaw dropping prices on top of the line bikes. Rest assured, unless you plan on taking our a second mortgage, you don't need to get a bike more expensive than your car (at least not to start with). However, you also don't want to skimp on quality, and any bike that comes from a big box or department store will not be dependable. We usually set a baseline of $500-1000 as a good starting point for a total beginner. If you've got a little extra cash on hand, $1000-2000 will get you into a bike that will last you a little longer as your skills and endurance progress. Additionally, bikes in this price range will essentially be the same frame as many of the much higher end bikes, albeit with lower level components. This is an excellent sweet spot to aim for when saving up for your first bike. $2000-3500 is getting into the mid to upper range of serious bikes, and up from there is super-bike territory. It all depends on comfort level with spending, but again don't feel like you have to go crazy – there will be room for that once you've got a couple seasons of riding under your belt.

Bike Type
Mountain Bike categories range from cross country race rigs to burly downhill chargers. The biggest distinction though is the suspension type. Bikes with a rigid construction in the back and front shock on the fork are called hardtails. In contrast, full-suspension bikes have shocks up front and between the main front triangle and rear wheel. This can aid in both comfort and traction on bumpy trails, but adds weight. We'll look at a few categories more in depth, that include both hardtails and full suspension mountain bikes.
Cross Country: Cross Country, or XC bikes tend to be lightweight and have aggressive geometry that aids in steep climbing and long distance riding. They come in both hardtail and full suspension. Typical travel ( a measure of how far the shocks and frame can flex) ranges from 80-100mm.
Trail Bikes: Trail bikes straddle the line of cross country riding and more downhill focused sleds. They will likely be a little heavier than a more aggressive XC build, but make up for the weight with longer travel, and a more slack geometry (less steep head and seat tubes are considered "slack". Less steep angles aid in downhill stability, but sacrifice climbing capability somewhat) that lends itself to all day riding. This is what the majority of the market is aimed at, and you will find many bikes in this category at all price points. Travel ranges from 120-140mm
All Mountain: Think of all mountain riding as getting a trail bike on performance enhancing drugs. Steeper climbs, scarier descents, and man-made jumps and trails are the hallmarks of serious All Mountain Riding. These bikes are commonly seen on Enduro races, that feature multiple stages of racing and long climbs in between technical downhill sessions. Typical travel is 140-170mm, and geometries will be similar to Trail bikes.
Downhill: These heavy, gravity loving bikes are built to go fast. Since they usually have the most relaxed geometry, they don't do well being pedaled uphill – you'll most often see them at ski resorts riding up the lifts and at dedicated bike parks with jump tracks that have been designed and groomed for serious air. Travel on these bikes can reach up to 200mm, which starts to rival motorcycles (and the weight is much heavier as well).
Fit
How your bike fits you is arguably the most important consideration when picking a new bike. A poorly fit bike – even with higher grade components – will be less fun to ride if it causes you back pain or is uncomfortable to climb or descend on. Mountain bikes typically are sized according to the length of the seat tube, and come in Small, Medium, and Large sizes as a sort-of industry standard. In practice, those sizes can vary considerably brand to brand. The best thing we can recommend is to head in to your local bike shop and get a fit from one of their pros. Then get on a few bikes and see what feels right – even a 10 minute ride around the shop can help you feel the differences in what your body needs. If you end up in between sizes, we find it best to err a little smaller, as you can always offset size with a slightly longer front stem or setting your seat back a little. It is much harder to resize a bike that is too large for you.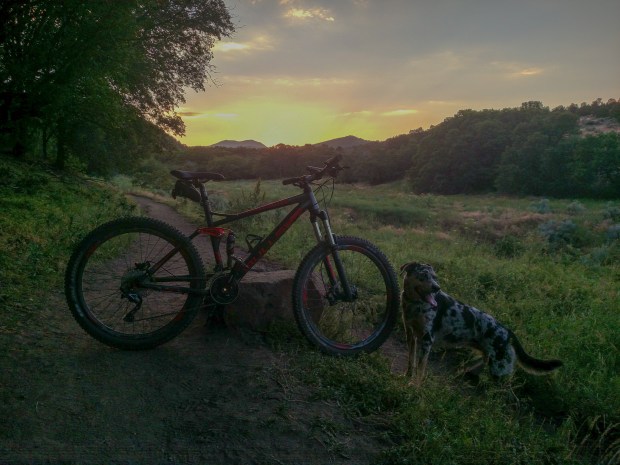 Key Features
Once you've got your fit dialed in and know your style of riding, it's time to talk components. We could discuss the pros and cons of wheel size, drivetrains, and suspension for days and we'd all end up more lost than in the beginning. Here is a quick breakdown so you have some good ideas on how each feature can affect the finished bike.
Wheel Size: Mountain bike wheels come in 26″, 27.5′ and 29″ sizes. 26 was the industry standard for decades and is a nimble all around performer. 29ers came around a few years ago, and their larger diameter aids in stability at high speed, but can be a little hard to handle for small riders if you're new to technical trails. 27.5 is the newcomer, having only been around for a couple of years. We find that this size hits a great compromise between 26 and 29.
Drivetrain: Your chainrings, shifters, and cassette make up the drivetrain of your bike. The more expensive these components get, the lighter they get. You can also change things up by having nine, ten, or eleven gears on the back (SRAM even makes a 12 gear cassette, but it is insanely expensive), as well as one, two, or three up front. We find that a 2×10 or 1×11 drivetrain are the easiest to use, as you can generally be in the right range when pedaling into a climb, and you'll have much less unused range of gears than the old standard 3×9 set up that is slowly being phased out of the industry. The trade off here is that 1×11 systems tend to be a little more expensive.
Frame: Bikes are most commonly made of Aluminum, but high end bike makers also build frames using carbon fiber, steel, and titanium. Each material has its advantages, but for your first bike we recommend going with an aluminum bike. They are very durable and provide a decent weight to strength ratio. Carbon fiber is becoming more prevalent in higher end XC and All Mountain bikes, but tends to be much more expensive due to time consuming manufacturing. Titanium has excellent weight savings and vibration reduction properties, but is extremely expensive, so you probably won't find it used in full frame builds outside of niche brands and high dollar bikes.
Brakes: Brakes come in two flavors: rim brakes and disc brakes. We'll make this simple: invest in a bike with disc brakes. Rim brakes are less consistent in adverse weather, and will gradually wear out your wheels (albeit over a very long time). In contrast, disc brakes provide better stopping power even in wet and muddy conditions, and it is much cheaper in the long run to replace a worn down brake rotor than an entire wheel. They do incur a little extra maintenance cost, but safety is a good trade-off to a foregoing a couple beers a month.
No matter if you're just looking to get a beginner's hardtail to cruise mellow trails and dirt roads, or building up a dream bike to cruise serious pacific northwest downhill tracks on, start making a list of your must have features, get the correct fit, and then stick to your budget. With a little knowledge beforehand, you'll be well equipped to get out on two wheels and rip some singletrack.
Editors' Recommendations