Looks as though it's getting closer to blanket season, are you ready? Picture this: You have your favorite lounge pants, a cozy couch, your favorite chair, or maybe you're hanging on to summer and you're sitting beachside. You'll need that extra layer of warmth and inviting softness. As the temperatures start to drop, it's time to grab your favorite throw, quilt, or knit. No, that doesn't mean you pull the comforter off your bed because then you'll just have to remake the bed!
Blankets have really evolved over the last few years. Take the weighted blanket, for example, people love them and they're great for calming and you can order them in different weights. Then there is the Big Blanket. It's oversized so that you can sit on the couch — or anywhere for that matter — and you won't be fighting over the covers so to speak.
Best Overall: Schoolhouse Cotton Pinstripe Throw
This 100% cotton throw is as elegant and effortless as its versatility. Think of this blanket as multiseasonal because of the comfortable weight for layering. The blanket is made by weaving experts using traditional techniques from a family-owned textile factory in New England. This is one of Schoolhouse's originals.
Best Throw: Minna Abstract Throw Indigo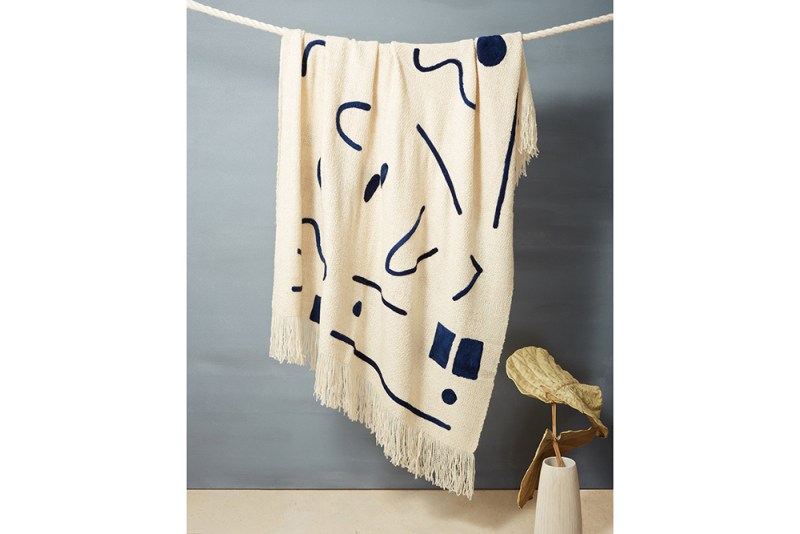 The Abstract Throw in Indigo is crafted from luxurious merino wool and will up your wool blanket game. You will see that the abstract shapes are felted by hand using 100% merino, which makes this a super-soft blanket! This throw is as visually pleasing as it is soft so you can drape it over your bed or snuggle up on the couch. The throw is assembled and handmade by a women's cooperative in Uruguay. This is a beautiful piece you won't want to relinquish as you settle into your favorite chair, classic book in hand.
Best Knit: Evangeline Cotton Cable Knit Throw

The work of Evangeline in Maine, this blanket is soft and relatively simple, meaning it feels good and looks great in just about any room of your house. The stitching is wonderfully done, offering balance and layers to this timeless throw. With the popularity of their other throws, they have permanently added this Cotton Cable Knit Throw to their lineup. This throw is a perfect weight making it rugged yet never compromising its softness no matter how much you use it. In fact, the more you use it, the softer it gets.
Most Durable: Denali Deerhaven Throw Blanket

This blanket just gets better with age, softening with every wash and handling heavy wear and tear like a champ. The outdoors-y crowd will appreciate the pattern, filled with deer, trees, and leaves. It would make a perfect travel blanket or even a great camping blanket. It's made of super-soft micro-plush fabric, which is like wrapping yourself with a cloud. The colors won't bleed because the color is dyed in to the fabric, maintaining a look that is just as good as the day you bought it. These made-in-the-USA blankets are actually two blankets hand-sewn together for texture and durability. The fiber technology was created to regulate temperature and to keep you comfortable during any season. Denali believes in this blanket so much, the company offers a lifetime warranty on blankets purchased after 2017 that are damaged by normal wear and tear.
Best Waterproof: Yeti Lowlands Blanket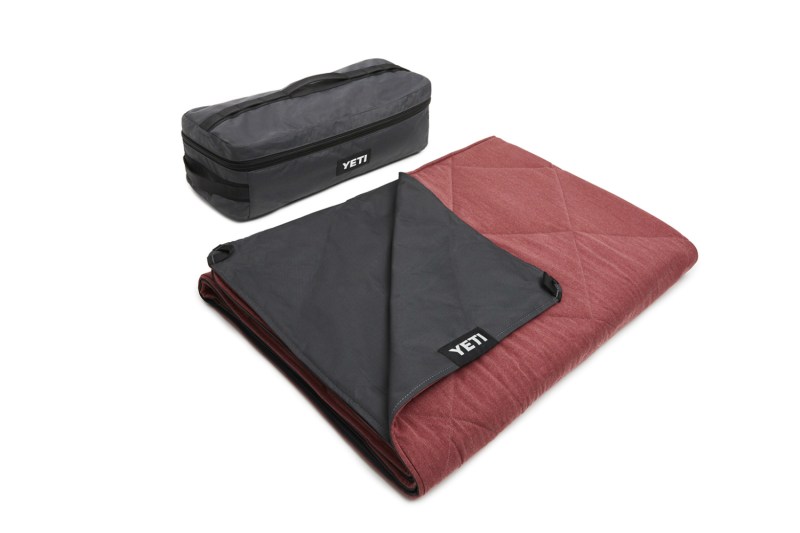 This blanket is built for outdoor fun, even when the weather turns. Not only is it waterproof and insulated, but the Lowlands also repels pet fur and dirt, making it something you should probably pack along every time you leave the house-to mimic the comfort of home while you're away. Think of this blanket as a one-of-a-kind, all-terrain blanket. Since it's made for the outdoors, it has a waterproof layer that protects against any type of wet ground. When you're finished, just simply toss it in the washer and get it ready for the next outing.
Best Design: Slowtide Jericho Blanket

This blanket looks as good mounted on a wall as atop a bed or thrown on a couch. The stunning geometric design is reversible, and there are lovely details such as the multicolored threading that bookends the blanket. Do a bit of stargazing with this soft cotton and reversible designed blanket. The soft 100% cotton blanket is made in the USA and has a fringe finish. They are designed with your comfort in mind.
Best Organic: Coyuchi Pismo Organic Blanket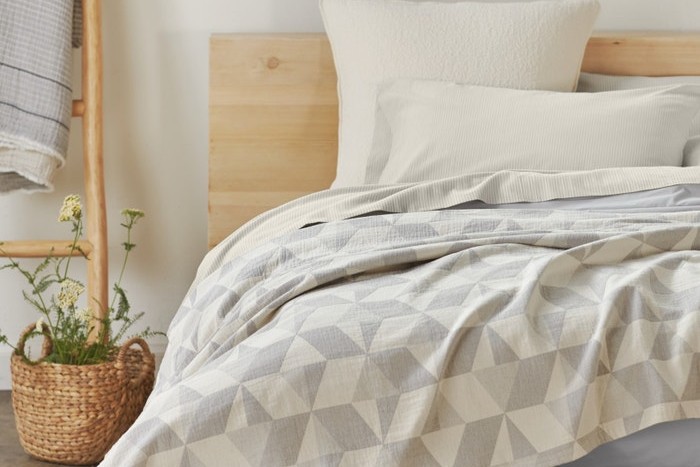 This geometric gem is made entirely from organic cotton woven in Portugal. The pattern is worthy of long stares, the feel is cozy, and the blanket itself is versatile, fitting in just about anywhere. The Pismo Blanket is woven with organic cotton fibers and then is stonewashed for softness and texture. The blanket is perfect for layering or using alone during warmer weather. Coyuchi is on a mission to reduce their plastic usage so the blanket is shipped in a reusable cloth bag.
Best Budget: YnM Weighted Blanket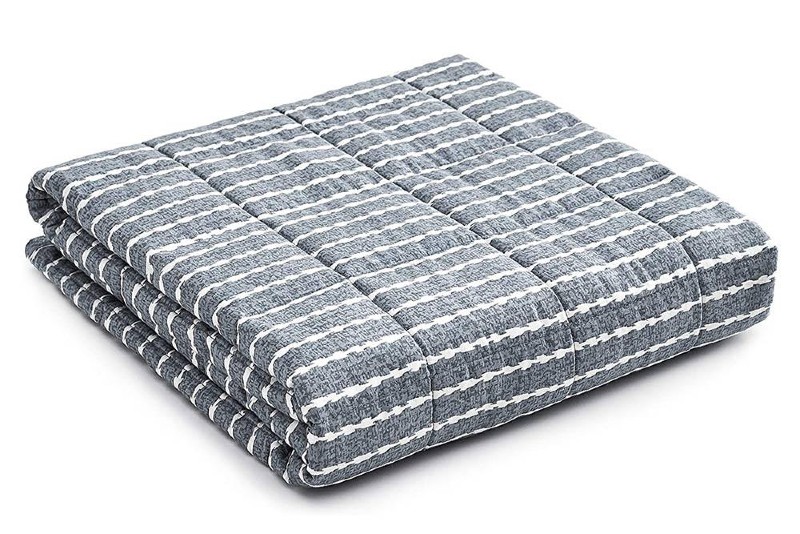 Weighted blankets are smaller than ordinary blankets because they concentrate the weight on the human body, meaning a king-sized blanket will not hang over the edge of your bed but will lay on the top surface. These blankets are designed to ease stress and anxiety, lull you into a deep sleep state, and helps to quiet the mind. Each blanket is made from 100% cotton and is filled with dozens of pockets of glass bead technology. Wrap yourself in this gentle and soft blanket to help you fall and stay asleep. They even offer a cooling weighted blanket for those that get too hot during the night.
Best Series: Pendleton National Park Blankets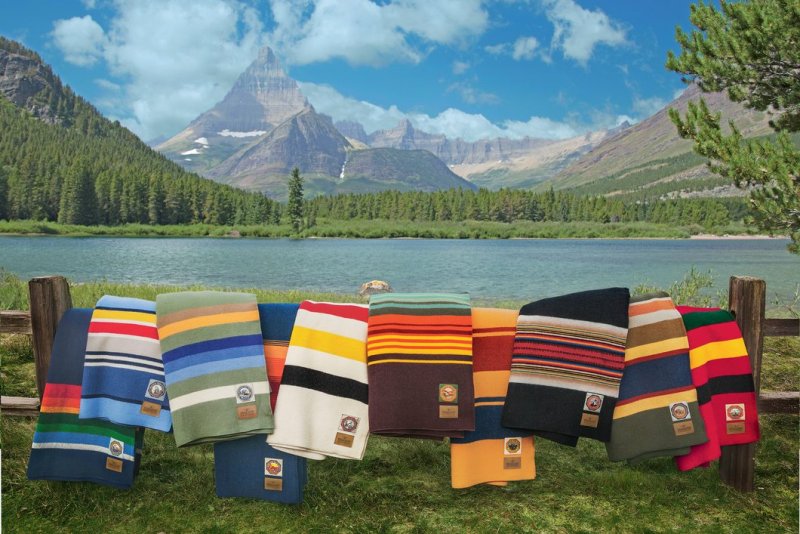 Pendleton Woolen Mills knows wool and it knows vibrant color schemes. The gorgeous National Park series of blankets have been around since the early 1900s and each blanket looks like unique sunsets specializing in primary and earthy color schemes. Every blanket has the Pendleton label that certifies its authenticity. Along with the label, authenticity is a special woven label displaying the park name and an image of its important natural feature. The National Park Foundation has had over $900,000 contributed to the charity. Once you have one, you'll want 'em all.
Best Travel: Bearaby Travel Napper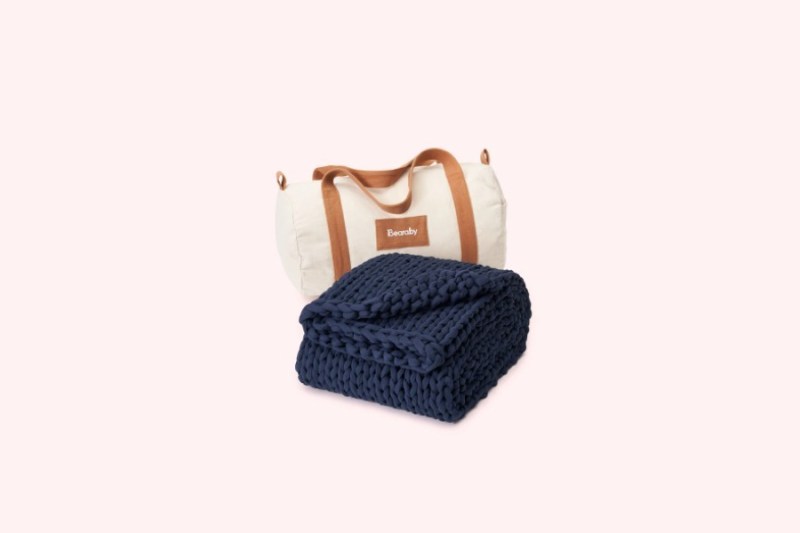 If there's any blanket out there that would give you the best comfort, it's most probably Bearaby's Travel Napper. It's a 10-pound weighted blanket that you can absolutely carry wherever you want to go. Not only that, but it also comes with a convenient duffel bag, so you don't have to worry about where to put it. It's available in five different colors.
What Is the Purpose of a Blanket?
The purpose of a blanket is to help regulate your body temperature while you sleep. Any blanket will help with the increase of serotonin and melatonin to help you relax and to fall asleep rather than putting on layers of clothing that can restrict you during sleep. It's much better to add a blanket than clothes. The blanket will also create a layer against your skin to trap the heat that escapes your body.
How Do You Choose the Right Type of Blanket?
Really the only place to start when choosing your next blanket is to look for styles, materials, and designs that appeal to you. Only you can determine how thick of a blanket you want, what type of texture the blanket has, and will it keep you warm?
So whether you're looking to treat yourself or gift someone you know a top-shelf blanket, we've got you covered in all facets of blanket culture, from abstract or durable to weighted or waterproof. If you want one for snuggle time, bedtime, or for laying under the moonlight, you have some pretty solid choices. As you may know, they also come in a variety of sizes and colors so they will match your personality as much as they will match your decor. Not to mention you can toss out that Snuggy and really get some cuddles in with that special someone.
Editors' Recommendations