You don't have to be a day trader or have a subscription to Tesla news to know that Tesla stock is not doing well. Over the past year, the stock has dropped roughly 62% from $342 to $131. That, for Tesla, is abnormal. Traditional brands like Ford and General Motors are down 49% and 39%, respectively. Usually, Tesla stock only climbs, so a sharp fall like this is rare. So, what's going on? Well, there are a few reasons for Tesla's dramatic fall.
Most of Tesla's problems can be traced back to its CEO Elon Musk. The outspoken billionaire is the main rudder for Tesla and is capable of sending the stock soaring with a late-night cryptic tweet or plummeting when he offloads millions in Tesla stock after promising not to do so. Tesla stock is coming off of having its worth month, quarter, and year, and things could get worse before they get better. Here's why Tesla stock is having such a hard time.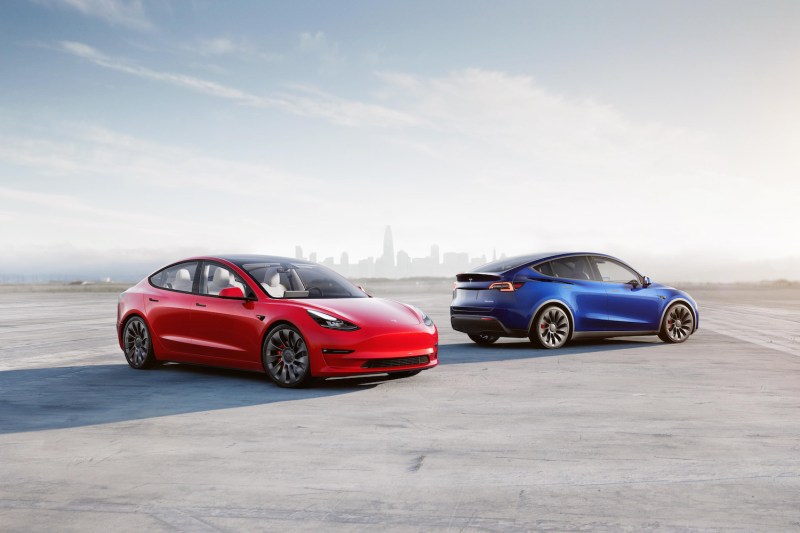 Obviously, the first thing is Musk's purchase of Twitter. The Verge outlined all of the ways Twitter has changed, for the worst, since Musk took over. Once Musk completed the purchase, he made sure that he was the center of attention, changing policies, laying off staff, embroiling himself in politics, and introducing half-baked ideas like charging Twitter users to have a blue verified check mark next to their names – leading to some hilarious fake accounts. All of Musk's decisions and poor handling of Twitter caused brands to pull ads in droves. Volkswagen and General Motors, two of the largest automakers in the world, stopped advertising on Twitter in November following Musk's takeover.
A lot of brands took offense to using a social media platform that's being run by one of their main competitors. Others simply didn't want to do business with Musk. Whatever the reason, it resulted in Twitter hemorrhaging money. So, Musk, in the middle of December, sold roughly 22 million shares of Tesla. At the time, the sale was worth around $3.6 billion, causing another large drop in Tesla's stock price. When debating with a shareholder on Twitter about Tesla's declining share price, Musk blamed it on the Federal Reserve rate hikes.
While Musk's Twitter deal played a large role in Tesla's stock price, a lot is going on with the automotive industry. Tesla was one of the first automakers in the world to introduce an electric car with the Roadster in 2008. Then, Tesla shocked the world with the introduction of the Model S in 2012. Being one of the first to focus on electric vehicles made Tesla an EV pioneer. Not only did Tesla lead the pack with its innovative electric powertrains and impressive range, it introduced radically designed vehicles with cutting-edge tech features. Tesla was the clear leader of EVs, but a lot has changed since 2008.
There's new competition in the electric segment. Rivian, Ford, and GMC all have electric pickup trucks that consumers can buy, while the Cybertruck is in limbo. While Tesla has been promising an affordable Model 3, Chevrolet beat Tesla to the punch with the $30k Equinox EV. Tesla isn't the leader in range either, as the Lucid Air offers up to 516 miles of range, beating the 405-mile Model S. Kia and Hyundai are coming out with excellent EVs that are affordable; Audi, Mercedes-Benz, and BMW have introduced more premium EVs; and Tesla's Supercharging network doesn't have the same dramatic advantage it once did.
The competition has gotten better, and traditional automakers are finally entering the segment with competitive options. The situation has gotten bad for Tesla, which is struggling to attract buyers in America and in China. Tesla has resorted to doing something it never has: cut prices. The automaker, which is known for sporadically hiking up prices on its EVs, recently cut prices on a few of its models by up to 20%. That's unheard of, and it's all to draw buyers in.
Most Tesla owners I've spoken to purchased their EVs because of Musk. They believe in him, see him as some kind of modern-day Tony Stark in the real world. He's a genius (apparently), rich, and outspoken. Some people like that. So, when the time came for them to purchase a vehicle, they didn't even bother cross-shopping another vehicle, as they knew right away that they were going to purchase a Tesla. Musk fans are Musk fans, through and through. Over time, though, people have started to see a different side of Musk and have fallen out of love with him and his antics.
Tesla got such a large head start over traditional automakers that it will probably hold onto its lead for quite a few more years. But Tesla's stock is tied directly to Elon Musk, and his focus isn't on the automaker. It may seem like the perfect storm, but this drop in Tesla's price should've happened a long time ago. Tesla is an automaker, plain and simple; there's no reason why its stock doesn't follow the same ebb and flow as others.
Editors' Recommendations