There's almost no information. There's just a teaser image. One single image. One small shot of the grille to the new Subaru WRX STI S209. And a promise — a promise for a hardcore, badass, bitchin' WRX STI. A promise for the gnarliest WRX STI to ever grace the shores of the U.S. I'm tingling with anticipation.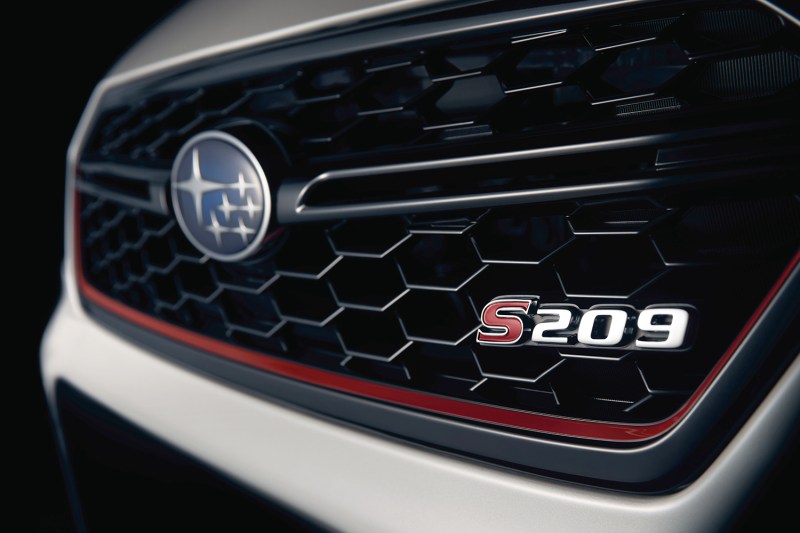 Subaru's racing division, Subaru Tecnica International, has long built righteously awesome versions of the WRX STI. And through STI's history, only four special edition model's have carried the S-moniker. All, until now, have also only been for Japan's domestic market. At the 2019 North American International Auto Show (aka NAIAS, aka the Detroit auto show), however, Subaru is changing that history with the WRX STI S209.
Our guess is that the new S-model will boast around 350 horsepower.
And while Subaru is playing the release coyly until Detroit, which runs January 14-27, we can glean what the WRX STI S209 will likely entail based on previous iterations. First off, it's gonna get a horsepower bump. The last S-model, the WRX STI S208, got a nearly 30-horsepower increase. But with Volkswagen's Golf R and Honda's Civic Type R all making over 300 horsepower, my guess is that Subaru's STI team will want to go big and not go home. Think around 350-ish.
The new S209 will also likely get some better stoppers, possibly upgraded units from the track-focused RA model. And though some outlets are postulating that the interior of the S209 could see a healthy diet, given that the racier STI RA didn't find its interior stripped, I wouldn't count on the S209 getting one.
Furthermore, based on previous special edition S-model Subarus, as well as the host of other special editions that have made their way to the U.S., the WRX STI S209 will be a limited affair. Previous special editions have only been made in batches of 500. I highly doubt Subaru will buck this trend, so if you want to be one of the first Subaru owners in the U.S. to legally own an S-model, I'd head over to your local Subaru dealer and beg them to take your money now. They're going to go quick. The Detroit auto show starts Monday, January 14. Get ready.
Editors' Recommendations