For many travelers, the choice of road-tripping vehicle is a deeply personal one. Practical folks might opt for something comfortable and amenity-rich like a minivan. Nostalgists won't consider anything other than a VW Bus. Purists likely prefer something more stripped down, raw, and fun — an MX-5 Miata perhaps. If you fall into the latter category, allow us to introduce Polaris' newest Slingshot. The open road is calling, and you must go.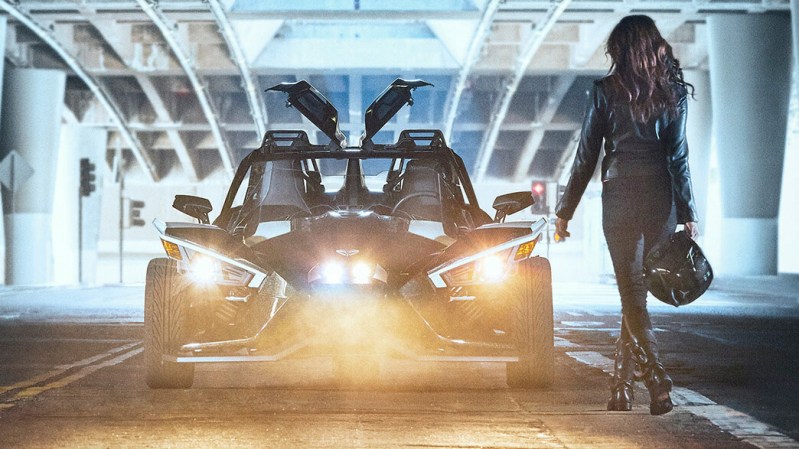 The all-new Slingshot Grand Touring Autocycle takes the helm atop Polaris' line-up for 2019. This trim level focuses on upgrades and updates that make the open-air Slingshot a more capable road-trip-worthy driver. The cockpit is semi-enclosed (still no doors) courtesy of a Slingshade, a removable hardtop with hinged, gullwing-style panels above the driver and passenger. The center console features a slick, 7-inch touchscreen with easy access to the backup camera, navigation system, and a robust 100-watt Rockford Fosgate audio system. The seats get an upgrade too with softer, quilted material for a more comfortable long distance ride.
The new model shares many of the best components with its Slingshot siblings. The unmistakable, angular, Batman-worthy silhouette hasn't changed. The five-speed manual shifter and GM 2.4-liter four-cylinder engine remain. The latter produces a healthy 173 horsepower and 166 pound-feet of torque for an impressive power-to-weight ratio.
The original Slingshot joined the ranks of the world's most audacious three-wheel rides in 2014. Like the CAN-AM Spyder and the absurd Morgan 3-Wheeler, these are vehicles that, on paper, have no business being on the road. They're too big and powerful to qualify as go-karts, yet too fast and exposed to compare against the safety of a traditional car. But, honestly, who cares? Someone at all three manufacturers was slick and well-connected enough to sneak their concept plans past the otherwise sensible folks at the Department of Transportation to garner a "street legal" stamp of approval. We say we're all the better for it.
As of July 2018, the Slingshot is classified as an "autocycle" in 44 states, meaning drivers need only a standard drivers license to get behind the wheel. The remaining buzzkill states still require a motorcycle endorsement.
Polaris' flagship model comes with a price tag that starts at just under $30,000. With the best (read essential) options like a Bilstein Shock Kit, high-performance composite rotors, Velocity street seats, and upgraded audio, the all-in cost easily tops $35,000. In true Henry Ford fashion, the Slingshot GT is available in any color you want, as long as that color is black.
Editors' Recommendations