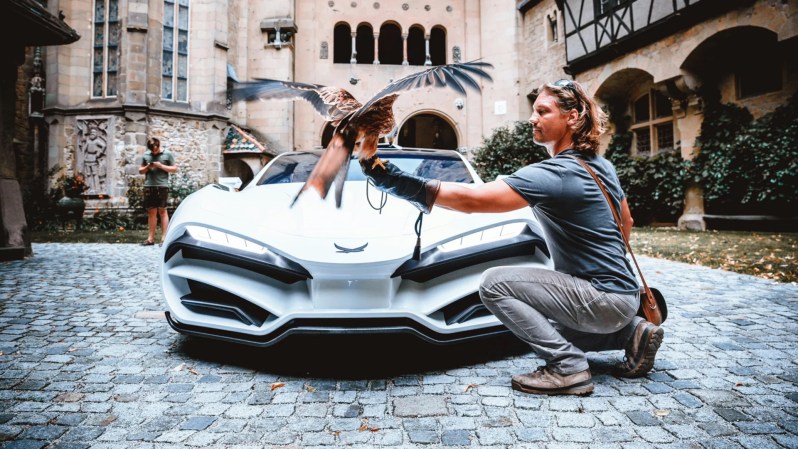 You've heard of hypercar — high-performing luxury sports cars made in limited-quantities and designed like a piece of fine art. (Some can supposedly drive upside down.) But as rare and coveted as any hypercar is, the Milan Red makes any other look like a Toyota Camry.
Milan Red, created by MILAN Automotive out of Austria, is our warm introduction to the new generation of hypercar (aka lighter and faster than we ever thought possible). The hypercar class of luxury sports models consists only of the cream of the supercar crop, earning a seat at the pantheon of the most high-sticker, low-volume production cars ever made.
Taking its name from the famous bird of prey (and not the Italian city), the Milan Red houses 1,325 horsepower and goes from zero to 100 km/h (62 mph) in exactly 2.47 seconds. Even more astounding, the Milan Red weighs only 1,300 kg (2,866 lb), meaning the car has one horsepower per kilogram, which is just as insane as it sounds.
Limited to only 99 cars, each Milan Red will have a seven-figure price tag at around €2 million (almost $2.3 million).
"Nowadays you can drive an artistic car, a high-tech-monster, a throne on four wheels — or a car that only serves one purpose: stealing everyone the show. And this is where we come into play," says Markus Fux, CEO of MILAN Automotive. Fux is a former race driver, making his excitement level for the speed and equipment of the Milan Red right about equivalent to unwrapping a Nintendo 360 for Christmas when you were nine.
This powerful explosion is the result of the 6.2-liter V8 Quad Turbo rear drive, operating entirely without electric support and crafted by AVL, who is a supplier of Formula One racing. PANKL Racing Systems is responsible for the exclusive SLM wheel carriers, and for the first time in the history of street-legal cars, the wishbones of the Milan Red will be manufactured wholly from carbon.
And perhaps the wildest and alluring special add-on available in the Milan Red: an interior visualization of the driver's heartbeat. Sure, it's technically useless in terms of driving better but it makes the ride more exciting.
Outside, the body is muscular yet smooth with a hood scoop and big back haunch over the rear wheels. The backside is gorgeously detailed while the front reminds us of the flared nostrils of a horse that is getting ready to sprint and buck your ass off. At the speed of the Milan Red, you better hope you can calm her down or at least hold on to the reins.
Editors' Recommendations