There's something almost comforting about the price of a vehicle like a Ferrari 488 or a McLaren 720S. At more than a quarter of a million dollars and well over the current median price of a residence here in America, there's basically no chance most of us are ever going to own one of these cars, so we can just enjoy them for what they are, no real longing or aspiration involved.
Then you have the Maserati Quattroporte, a luxury sports sedan with a starting price tag of $107,980. Yeah, that's a lot of money, but it's not crazy, if still perhaps something of a stretch. But if you budgeted carefully for a few years…
And as for the aspirational part, having recently spent a week with a Quattroporte, I can tell you I'm aspiring to get back in one ASAP, ideally with my name on the pink slip in the glovebox.
The specific model I was lucky enough to play around with was a Maserati Quattroporte S Q4 GranLusso, for which the pricing starts at $120,780. Again, not cheap, but well under half the price of other vehicles out there that are certainly not twice as much fun.
The Quattroporte is a gorgeous car from the outside. It's large but sleek, potent-looking without aggression, and even a bit demure. There are no sharp angles and no bulging wheel wells or oversized spoilers. Overall, the exterior styling is more luxury than sport.
And when you settle into the driver's seat, that luxury is there to meet you. The seat, as with much of the cabin, features hand-stitched leather. Carbon fiber abounds throughout the interior, which is laid out for maximum comfort and convenience. A touchscreen also controlled by a knob near the gear shift gives you access to GPS, your phone, media, and more, and a 10-speaker sounds system fills the Quattroporte with concert hall-level audio.
Of course what you really want to listen to is the engine. In the S Q4 model — that's a 424 horsepower V6 engine that tops out over 175 miles per hour. The Quattroporte isn't a rocket ship off the line. From a standing start, you'll need the better part of 5 seconds to get past 60 mph, but once at speed, the vehicle racks up additional miles per hour fast. And the ride is so smooth that while you might think you're doing 60 or 70, you're actually easing past 90. Or 100. Or 118, which is about where I decided to rein things back in.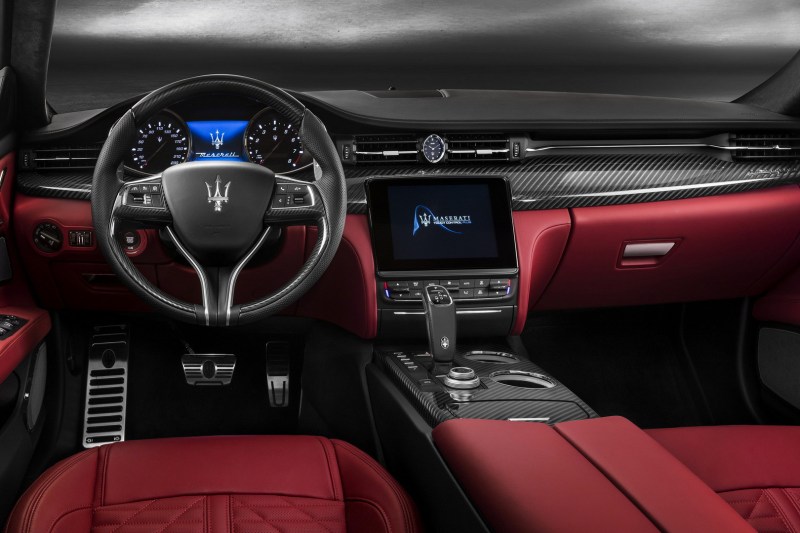 The throaty rumble of the large engine and the physical largesse of the Quattroporte speak to its power, but for a such a large sedan this is a surprisingly deft vehicle. I took the S Q4 around hairpin turns and down multiple winding roads at a clip that would have been hair raising (and ill-advised) in a vehicle boasting lesser performance, and the wheels stayed glued to the road. The ride is smooth on all sorts of roadways thanks to a masterfully tuned suspension, and the large brakes bring the Quattroporte to a stop plenty fast.
This is the kind of vehicle in which you can see yourself cruising down miles of open road, few cares on your mind and plenty of time on your hands. This is also a vehicle into which I easily fit two car seats, a wife, and a trunk full of groceries (like the Maserati Levante also does). So aspirational, sure, but illogical? No. This is a car you're not crazy to want to own, nor to envision the day you will.
Editors' Recommendations