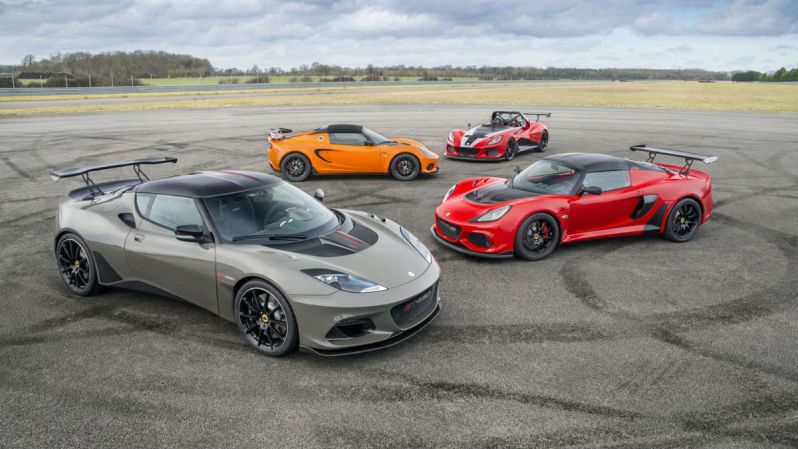 For all but a brief period early in the company's history, Lotus Cars has always been on the brink of financial ruin. Despite the automaker's rich motorsport history (including seven Formula One wins) and long list of brilliant road cars (like the Lotus Seven, Elan, and Elise, to name a few), scandal and missteps always seem to plague Lotus' health.
Today, Lotus Cars is hardly a blip on the automotive industry radar. In Europe, where the brand sells three models — Evora 400, Evora Sport 410, and 3-Eleven — Lotus found buyers for just 783 vehicles last year. In America, the company's last reported sales year saw just 80 new car deliveries. To put those figures into perspective, Porsche's 718 Cayman (a direct competitor to the Lotus Evora) sold three times more units in the U.S. in 2017 than Lotus Cars' global sales the same year.
Lotus isn't riding on the struggle bus, it's driving it … for now. Last year, China's Zhejiang Geely Holding Group Co. (known simply as "Geely") purchased a 51 percent stake in Lotus Cars, with its Malaysian partner, Etika Automotive, taking the remaining 49 percent. Until now, we've been waiting to see what Geely would do with Lotus — especially considering the transformation it has put Volvo through in the past few years (Geely also owns Volvo). Now the pieces are coming together.
According to Bloomberg, Geely plans to increase its stake in Lotus and drop about $1.9 billion into the brand. "Geely is fully committed to restoring Lotus into being a leading global luxury brand," the automaker said in a statement. The company will specifically target Ferrari and Porsche in its plans for performance luxury vehicle domination.
That giant chunk of cash will reportedly be directed to building new production facilities and research centers in the United Kingdom. It would also make sense for Geely to expand manufacturing in its home Chinese market. What production cars will this investment yield in the future? If we look to Lotus' claimed rivals, we can guess Geely is planning a sporty crossover or two, a new convertible (most likely a next-gen Elise), and a four-door sedan.
Editors' Recommendations