The standard Keanu Reeves "Whoa" gif just isn't enough for how freaking badass the latest creation from Reeves' Arch Motorcycle company: the Method 143. Coming off the heels of the company's highly successful and addictively raw KRGT-1, the Method 143 continues the brand's commitment to limited quantities, high-dollar price tags, engineering excellence, and an almost limitless array of custom flourishes available to Arch's clientele.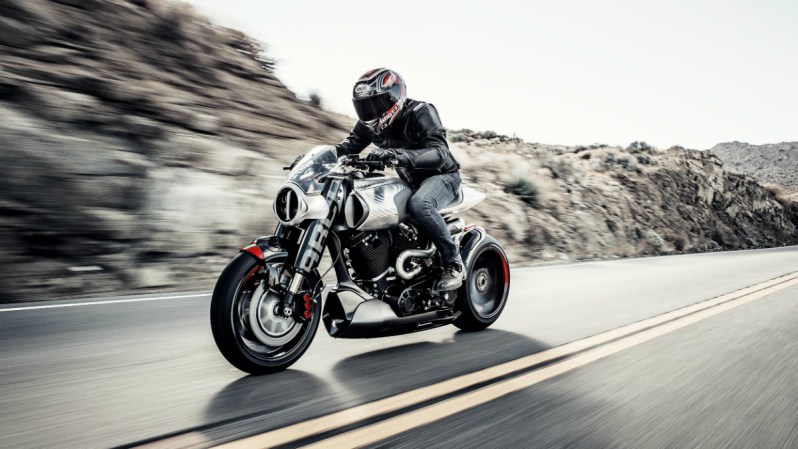 Designed around a carbon fiber monocell chassis — the first of its kind in the motorcycle world — the Method 143 is a purposeful-looking machine to behold. In addition to its revolutionary chassis, integrated into the bike's frame is its fuel cell. At the front of the motorcycle are a set of Ohlins FGRT forks with an Arch proprietary setup. At the back, an Ohlins rear shock coupled to a CNC machined, billet aluminum, single-sided swingarm.
Front and rear brakes are handled by ISR Monoblocs, while the fronts get dual six-piston calipers and the rears receives a single four-piston unit. Mounted on Arch's own carbon fiber "Turbine" wheels are Michelin Power RS tires. However, it's the heart of this motorcycle that will send shivers down your spine.
Making use of a 143 cubic-inch S&S Cycle V-Twin engine, the Method 143 is sure to have world-altering horsepower and torque, although Arch is keeping actual stats close to the vest for now. It will likely sound delicious since Arch has piped the V-Twin through a MotoGP-inspired titanium exhaust with a carbon fiber skin on its muffler. And, like its performance stats, Arch is keeping the price of this metallic sculpture under wraps. It'll be high, but like the KRGT-1 before it, it'll be worth every penny. Unfortunately, only 23 lucky individuals will be able to part with those pennies as once those 23 are finished, that's it.
Arch came to life after Keanu Reeves asked friend Gard Hollinger to help customize a motorcycle of his. Over a few months, the two had countless back-and-forths about what they wanted the bike to look like. Increasingly, Hollinger figured out Reeves was looking for something else than what he had brought to him. They finally settled on building their own unique custom motorcycle: the KRGT-1. It wasn't anything like the original conceit Reeves came to Hollinger with, but the pair loved the end result so much that they decided to make a business out of it. That is, after Reeves convinced Gard to do it with the single line: "Because we all die someday." Hollinger became the builder and designer, Reeves, the man in front of the camera and guy with a font of ideas and motivation.
It's been quite some time since those initial meetings and, from the looks of the Method 143 and the company's all-new Arch 1S, the pair have definitely struck a chord with the motorcycling world. When I last spoke with Hollinger a year ago, he said he couldn't wait to show the world what the brothers-in-arms were creating in their small workshop in west Los Angeles. Now that we've seen the Method 143, we can't wait to see what they come up with next.
Editors' Recommendations