Ferrari is ending production of the Portofino M, which means that wealthy drivers looking for a supercar that gives them that open-top experience with the prancing horse badge will have to look to something else. The good news for people that can afford to spend roughly $250,000 on a car is that Ferrari already has a replacement in place for the Portofino M with the new 2024 Roma Spider. Ferrari has ripped the roof of the gorgeous Roma to create the even more stunning Roma Spider, and it's the first front-engined Ferrari to have a fabric top since the 1969 356 GTS/4.
A Ferrari convertible is already a special thing, but one that makes Ferrari look 50 years in the past to have an incredibly rare feature is even more grandiose. The soft-top retractable roof adds an extra 185 pounds to the supercar, but that's the only trade-off to having an endless amount of headroom. Plus, Ferrari hasn't touched the V8, so shoppers that are willing to live with some extra weight will get to enjoy the engine's sound a lot more.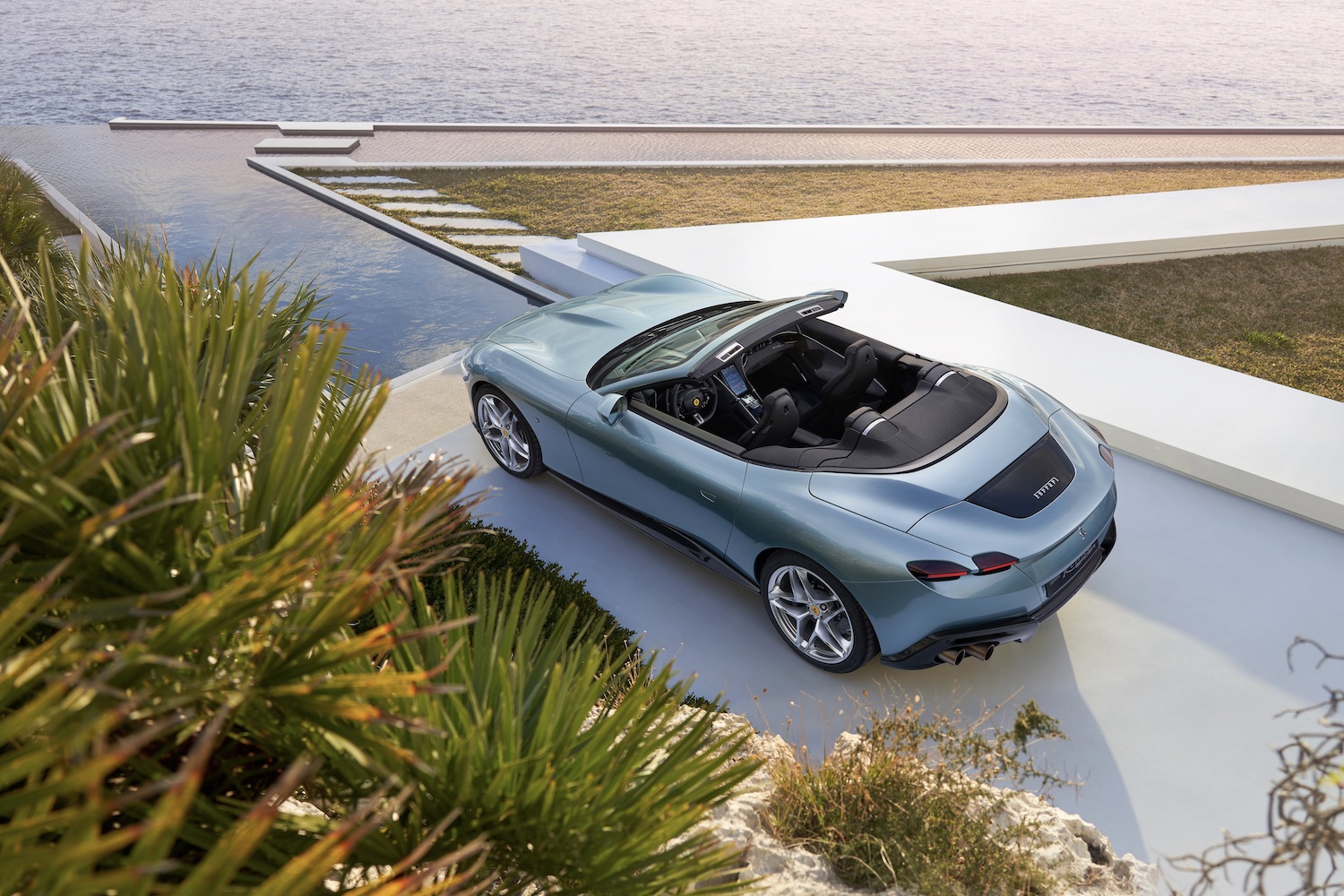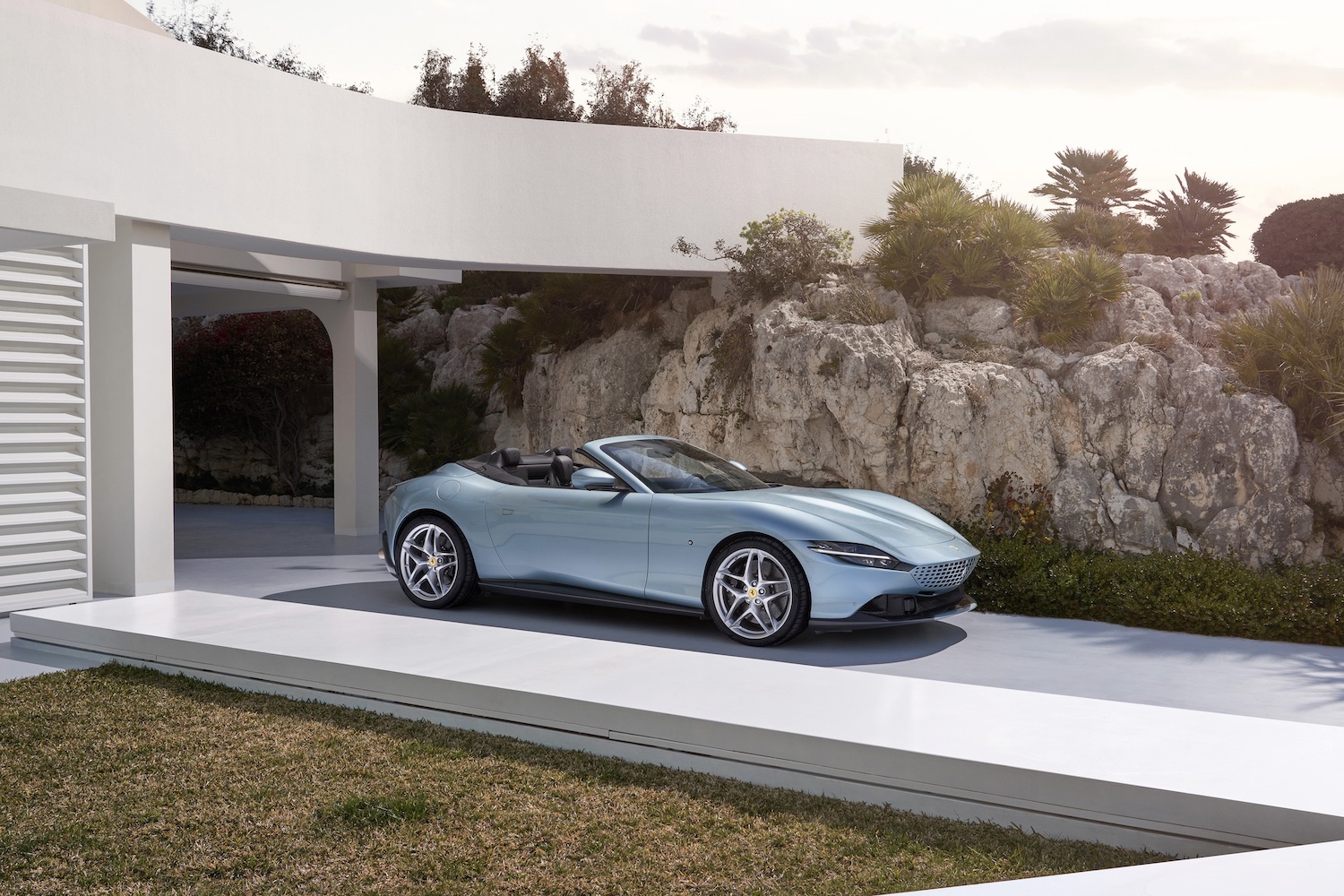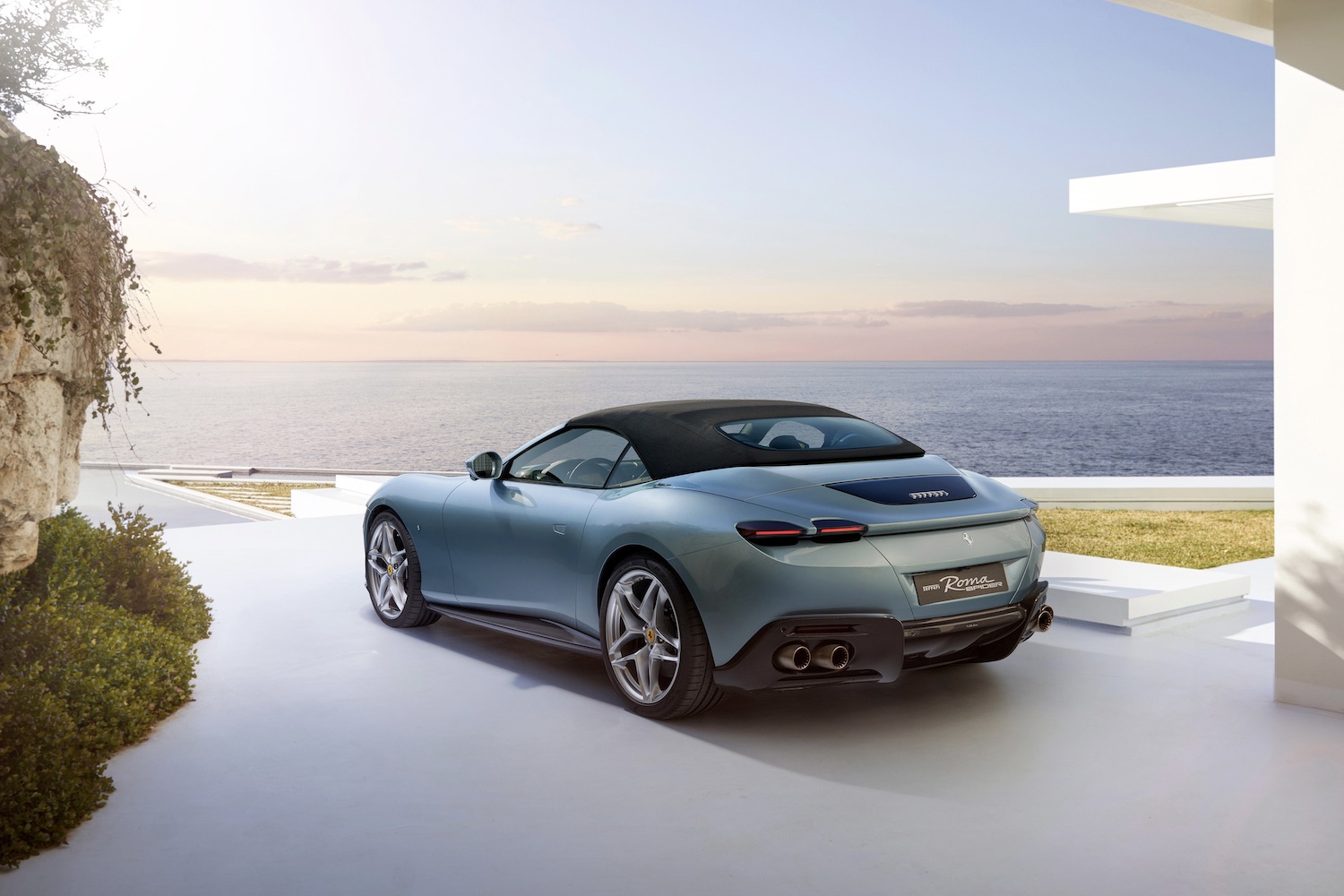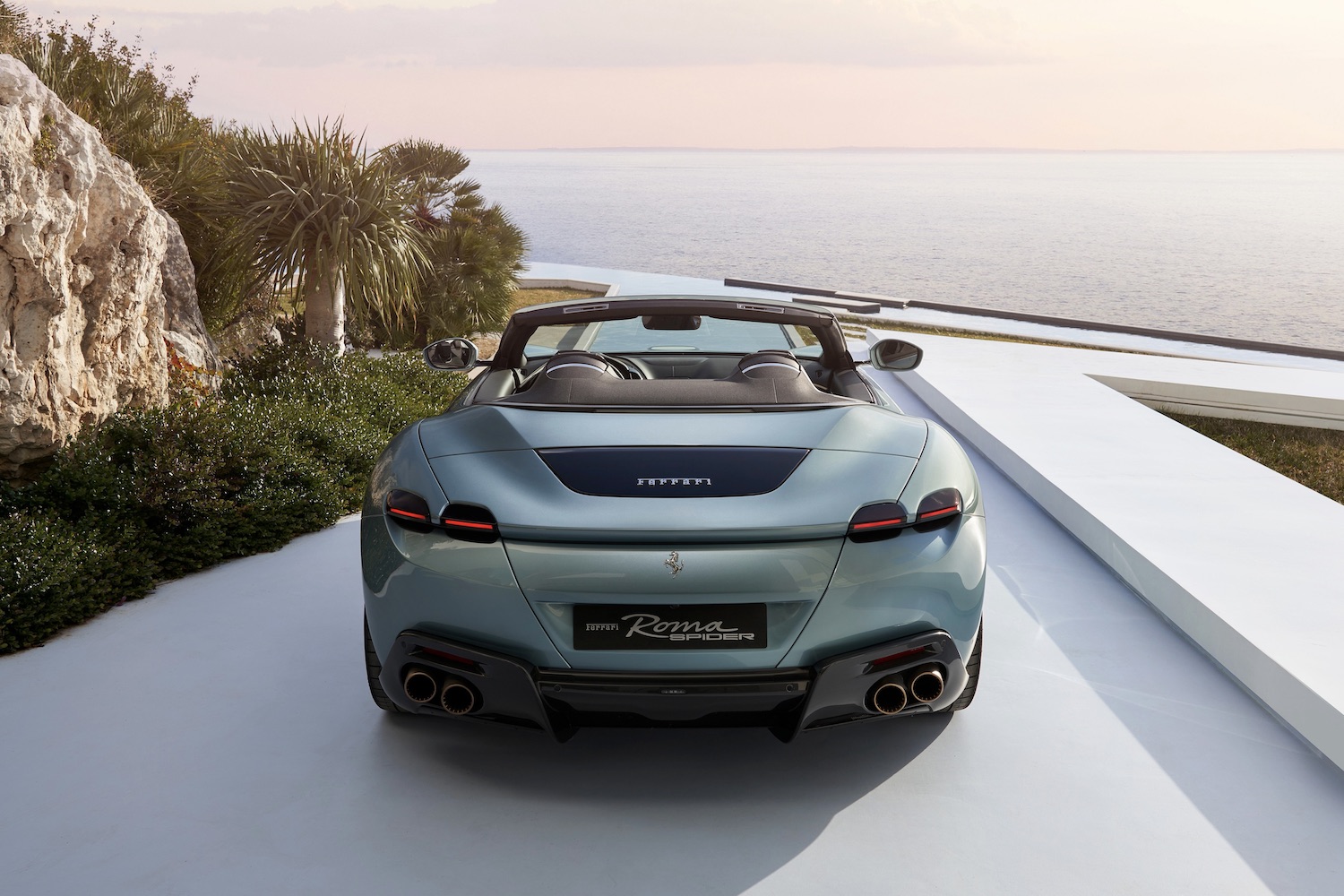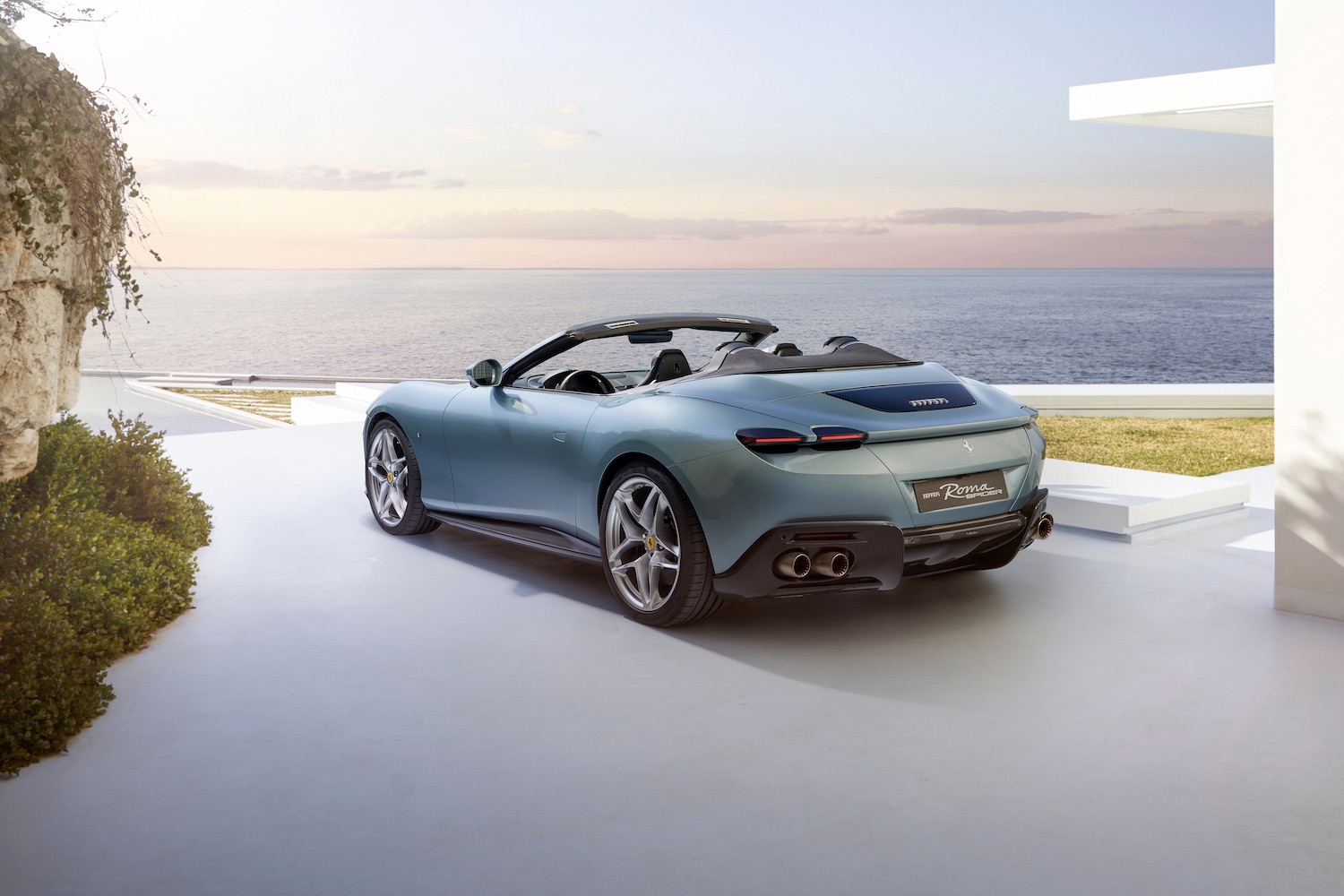 The Roma Spider has the same twin-turbo 3.9-liter V8 engine as the regular Roma. It continues to make 612 horsepower and 561 pound-feet of torque. Since there's no roof, the V8's exhaust note has a much easier time burrowing into passengers' ears. When it starts to rain or things get a little too chilly, the roof can be erected in 13.5 seconds at speeds of up to 37 mph.
Beyond taking the Roma's roof off to make the Roma Spider, Ferrari also redesigned the active rear spoiler. It has three different positions to maximize downforce at higher speeds. Other changes include a reinforced chassis, a new aero device on the top rail of the windscreen that helps direct air over the cabin, and a wind deflector that pops by rotating the backrest of the rear seats.
The interior of the Roma Spider mostly goes unchanged compared to the regular Roma, as the supercar features an 8.4-inch screen and a metal plate surrounding the gear selector. The steering wheel has been refreshed to be more user-friendly thanks to revised controls and a start button that now glows red.
The Roma may have a high-powered V8 engine and a Slide Slip Control system that helps the driver pull off smokey drifts, but it's a true front-engined cruiser. Offering a retractable soft-top with the Roma Spider just feels right. Ferrari hasn't announced pricing yet, but with the Roma coupe starting close to $250,000, the convertible should be closer to the $300,000 mark. Pricey, but Ferraris are rarely cheap, and this one happens to have a cool nod to the brand's history.
Editors' Recommendations