Once you catch sight of a Porsche 911 sportscar, it's safe to say you're ruined for life. That was the case for Steve McQueen, Jerry Seinfeld, my father, and even a car-heisting Nicholas Cage in Gone in 60 Seconds.
You can debate it all you want, but the 911 remains the sexiest luxury sportscar in existence, even through its many iterations.
Prominent German journalist Ulf Poschardt (he's been the chief editor at Vanity Fair and Rolling Stone Germany) got the 911 bug too. So much that he crafted Porsche 911: The Ultimate Sportscar as Cultural Icon — a history-book-meets-auto-bible, published by Gestalten
The forward dubs the 911, "the thinking man's sports car," and walks us through its birth, evolution, and symbolic coming of age. Poschardt also unwraps the key people and occurrences that lent to the 911 becoming a global phenomenon. (He even sends Porsche drivers to a shrink for a look into the psyche of the men and women that crave this ride.)
In fact, the book is just as much about the scrupulous design of the car itself as the personality makeup of its drivers.
Upon its first launch in 1963, the Porsche 911 was a highly reserved car owned by wealthy self-made individuals and rich inheritors, all of whom were looking for a new way to recreate themselves. Poschardt writes, "They were unruly spirits, activists, fanatics, go-getters, adventurers, idealists, bon viveurs, connoisseurs, speed lovers, and individuals."
As history unfolded, this identity of the 911 owner officially sealed its place in the archives of cool. (I mean come on, this was Steve McQueen's go-to pair of wheels.) Poschardt asserts that the 911 driver is one, a bit narcissistic, two, craves freedom, and three, has an appetite for perfection.
All 240 pages of Porsche 911 feature wicked back stories, history lessons, technical breakdowns, and, of course, dominating photography that in all truth speaks louder than the words on the page.
Let's just say if there was one book we could take to a desert island, it would be Porsche 911.
Seeing all the history and evidence compiled into a single chronicle does its work to translate the cultural icon of the car. And as you're turning the pages, the spirit of its drivers and design is contagious.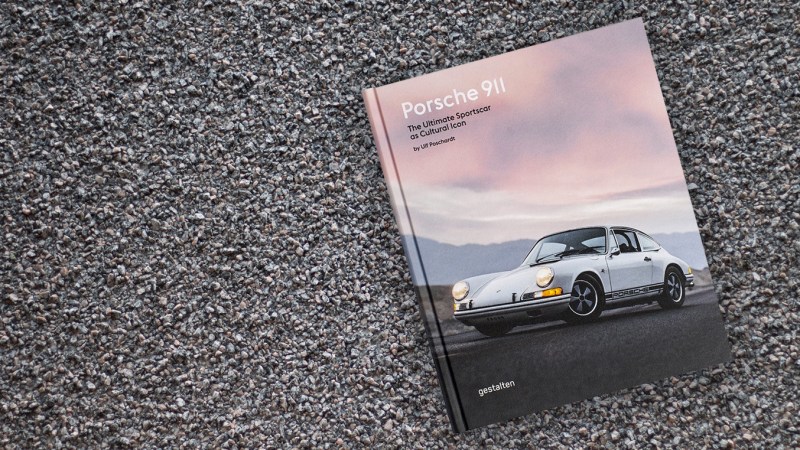 Don't be surprised if you suddenly become an unruly spirit, activist, fanatic, go-getter, adventurer, idealist, bon viveur, connoisseur, speed lover, and individual.
If you don't, that's ok also. According to Poschardt the car is equally as despised as it is loved— especially by many Germans who call it "a set of wheels for fat cats." (Burn?)
Images courtesy Gestalten
Editors' Recommendations