One of the more annoying things about owning an electric vehicle is charging. Not only are charging stations difficult to find, but they're also placed in inconvenient locations. You park your vehicle, attach the necessary plug, pay, and then you sit in the car. And wait. Scrolling endlessly on your phone. If you like hot dogs and subs, and own an EV, there's some good news as 7-Eleven and Subway have both announced that they will be installing electric charging stations at their locations across the U.S.
For 7-Eleven, it's charging network will be called 7Charge – it's a catchy name that sounds like a sugar-fueled soda, but for your car – that will offer a "convenient and reliable fast-charging experience" at select stores in the U.S. Charging stations will also be available in Canada, but at a later date. Surprisingly, 7-Eleven claims that 7Charge is already online in Florida, Texas, Colorado, and California.
The 7Charge network will have CHAdeMO and Combined Charging System (CCS) plugs for EVs and also has a nifty payment system. EV owners in an area where 7Charge is available can download the app on their smartphone and use that to pay.
Subway, which is best known for its $5 footlongs also announced plans to build its charging network that will be called Subway EV Charging Oasis. These electric vehicle charging stations seem like they'll be a little nicer than the ones 7-Eleven will offer with amenities like restrooms, WiFi, playgrounds, and picnic tables. While your body is being refueled by a sub, the brand's chargers will be able to provide 120 miles of range in roughly 17 minutes to your EV for around $20.
At the moment, Subway confirmed that it's working with two EV startups to get the charging station up and running: GenZEV Solutions and RED E Charging. According to Subway, the two startups will handle the charging side of things and maintenance.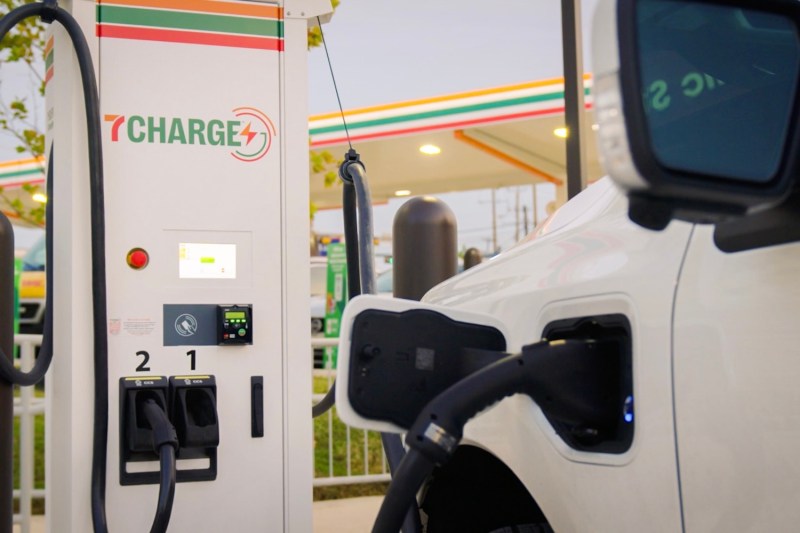 7-Eleven's charging network seems to be more rooted in reality, while Subway's is more optimistic. I'm not sure about everyone else, but most Subways in my area are located in strip malls. I'm not quite sure where they'll find the space to add playgrounds and spots for a picnic. But, it's a nice thought.
Subway and 7-Eleven aren't the only ones looking into coming out with an EV charging network. Last October, Taco Bell announced a partnership with ChargeNet to get chargers installed at its locations. Starbucks went all the way in by partnering with Volvo and ChargePoint for EV chargers to be installed along a route from Denver to Seattle. The company plans to help bring 60 DC fast charging stations for electric cars at up to 15 Starbucks locations along a 1,350-mile route.
Editors' Recommendations