"We are go for launch … Ignition sequence start."

Planning a road trip? Here's everything you might need to plot a cross-country journey, a family vacation, or a solo trek.
In light of the recent 50th anniversary of the Apollo mission, it's hard not to imagine NASA flight command in your ear when turning over a Corvette. Depressing the ignition button for the first time feels like powering on the first shuttle to Mars, or so I imagine. The quad exhaust snarls to life with a roar before quieting to a rumble that keeps the chassis in a constant shake at idle. Feathering the accelerator, it's clear that this is not a car that's built to stand still. It's loud, it's chaotic, and there's the sudden recognition that I've summoned more raw horsepower than humankind was ever meant to reasonably handle. I curl my fingers around the steering wheel while my girlfriend feverishly snaps Instagram photos of my reaction. Apparently, I've never smiled quite like this, and she's both excited and nervous.
Since its 1953 debut, this is a moment every first-time Corvette driver experiences. It's the realization of something special, something difficult to put into words. There are decades of legacy, ingenuity, pride, and craftsmanship under the hood. Henry Ford revolutionized the world with the Model T, providing the common man with a reliable means of personal transportation. But, with Corvette, Chevy went well beyond practicality. It created the first American car that resonated with drivers on a deep, emotional level. Cars no longer needed to be just functional workhorses for grocery runs or getting to and from the office. They had soul. They could be legitimately fun. In that way, the Corvette is not just the most iconic American sports car, but the most iconic American car period.
Because Chevy was kind — or crazy — enough to provide us with a loaner, we happily obliged. Our test chariot was a 2019 Corvette Grand Sport Coupe in Torch Red because Prince taught us that's the only way to fly. Under the hood: a beastly, 6.2-liter Small Block aluminum V8 controlled through an 8-speed automatic transmission with paddle shifters. The upgraded tester included the Grand Sport Performance Package with a sport suspension, magnetic ride control, massive run-flat tires, and a multi-mode performance exhaust. By the numbers, that all shakes out to 460 horsepower and 465 pound-feet of torque that propel the 'Vette from 0-60 in just 3.6 seconds.
We're fortunate to live in Oklahoma, which claims the longest remaining driveable stretch of Route 66. What better way to experience this American automotive icon than on America's most iconic road? As luck would have it, after a month of rain, storms, tornadoes, and biblical floods, the weather broke for us on our first day out of the garage. We peeled off the Corvette's Targa top under a cloudless sky, and the drive suddenly looked a whole lot sexier. We set a GPS course west out of Tulsa.
Google immediately presented us with a safe, sensible, and efficient route — none of the things we were looking for. Like the Corvette, modern-day Route 66 is not exactly practical or efficient. These days, it's a meandering route for road-trippers who appreciate the fine art of getting lost and the journey as much as the destination. Unfortunately, while Google Maps provides for avoiding tolls and highways, there's no option to "avoid boring roads." But, a few minutes of GPS wrangling later and we were on our way.
Minutes from home, we found ourselves alone at a traffic light with Route 66 laid out wide and hilly before us. I stabbed the accelerator off the line and felt an instant suction into the firm bucket seat. The car launched forward as though we'd been rear-ended by a cement truck. I eased off the gas after the few seconds it took to hit the posted speed limit. It's the sort of raw power that can turn a grown man giddy. Driving a street-legal race car, especially through the suburban streets of middle America, is an impossible dream for most. That day, with the sun in our eyes, wind in our hair, and Willie Nelson on loop, we were living that dream.
Like all good things, Route 66 has slowly succumbed to decades of modern "progress." The one-time bustling freeway has become a patchwork of stoplights, random detours, and road construction. Less than a minute off our straight-line acceleration test, another stoplight. I mashed the brake pedal. The near-immediate stop felt like pulling the parachute ripcord on a top-fuel funny car. The Corvette's massive, ceramic Brembo brakes slammed us to a halt more than 50 feet ahead of the stop line. It's a wonder that helmets and five-point racing harnesses aren't standard. Thankfully, again, we were the only car within sight.
We arrived at our first stop in Sapulpa, a sleepy Oklahoma town peppered with Route 66-flavored Americana. The iconic Gulf Gas Station near the center of town has been lovingly restored with vintage gas pumps, original neon signs, and an oversized "ROUTE 66" highway sign on the roof. Minutes later, we spotted the top of the "World's Largest Gas Pump" at the Heart of Route 66 Auto Museum. Beyond that was the iconic Rock Creek Bridge, a rickety, wooden, World War I-era crossing that seems better suited for foot traffic than actual cars. These were the picture-perfect Mother Road relics we were seeking.
The drive is about embracing the retro kitsch and the gaudy roadside attractions of a bygone travel era. We were heartened to find that, even in the face of fifty years of so-called progress, much of that kitsch remains. We stopped for lunch in Stroud, Oklahoma at Rock Cafe, a no-nonsense joint. They've been slinging amazing hamburgers the same way on "Betsy" — an 80-year-old grill that's seared more than five million patties — since the cafe opened in 1939. Back at the parking lot, the owner of a tricked-out Nissan 370Z and I exchanged admiring glances and nods at our respective rides. Clearly, I was accustomed already to life as a Corvette "owner."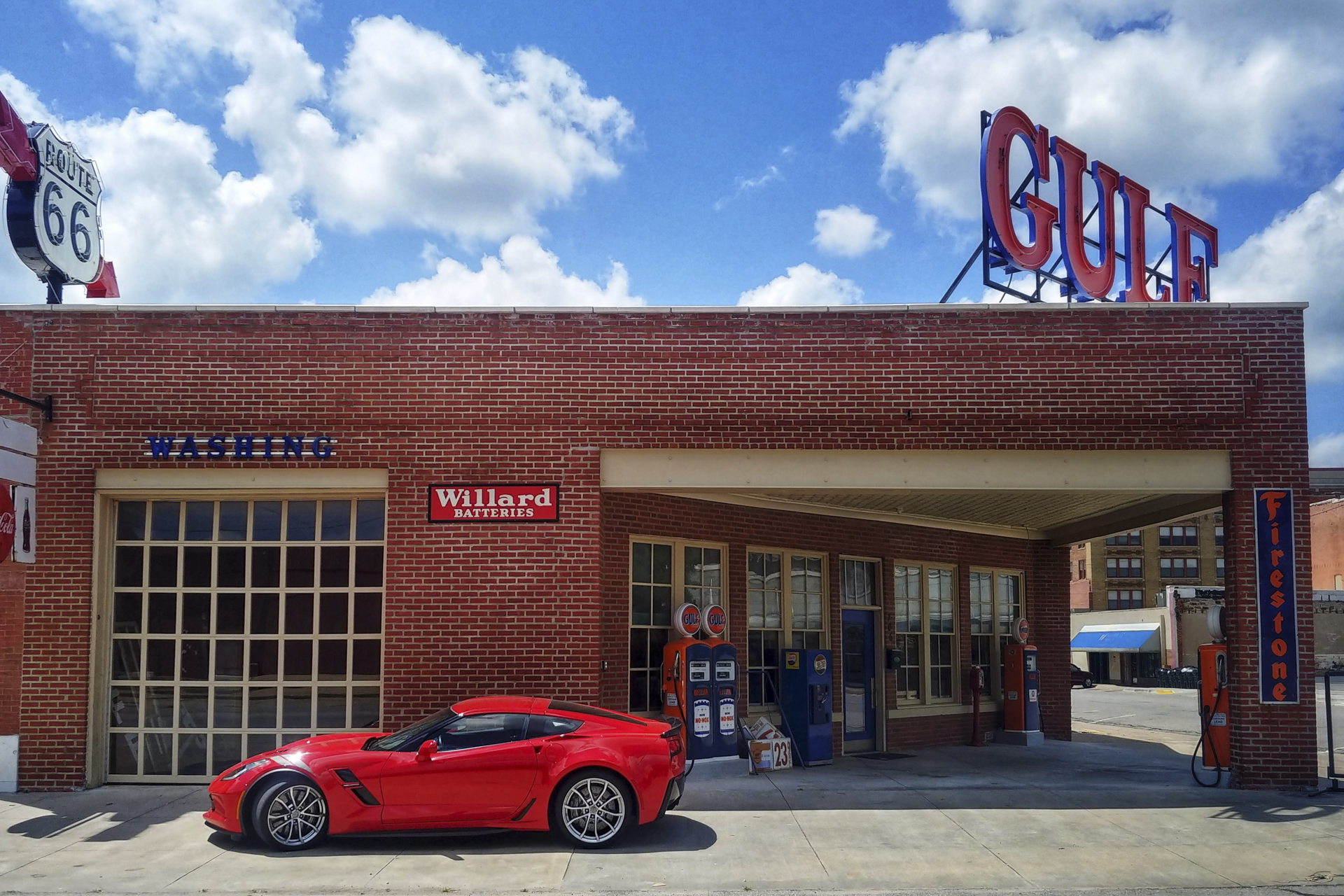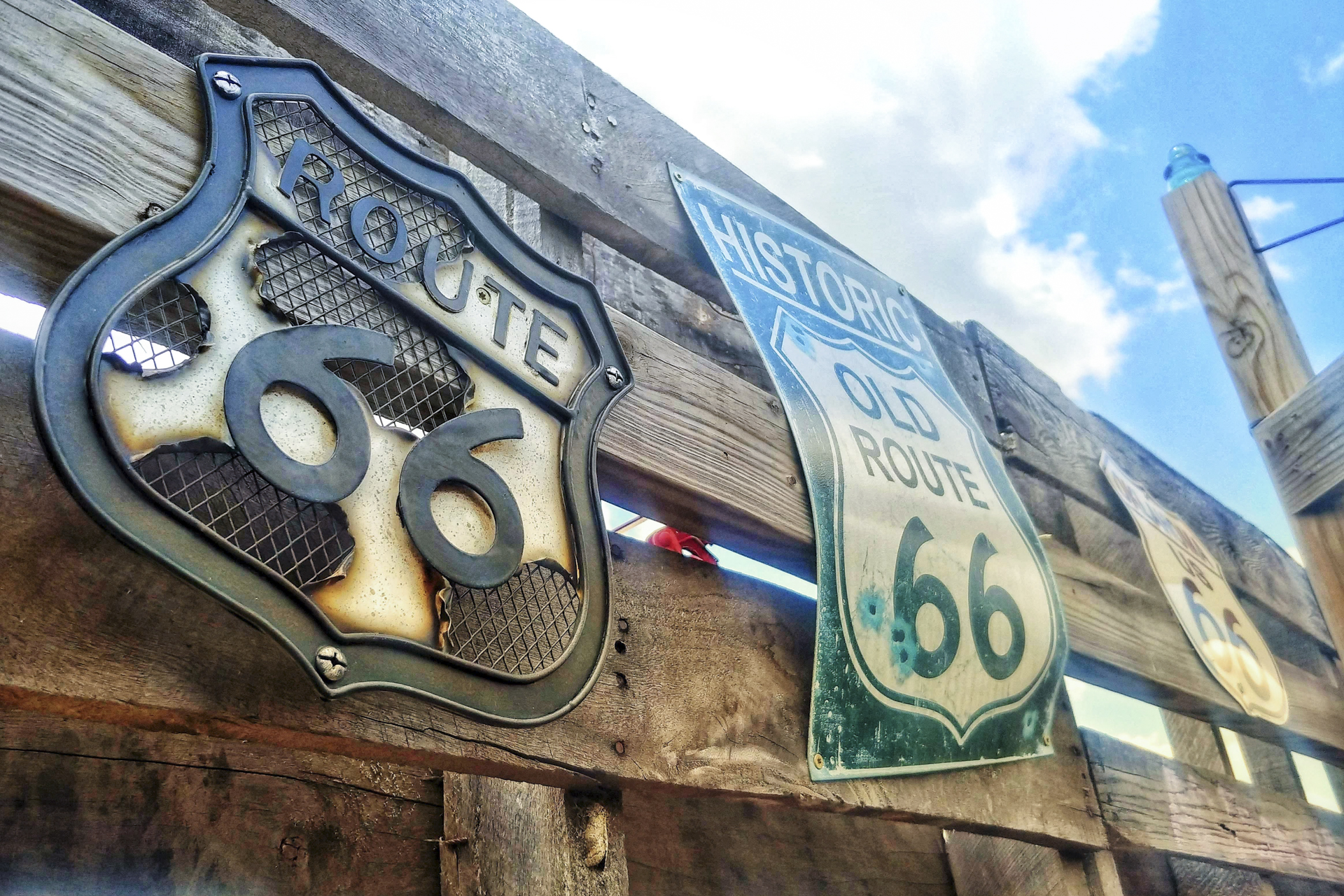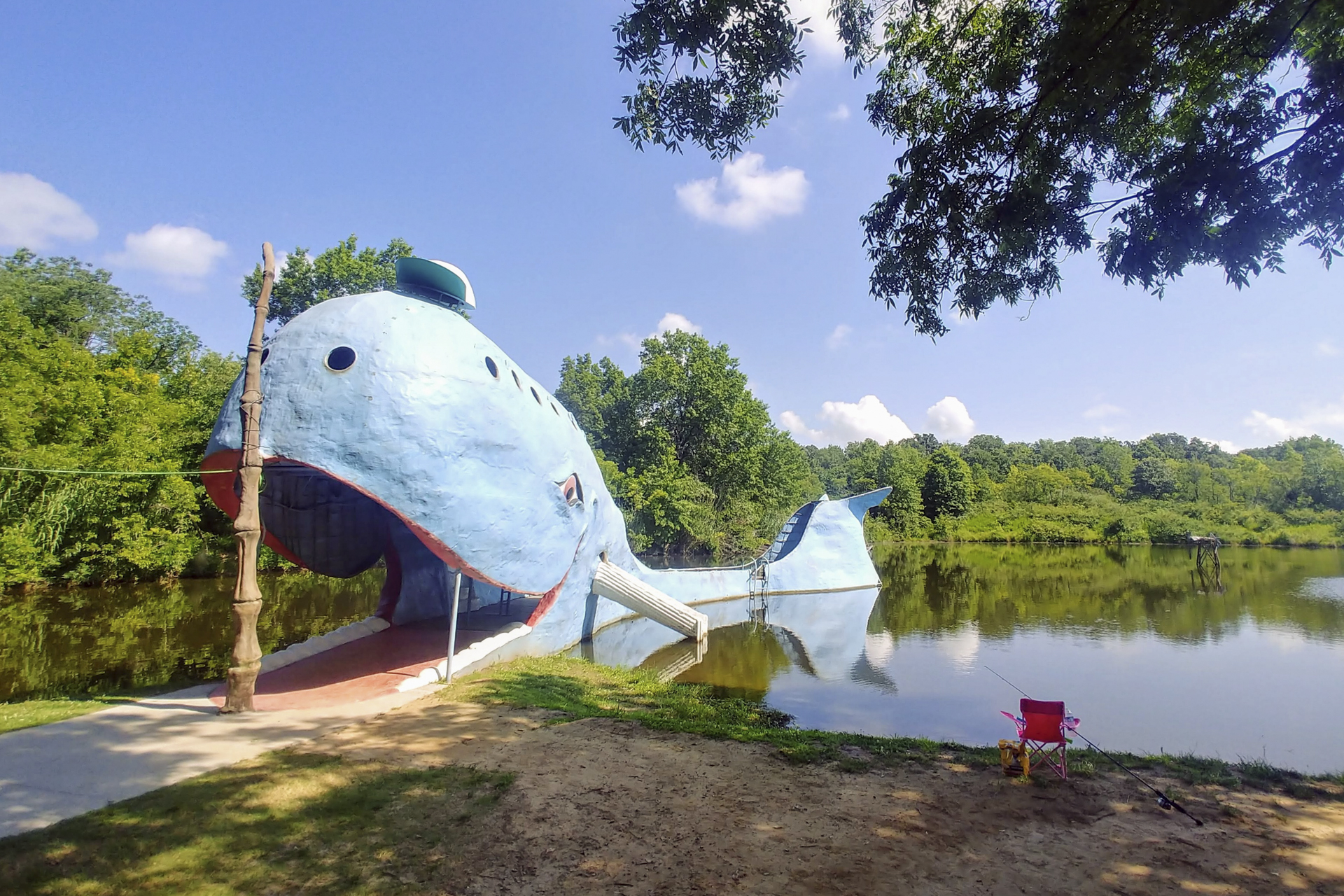 On the road west out of Stroud, the small towns, stop lights, and Corvette admirers gave way to farms, cow pastures, and the idyllic, wide-open spaces for which Oklahoma is known. While speeding blissfully past golden fields of grain under a bright blue sky, it was easy to imagine how earlier generations of top-down Corvette owners might have felt traveling the Mother Road.
We slowed into Chandler, Oklahoma for a stop at the Route 66 Interpretive Center. It's far more interesting than an interpretive center might sound as it helps put the road's significance — past, present, and future — into perspective. A few miles beyond that, and we were exploring two-wheeler history at the Seaba Station Motorcycle Museum. We began to see the entire road as a drivable time capsule, as a living museum stretched out over hundreds of miles of American countryside.
Back on the road, we pushed through the last leg of our journey as the sun began to fall. We passed the Arcadia Round Barn — a relic of Oklahoma's 19th-century farm days. It's a curiously popular pit stop given that it's basically just a round red barn. Such is the allure of Route 66. A few miles farther and we reached our turnaround point at Pops 66 Soda Ranch — a retro-modern filling station that symbolizes Route 66's potential future. A 66-foot-tall, wire-and-LED soda bottle marks the entrance. It's an Instagram-worthy nod to the road's many iconic roadside attractions. Inside, visitors can shop hundreds of bottles of craft soda with unusual flavors like bacon, coffee, and ghost pepper.
We gassed up the 'Vette and, for a brief minute, considered taking Interstate 44 — Google's preferred safe, sensible, and efficient route — home. Before we could pull away, two gentlemen old enough to have seen the Corvette's original debut pulled alongside us. With ear-to-ear grins, they whistled and exclaimed something about "Dang, she's a beauty!" I couldn't make out their exact words over the Corvette's snarling exhaust sounds. I shouted to them that we'd just stolen it. We all laughed. For a moment, I considered the implications of my girlfriend and I disappearing across the Mexican border in a stolen, fire red American rocket, never to be seen or heard from again. It almost seemed reasonable … almost. With the sun now behind us, I hit the gas and we headed east back toward Tulsa to do the drive all over again.
Handing the keys back to Chevy the next day involved a real tug-of-war. It meant a return to my decidedly non-Corvette daily driver. It was also a bittersweet reminder that I was turning in one of the last of the current generation (C7) Corvettes. After the recent bombshell announcement about the all-new 2020 Corvette Stingray, our little red Corvette now seems destined to feel like a "classic" in a few short years. When the new mid-engine C8 debuts early next year, I suppose I'll have to test drive that one too — for research purposes, of course.
Editors' Recommendations