A slow-moving, late-summer snowstorm descended on western Montana and northern Wyoming just as my plane touched down on the sleet-covered runway in Bozeman. In the distance, through the flurries, my first destination (on what would be an over 500-mile journey) lay within the snow-capped peaks of the Gallatin Mountain Range bordering the northern edge of Yellowstone National Park. I was here to test drive the 2018 GMC Terrain, and, judging by the weather forecast, I was going to be able to drive the Terrain in, quite literally, all the terrains.
The first thing I noticed when picking up the 2018 Terrain for the first time at the airport was its sleek and luxe-looking design. The masculine edges evoked the power of the American West — perfect for a cruise through a National Park. The 19-inch, ultra-bright, machined-aluminum wheels drew the eye upward to the large, almost-panoramic windows and then around to the front where massive LED headlamps flanked an iteration of the iconic GMC grille. This vehicle is a looker and definitely not your family SUV due to its reduced size (there's no third row here) and smaller cargo capacity (though still large enough to stow all our outdoor gear or groceries).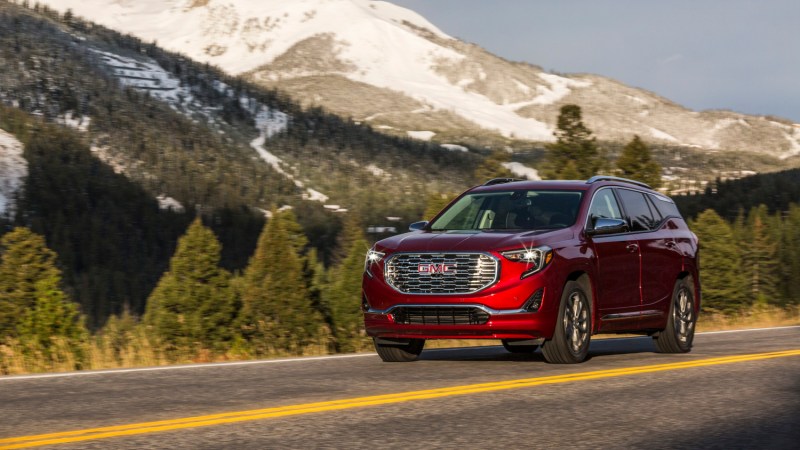 As I made my way from Bozeman south on Route 191 toward Big Sky and my first night's stay at Collective Retreats Yellowstone (sitting pretty at an elevation of 7,500 feet and surrounded by Lone Mountain and Fan Mountain, both above 10,000 feet), the snow continued and the mountains loomed larger and larger. The paved street eventually gave way to a deeply rutted, potholed, dirt road that had turned into a thick river of snow and mud. This first encounter with a traction-compromised surface called for all-wheel drive and the 2018 GMC Terrain answered with the merest turn of a knob. Located on the console where a gear-shift would normally reside, GMC's traction selection system allowed me to effortlessly move from front-wheel to all-wheel drive without A) parking the vehicle or B) reaching down for a special shifter. The traction system immediately engaged, kicking mud up in all directions as it effortlessly carried me through the next 15 minutes on Mountain Trail Road, with its many cliff-side, mud-riddled climbs and drops.
The Terrain's heated seats and steering wheel, as well as the dual-zone climate control, kept me warm while the temperature outside continued to drop. The road turned from a muddy slurry into more of an ice-cream consistency pockmarked with deeper, wider holes. Luckily, the 2018 GMC Terrain sports a Macphereson Strut front suspension and a four-link rear suspension, both of which were designed to minimize road irregularities (read: potholes) and make for a smoother ride. The suspension system did not disappoint. There were a few moments when I was jostled about, but none of the bumps were bad enough to cause my coffee to splash out of its lid.
While I had no complaints whatsoever about the Terrain's all-wheel drive, two-liter turbo four-cylinder engine, 252 horsepower, 260 foot-pounds of torque, or nine-speed automatic transmission, I did have major issues transitioning from the use of a normal stick shift (either behind the wheel or on the center console) to GMC's new "Electronic Precision Shift," which is really just a techy-term for, "We removed the gear shift and gave you buttons instead." Maybe I'm old-school and stuck in my ways, but I found it nearly impossible each time I got into the Terrain to remember that I simply had to press a D button at the bottom of the tech-loaded dash near the console to put the vehicle in gear. I can't tell you how many times I reached for that phantom gear-shift only to curse its absence. The push-button to park also threw me off, leaving me wondering what the purpose of this move was other than to prepare drivers for GM's impending transition to an all-electric line-up by 2023 (which I applaud on principal!).

After a frigid, snowy, but altogether comfortable night (thank you thermal underwear) at Collective Retreats in a deluxe-tent warmed by a wood-burning stove, I set off the next morning to explore the nation's first and grandest National Park. I headed south again on Route 191, riding alongside the Gallatin River and the western entrance to the park at West Yellowstone, Montana. From there, we ascended to the 8,000 foot Yellowstone plateau where all of the geothermal activity takes place. This is where the Terrain's fuel efficiency kicked in because, if you didn't know, Yellowstone National Park has traffic … lots and lots of traffic.
To start, the maximum speed limit anywhere in the nearly 3,500-square-mile park is a mere 45 mph. Thankfully, the Terrain gets at least 21 mpg in the "city," and I found mine in the park to be a little better at about 22.5 mpg — not bad for having to stop repeatedly for crossing buffalo herds and a few rogue elk. Low speed forward auto braking, part of an additional comfort package, was also useful when I was too busy staring at a massive, cud-chewing bison and not paying attention to the drivers slamming on their brakes in front of me.
Another safety feature that came in handy while I was working my way from mudpot parking area to geyser viewing points was the rear camera (ensuring I didn't take out a grandmother or child while backing out of the many and crowded parking areas). The rear cross traffic alert was also helpful for when groups of tourists decided to dart behind my vehicle with no warning.
Overall, the advanced safety features, the built-in Wi-Fi hot spot, and the additional skyscape sunroof made the Terrain its own excellent viewing platform, allowing the driver and passengers to take in the stunning scenery of sharp-faced, snow-covered mountains; dense pine forests; and long, sweeping grassy plains enveloped in steam clouds erupting from the hot ground below.
After spending all day at the park, another snowstorm swept through the area, forcing me south toward Jackson Hole, Wyoming, from West Thumb and Yellowstone Lake along the John D. Rockefeller Jr. Memorial Parkway connecting Yellowstone to Grand Teton National Park, which is, without a doubt, the most photogenic of all the National Parks. From there, I proceeded along the extremely narrow, extremely muddy route along Moose Jackson Road to Teton Village. This part of the drive afforded me the chance to try out the off-road traction option of the Terrain, which did its job as expected, keeping me on the road and in my "lane" through miles of ruts, divots, blind turns, and tourists gaping at mountain goats.
I finished my trip with a quick night at Four Seasons Resort and Residences at Jackson Hole and another ride in the Terrain to the Jackson airport. As a passenger, the backseat was quite spacious with ample leg room, a well-appointed center armrest and console, luxurious leather, outboard seat heating, and a Bose sound system. With passenger space like this, expect your friends to always volunteer you to drive. But you won't mind — you'll enjoy sitting behind the wheel of a 2018 GMC Terrain.
I drove the 2018 Terrain AWD Denali with skyscape sunroof, advanced safety package, comfort package, driver alert package II, trailering equipment, and graphite metallic paint, retailing for a total of $44,350. MSRP for the lowest trim option of the the Terrain is approximately $27,800.