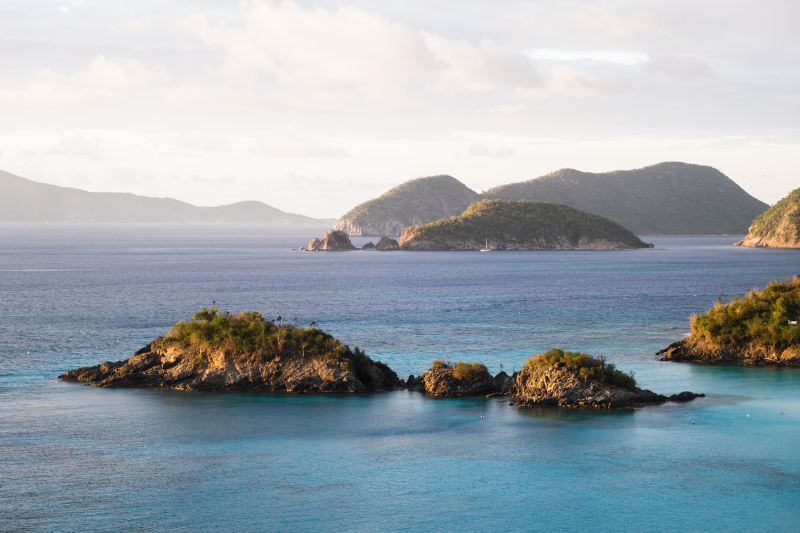 Even if you've been to the U.S. Virgin Islands, until you've set foot on St. John, you ain't seen nothin' yet. This postage-stamp-size speck of land just east of St. Thomas is among the smallest developed islands in the Caribbean. With few roads, near-zero chain businesses of any kind, and the vast majority of land designated as a U.S. National Park, it feels a thousand miles from anywhere. Here are just a few of the best places to eat, play, and stay in one of America's best tropical island destinations, St. John, USVI.
What to do on St. John, USVI
The Caribbean is home to some of the world's most stunning beaches, and St. John alone is home to many of them. Pick up a dirt-cheap Jeep rental in Cruz Bay and spend the day exploring the island's North Shore through Virgin Islands National Park, where every beach seems even more incredible than the last. From east to west, you'll find Maho Bay, Cinnamon Bay and finally, Trunk Bay. The latter is staggeringly beautiful: Soft, white flour sand, impossibly turquoise water, and the best snorkeling spots in the U.S., with an underwater snorkel trail to boot.
Farther inland, near the island's geographical center, Reef Bay Trail provides some of the best and most challenging hiking on St. John. The well-maintained trail drops from a 900-foot elevation to sea level in just two miles. Along the way, you'll pass the famed Petroglyphs — a series of pre-Columbian Taino carvings situated above a beautiful reflecting pool.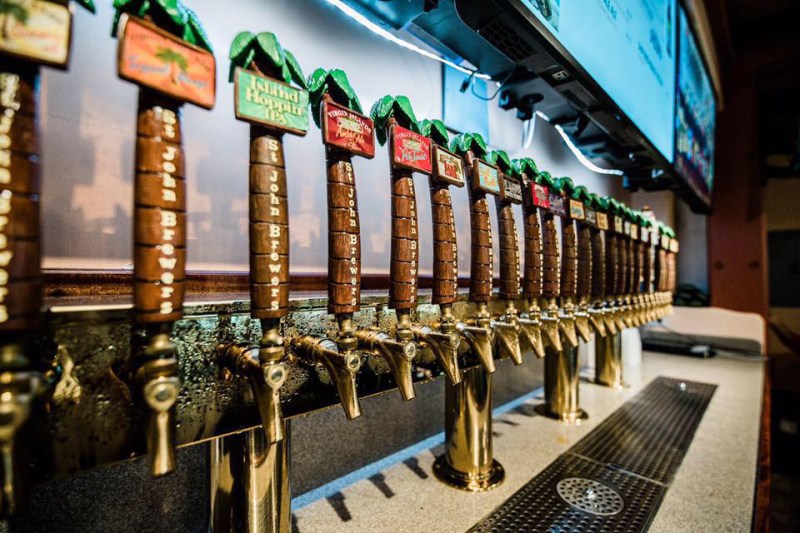 Where to eat and drink on St. John, USVI
Surprisingly, the craft beer boom has even reached the Virgin Islands. The Tap Room microbrewery and pub in "downtown" (we use that term loosely) Cruz Bay offers the island's largest selection of craft beer on tap. Most are brewed on-island by St. John Brewers with Caribbean-inspired varieties like Tropical Mango Pale Ale and Virgin Islands Liquid Sunshine Belgian-Style Ale.
When you've had your fill of the island's downtown core, take a drive to St. John's less-developed eastern end. Here, tiny Coral Bay is ringed by quiet beaches and funky, no-frills dive bars. Skinny Legs Bar & Grill bills itself as "a pretty OK place" with cheap beer and booze specials and some of the best burgers in the Virgin Islands. After a Mango Painkiller or two (the island's specialty), head outside to feed your cocktail fruit garnish to the bar's mascot donkeys.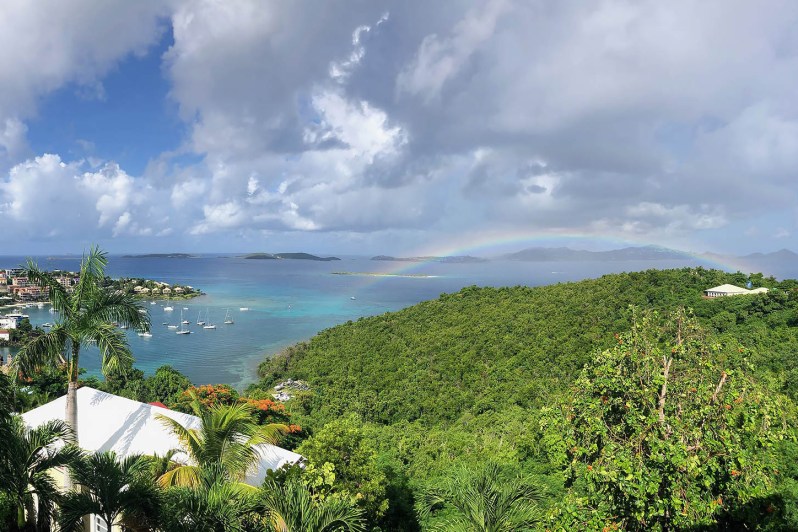 Where to stay on St. John, USVI
In lieu of St. John's few chain hotels, find a proper Caribbean inn. Dating back to the mid-1800s, Estate Lindholm offers some of St. John's oldest and most charming accommodations.
The 14-room, adults-only garden hotel boasts architectural remnants of the island's historic sugar plantations with quaint, tropical-inspired rooms and plenty of modern amenities. Situated high on a hill overlooking Cruz Bay, the real win here is the panoramic views, which, to be truthful, can be found everywhere you look on St. John.
How to get to St. John, USVI
Let's start with the bad news: Because St. John is so small (like, really small at roughly 13.5 miles wide by 6 miles long), it has no airport. The nearest easily accessible airport is Cyril E. King Airport (airport code: STT) on the neighboring island of St. Thomas. (The British Virgin Islands are a longer and more expensive option.) The two islands are only 6 miles apart, so you might feel like you could practically swim to St. John. For the record, we don't recommend that.
The good news is that getting to St. John is half the fun. It's only accessible by boat, and it's your call whether you want to make the trip by passenger ferry, car barge, water taxi, or yacht charter. Passenger ferry is by far the cheapest and arguably the most convenient option, as ships travel between the two islands from around 6:30 in the morning until midnight every day. Fares are only around $6-$12 one way, depending on which ferry route you choose. Every other option to travel between St. Thomas and St. John is more expensive, especially a private charter boat. So, if you're looking to save some money on your U.S. Virgin Islands vacation, this is an easy way to do it.
Editors' Recommendations